Ohio State Buckeyes vs. Indiana Hoosiers Pick ATS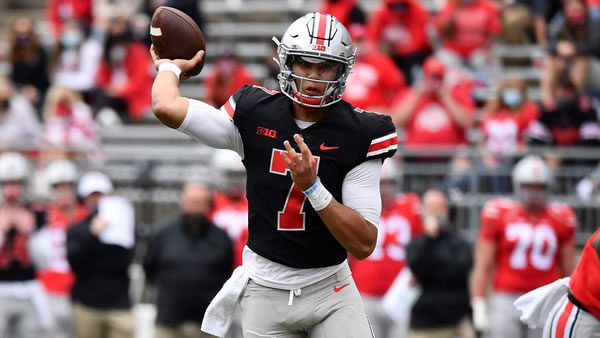 Ohio State Buckeyes (5-1 SU, 3-2-1 ATS) vs. Indiana Hoosiers (2-4 SU, 1-5 ATS)
When: Saturday, October 23, 7:30 p.m.
Where: Memorial Stadium, Bloomington, Ind.
TV: ABC
Point Spread: OHST -20/IND +20
Total: O/U 60
Outlook
It's been a long time since Indiana tasted victory against Ohio State, as the Hoosiers haven't beaten the Buckeyes since a 41-7 rout of Ohio State in 1988. Incredibly, those are the only two times the Hoosiers have ever beaten the Buckeyes in the history of the Big Ten. Since the league changed its name to the Big Ten in 1953, Indiana's all-time record against Ohio State is 2-56-2, and since a 27-27 tie in 1990 (before overtime existed), the Hoosiers have lost 26 in a row to the Buckeyes.
The odds aren't good for ending that streak here, considering that Ohio State seems to be hitting its stride, and Indiana is floundering. The Hoosiers haven't exactly covered themselves in glory this season, having lost four games while being brutalized by the meat grinder that has been the Big Ten East. It didn't help that they also played a non-conference game against No. 2 Cincinnati, and now they'll have to beat at least one of Ohio State, Michigan, or Purdue even to have a chance to qualify for a bowl game.
For Ohio State, the Buckeyes find themselves in prime position. Ohio State might have taken an early loss to Oregon, but since then, they've come up with some excellent performances and have built themselves back into being a contender for the Big Ten title as well as possibly the national title if they have a couple of things shake out in their direction. The Buckeyes had a rout on their hands last year in Columbus, only to allow the Hoosiers to fight back into the game and make it a battle to the final play. This time around, Ohio State is a lot less likely to let off the gas.
How the Public is Betting the Ohio State/Indiana Game
The public and the pros are in agreement here: the Buckeyes should comfortably take this one. Ohio State has seen 70 percent of tickets come in on it, and the spread has been pushed from -19 to -20, with the total staying unchanged. If you want Ohio State, grab them before the line jumps above three touchdowns.
Injury Concerns
Ohio State:
Defensive tackle Haskell Garrett (undisclosed) is probable. Linebacker Palaie Gaoteote (undisclosed), defensive end Noah Potter (undisclosed), running back Miyan Williams (undisclosed), kicker Jake Seibert (undisclosed), linebacker Mitchell Melton (undisclosed), wide receiver Kamryn Babb (undisclosed), wide receiver Demario McCall (undisclosed) and cornerback Jakailin Johnson (undisclosed) are questionable. Safety Jantzen Dunn (undisclosed), safety Josh Proctor (leg), defensive end Tyler Friday (knee), and safety Jaylen Johnson (knee) are out.
Indiana:
Defensive back Tiawan Mullen (leg), quarterback Michael Penix (shoulder), defensive back Devon Matthews (undisclosed), defensive lineman James Head Jr. (undisclosed), and wide receiver Camron Buckley (undisclosed) are questionable. Running back David Ellis (ankle), wide receiver D.J. Matthews Jr. (leg), defensive back Christopher Keys (knee), and quarterback Dexter Williams (knee) are out.
When Ohio State Has the Ball
The big question for C.J. Stroud is whether he's getting more comfortable in this offense or whether this is just a product of him facing lesser competition. He missed the Akron game, but he lit up both Rutgers and Maryland before the Buckeyes went into the bye, and he hasn't thrown an interception since the Tulsa game.
But there's also the question of whether Rutgers and Maryland were really that sterns of a test for the Buckeyes, as Indiana should be able to make life much tougher on Stroud. For all of their struggles in 2021, the Hoosiers have played excellent defense and would likely be in a much stronger position if their offense could simply stay out of the way. Leaning on TreVeyon Henderson might be the way to go for the Buckeyes in this one, as Indiana's pass defense appears very capable of making life difficult for Stroud if the running game can't keep them honest.
When Indiana Has the Ball
If you like watching Iowa play offense, you're going to love Indiana. The Hoosiers have been a mess of the highest proportions in 2021 on offense and can't keep a quarterback healthy. They're now down to Jack Tuttle at the position, which might not be the worst thing in the world because the biggest thing that's killed Indiana has been Penix's mistakes with the ball.
Then again, Tuttle wasn't much better against Michigan State, tossing two interceptions that kept the Hoosiers from pulling off the home win over the Spartans. Stephen Carr was again ineffective on the ground, and although Ty Fryfogle remains a top target, he needs an accurate quarterback to get him the ball. So far, the Hoosiers haven't proven able to get out of their own way when they have the ball, scoring just 15 points in their past two contests. That won't be close to what's needed against Ohio State.
More Picks: Get the Zman's Illinois at Penn State Point Spread Winner
Betting Trends
If you've been backing Indiana, you've been paying the price, as the Hoosiers have had a hard time staying with opponents through this meat grinder of a schedule. Despite getting points four times in 2021, the Hoosiers managed to lose all four games ATS, not exactly the situation you want to be facing when going up against cover machine Ohio State. The Buckeyes don't play to the level of their competition; they destroy it, going 6-2 ATS in their past eight against a team above .500. They've also covered seven straight games in October and have covered six of their past eight trips to Bloomington.
In fact, Bloomington has been a better home for Ohio State in this series than it has for Indiana. The Buckeyes have failed to cover against Indiana on five straight occasions at the Horseshoe, but bring the game to Indiana, and it's a much more reasonable 2-3 ATS. The over has also been a solid bet; it's hit in four straight in this series.
Weather Report
This could be a great day for football, with temperatures pushing 65 degrees and wind blowing at just four miles per hour to the northwest.
Dan's Pick to Cover the Spread
Indiana seems to be a dead team walking at this point. The Hoosiers simply aren't what people expected, and it looks like that's going to be the death of their season. Nothing suggests Indiana is capable of bouncing back here and making this a dogfight, so I'm going to go against the possibility of that occurring here. Give me the Buckeyes to keep it rolling in Bloomington. Did you know that you could be betting on games at cheaper odds? You literally save money every time you bet! Stop laying -110 odds; start laying only -105 TODAY at BetAnySports!