Oregon Ducks vs. Stanford Cardinal Pick 9/21/19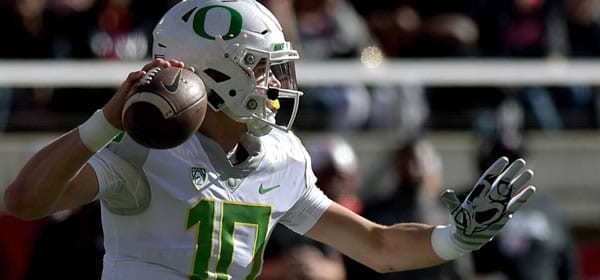 Oregon Ducks (2-1 SU, 1-2 ATS) vs. Stanford Cardinal (1-2 SU, 1-2 ATS)
College Football Week 4
Date and Time: Saturday, September 21, 2019 at 7PM EDT
Where: Stanford Stadium, Stanford, California
TV: ESPN
Point Spread: ORE -10/STAN +10 (Bookmaker)
Over/Under Total: 56
The Oregon Ducks take on the Stanford Cardinal on Saturday in Eugene in a big Pac-12 matchup. The Cardinal already played one conference game, losing to Southern Cal in week two. For Oregon, however, this is their conference-opener, and it's coming against a rival in what will be a big road game. Last season at Stanford, the Cardinal came through with a hard-fought win, as Oregon blew a 24-7 lead. A lot has happened since then, and the former favorite Stanford is now the big home underdog. Who can cover the spread this week?
What's Wrong with Stanford?
Naturally, after going from 3-point favorites in Eugene last season to double-digit dogs at home less than a season later, not all is right with the Cardinal. After beating Northwestern at home in week one and covering the spread, everything seemed reasonably in-order. The offense didn't flourish, but the "D" at least answered the call for the big week one win. Since losing 45-20 to USC and 45-27 to Central Florida in consecutive weeks, the wheels have come off. Not having QB KJ Costello definitely cost them against USC and broke up their momentum for a big week two game. And things just didn't work out against a ranked UCF squad on the road. Still, their offense hasn't gotten into a rhythm. Maybe running back Austin Jones can provide some answers, as he looked good last week. Or maybe Costello will start looking like the guy who led his team back against the Ducks last season. The defense needs some real help, though, after allowing 1038 yards the previous two weeks. A ton of that has been through the air, where the Cardinal secondary has really been suffering. And they haven't been much better against the run.
Setting the Table for Revenge
Last season's 38-31 overtime win for Stanford was a blood-and-guts war where Oregon blew a lead and showed what can be so infuriating about betting on the Ducks sometimes. You can blame it on head coach Mario Cristobal, but when Oregon has a lead, and you have your money on them the last several years, it's never a cinch. They couldn't hold it against Auburn in week one, nor could they against Stanford last season. And those aren't the only times. It was a bitter loss, with key guys on both sidelines still remembering it. Granted, Oregon has their share of issues, but I would expect at least a sincere effort team-wide, as this game means a lot. But for a Stanford team that has gotten torched in their last two, a big conference win would go a long way toward righting the ship. So in a lot of ways, they're playing to save their season.
More Picks: ND/UGA Point Spread Pick >>>
Betting Oregon at the Right Time
It's troubling when a team gives up leads a lot and never seems to get the most of what they have. We saw this already this season, and last season, we saw it in its most-painful form with the painful loss to Stanford. Since the painful week one loss to Auburn, Oregon has played essentially played in two warm-ups, beating Nevada and Montana by combined scores of 112-9. This is a spot to make two things right—the season-opening loss to Auburn and to even the score with Stanford. Justin Herbert has been sharp, with ten TDs and no picks in his last two games. Stanford has been getting victimized by quarterbacks the last two weeks who aren't as good as Herbert. CJ Verdell, Travis Dye, and Darrian Felix are three backs who should combine to give Stanford issues. And through the air, Herbert has Jacob Breeland, Johnny Johnson, III., and Jaylon Redd, among others. Jevon Holland is a threat on punt returns.
There are a lot of ways this Oregon offense can hurt you, as the Cardinal found out last season. They have diversity in their run-game, with differently-abled receivers of various sizes to give the beleaguered Stanford secondary fits. And beyond the matchup components is just the different feeling among both squads. Oregon's loss to Auburn doesn't mean they can't forge a winning campaign in the conference and that quest begins this week coming off two weeks of soft matchups across the board. Meanwhile, the Cardinal have been getting mopped up in consecutive weeks. Sure, they're at home, but Oregon had an easier road here, despite the punishing week one loss to Auburn.
Not So Fast
The portrayals of the two teams sure seem stark heading into week 4. After all, Oregon is laying double-digits on the road. But Oregon came up short in their only real test of the season, and they lost that game the same way they blew it to Stanford. It's not clear that perfunctory wins over Nevada and Montana took a sad song and made it better—certainly not to the extent where this is any kind of slam-dunk for them. Now, Stanford has looked awful. But some of this can be cleaned up. A little faith in the coaching and program is maybe warranted. You see an Oregon team blowing opponents out and a Stanford team getting their butt kicked; therefore Oregon will conclusively beat Stanford, right? Well, we know that if it were that easy, everyone would be doing it.
Take the Home Underdog
It might seem like I'm deliberately contrarian. Granted, a lot of matchups shake out awfully on-paper for the Cardinal. I just think KJ Costello being at home and getting a week under his belt will put him in a spot to stabilize the offense and put up points against a still-erratic Oregon "D." When you count on things to be as bad as they have looked, it never seems to work out. I don't think the Stanford defense will look good, but I think they should be able to prevent a complete Oregon free-for-all on offense. With Stanford a bit desperate to restore respectability, I see them hanging in there enough with the Ducks enough to cover the spread.
Loot's Pick to Cover the Point Spread: I'm betting on the Stanford Cardinal plus 10 points. Make Stanford a +30 underdog or Oregon a +10 underdog by throwing either into a 20-point teaser only offered at 5Dimes Sportsbook! They also offer -105 on all sides and totals! Huge money saver!