Washington Huskies vs. Oregon Ducks Pick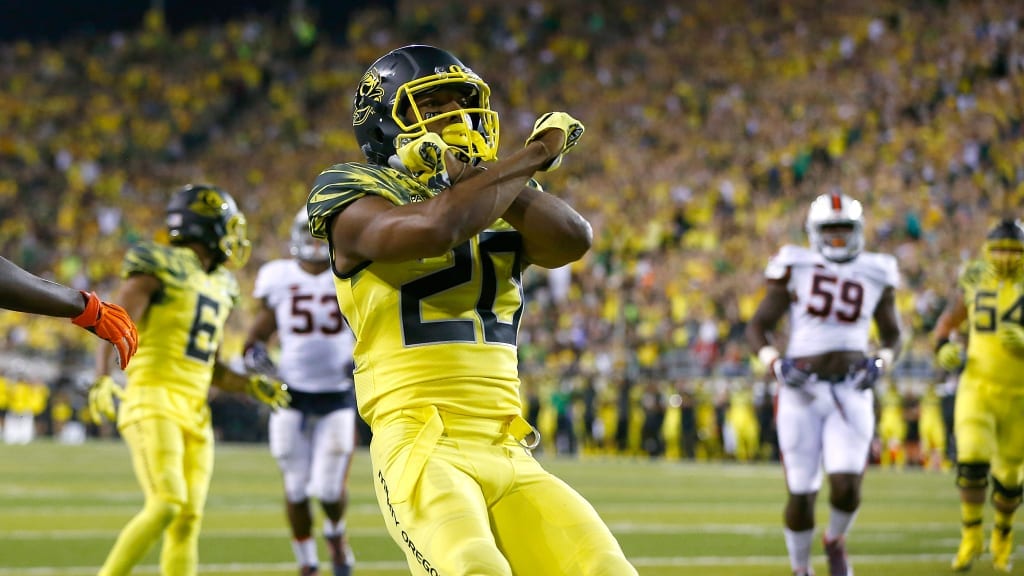 Washington Huskies (5-1 SU, 2-4 ATS) vs. Oregon Ducks (4-1 SU, 1-4 ATS)
College Football Week 7
Date and Time: Saturday, October 13, 2018 at 3:30PM EDT
Where: Autzen Stadium, Eugene, Oregon
TV: ABC
By: Loot Levinson, NCAA Football Handicapper, Predictem.com
Point Spread: WASH -3.5/ORE +3.5
Over/Under Total: 56.5
The Oregon Ducks are going to cover the spread on Saturday at home against the Washington Huskies. This is a big-time Pac-12 matchup between two teams that look to be the class of the North division. Let's at least hope we get a more-competitive game than last season's 38-3 Huskies' win in Seattle. And with the way the Ducks have looked, a competitive game seems to be in the cards. It's been a while since the Ducks ascended this high and this would be a definite signal that the Ducks are back.
Washington High-Ranked for a Reason
Feeling good about a pick is one thing, but let's also show due respect for the other side of the play. And when you're talking about the Huskies, you're talking about a team with a lot of experience that knows what it's like to be in this position. For the last several seasons, the Huskies have rejoined the ranks of the conference elite. This roster is packed with guys who know what it's like to be here. After a week one road loss to Auburn in what was a tough spot, the Huskies have done well, winning five in a row, while covering just twice. They looked good in beatings of Utah and BYU, but don't always fire on all cylinders.
And therein lies the issue with backing Washington in these spots—an overall air of underachievement. The sample-size is hardly big enough to justify this, but over the course of the last season-plus, the results with the Huskies aren't always commensurate with the talent. We saw this last week with a narrow 31-24 win over a struggling UCLA team. A lot of times, you look up at the scoreboard in the middle of a Washington game and think "What's going on?"
Still, it's only fair to acknowledge the worth of a tip-top QB/RB battery at this level and with QB Jake Browning and RB Myles Gaskin, that's a ton of experience and production. Browning might not have the line or the aerial support he had when he was getting invited to a Heisman ceremony a few seasons back, but junior Aaron Fuller is really rounding into shape at wide receiver.
As last season will attest, the Washington defense looms as a major matchup sticking-point for the Ducks. They managed a meager 3 points of scoring in last season's matchup. This season, the Huskies again are robust across all areas. U of W has become a haven for top defensive backs and the secondary remains tip-top year after year despite all the key departures. A few teams, like UCLA and Auburn, managed to score against them, but Oregon will need to find a lot of the right answers to keep pace with this team.
Is Oregon for Real?
Oregon enters this game coming off the break, which was proceeded by a big 42-24 win over a then-unbeaten Cal team. The previous week was a tough pill to swallow in a hard overtime-loss to Stanford. But it also showed how dangerous Oregon has become under first-year coach Mario Cristobal, who has a nice way about him and has made some nice calls this season. He seems to have dialed into QB Justin Herbert's talent better and gotten another gear out of him. Cristobal has also been hailed as a top recruiter over the years and we see a lot of young up-and-coming talent in Eugene as a result.
On offense, the difference is apparent. Herbert is a huge talent, capable of making all the throws with different-level skills that have him as one of the top QB prospects in the college ranks. Veteran back Tony Brooks-James is still doing his thing, along with young Travis Dye and CJ Verdell (questionable). Receiver Dillon Mitchell has become a big weapon this season, as Johnny Johnson, III already has four TD receptions. There are a lot of speedsters on this side of the ball. And when you have a guy who a lot of people think will be the top pick in the draft behind center, it counts for something even at this high level of college ball. And that's not to say Herbert is the only NFL-ready prospect who will be on the field in this game, but he's a rising force to be sure.
Challenges Washington Faces
The Eugene faithful have something substantial to support this season and we saw that to some extent against Stanford, though they couldn't maintain it for the full four quarters. This game could come down to X's and O's late, but early, Washington will need to match a lot of emotion. Oregon is rested, at home, and in front of what should be a frothing crowd. Washington needs to hit the ground running in this one. It's not the easiest environment in which to play.
Take the Points on the Home Underdog
I picture a performance where Oregon puts it together and delivers the big game. And if I'm wrong, I have some points to work with. It takes a leap-of-faith, as Washington would be considered a more-bankable proposition at this level. But on a very basic level, I see Oregon as the program on the rise. And while Washington might not be on the decline per se, I'm not sure they're near their ceiling. With some wind in their sails and more preparation with the week-off, I see things setting up for Oregon in this spot. An outright win could be in the cards, but at any rate, I'm taking the home underdog and the points.
Loot's Pick to Cover the Point Spread: I'm betting on the Oregon Ducks plus 3.5 points.
<aside><!-- [et_pb_line_break_holder] --><div class="widget105"><!-- [et_pb_line_break_holder] --><h4 class="cash">Best Sportsbook Bonuses</h4><!-- [et_pb_line_break_holder] --><div class="widgetlist"><!-- [et_pb_line_break_holder] --><div class="col1"><!-- [et_pb_line_break_holder] --> <a href="https://www.predictem.com/out/IntertopsB"><img src="https://www.predictem.com/wp-content/uploads/2018/04/intertops.png" width="" alt="Bovada" /></a><!-- [et_pb_line_break_holder] --></div><!-- [et_pb_line_break_holder] --><div class="col2"><!-- [et_pb_line_break_holder] --><span class="list"><b>50% Cash</b></span><br><!-- [et_pb_line_break_holder] --><span class="list">4x Rollover</span><!-- [et_pb_line_break_holder] --> </div><!-- [et_pb_line_break_holder] --> <div class="col3"><!-- [et_pb_line_break_holder] --><a href="https://www.predictem.com/betting-sites/intertops/"><button class="btn-widget">Review</button></a><!-- [et_pb_line_break_holder] --></div><!-- [et_pb_line_break_holder] --></div><!-- [et_pb_line_break_holder] --><div class="widgetlist"><!-- [et_pb_line_break_holder] --><div class="col1"><!-- [et_pb_line_break_holder] --> <a href="https://www.predictem.com/out/BovadaB"><img src="https://www.predictem.com/wp-content/uploads/2018/04/bovada.png" width="" alt="Intertops" /></a><!-- [et_pb_line_break_holder] --></div><!-- [et_pb_line_break_holder] --><div class="col2"><!-- [et_pb_line_break_holder] --><span class="list"><b>50% Cash</b></span><br><!-- [et_pb_line_break_holder] --><span class="list">10x Rollover</span><!-- [et_pb_line_break_holder] --> </div><!-- [et_pb_line_break_holder] --><div class="col3"><!-- [et_pb_line_break_holder] --><a href="https://www.predictem.com/betting-sites/bovada/"><button class="btn-widget">Review</button></a><!-- [et_pb_line_break_holder] --></div><!-- [et_pb_line_break_holder] --></div><!-- [et_pb_line_break_holder] --><div class="widgetlist"><!-- [et_pb_line_break_holder] --><div class="col1"><!-- [et_pb_line_break_holder] --> <a href="https://www.predictem.com/out/GtbetsB"><img src="https://www.predictem.com/wp-content/uploads/2018/05/gt-bets.png" width="" alt="GtBets" /></a><!-- [et_pb_line_break_holder] --></div><!-- [et_pb_line_break_holder] --><div class="col2"><!-- [et_pb_line_break_holder] --><span class="list"><b>100% Cash</b></span><br><!-- [et_pb_line_break_holder] --><span class="list">20x Rollover</span><!-- [et_pb_line_break_holder] --> </div><!-- [et_pb_line_break_holder] --> <div class="col3"><!-- [et_pb_line_break_holder] --> <a href="https://www.predictem.com/betting-sites/gtbets/"><button class="btn-widget">Review</button></a><!-- [et_pb_line_break_holder] --></div><!-- [et_pb_line_break_holder] --></div><!-- [et_pb_line_break_holder] --><div class="widget-footer"><a href="https://www.predictem.com/best-sportsbooks/bonuses/">See all sportsbook bonuses</a></div><!-- [et_pb_line_break_holder] --> </div></aside>