Pennsylvania Derby Picks – Race Analysis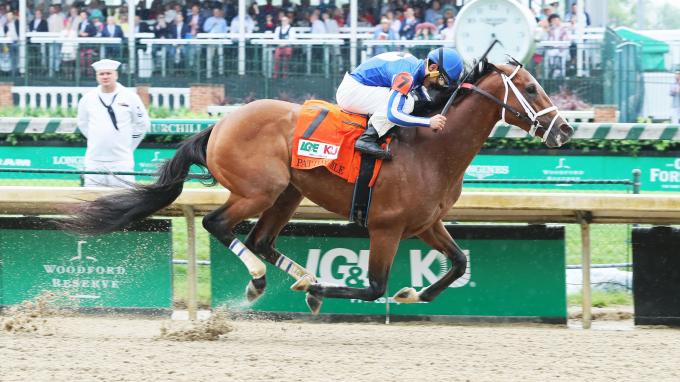 Event: Pennsylvania Derby-G1, Parx Racing
When: Race 11, Saturday, September 21, 2019
Age: 3-Year-Olds Distance: 1 1 1/8-miles. Surface: Dirt. Purse: $1 Million
2019 Pennsylvania Derby Picks
Mr. Money
Spun to Run
Improbable
War of Will
Pennsylvania Derby Analysis
The expected scratch of Maximum Security in the $1 million Pennsylvania Derby means only six horses will run, yet you might still be able to get a decent price on your pick. If you like the same horse we do, that is.
Maximum Security would have been our selection in this race, he's just too tough and game to leave off any ticket, ever. And he was likely going to go right to the lead from the outside post. Now we're not sure who will make the lead, but this looks like a three-horse race, and we'll take a shot on Mr. Money.
We liked Mr. Money as a longshot in last year's Breeders' Cup Juvenile, and he finished fourth at 41-1. When he came back in his first start as a 3-year-old in the Risen Star Stakes-G2, he finished a very tired seventh behind fellow Pennsylvania Derby entrant War of Will. He was a very, short horse in that race. He then finished fifth in the Louisiana Derby-G2, and we gave up on him too early.
Bad idea.
Mr. Money romped in his next start in the Pat Day Mile-G3 at Churchill Downs, and he has since won three in a row including the Matt Winn-G3, also at Churchill Downs, the Indiana Derby-G3 and the West Virginia Derby-G3. He couldn't be better heading into this year's Pennsylvania Derby, and it's time to try a few of the big boys again.
Improbable looked good in his first start off the layoff with blinkers on in the Shared Belief Stakes going a mile at Del Mar on August 25, but we're not sure who he was beating. The Kentucky Derby-G1. Improbable ran fifth in that race and came back to finish sixth in the Preakness-G1 before taking a break. We didn't really think he had an excuse in either of those races.
Improbable is a decent horse, and he could win, but he hasn't shown the acceleration we like to see in the best of the best. Trainer Bob Baffert and jockey Mike Smith won the last two renditions of this race in 2017 and 2018 with West Coast and McKinzie, and Smith is back again, but Improbable is no McKinzie.
Find: The best online racebooks to get down on the Derby.
We absolutely loved War of Will in the Preakness-G1 and hated him in the Belmont-G1. He won the former with a perfect trip and ran ninth in the latter. He then came back to run fifth in the Jim Dandy-G2 at Saratoga, and we kind of expected he might do that. He looks like a horse that needs a perfect trip behind a duel to win, and he may also be past his peak.
Much more interesting is local favorite Spun to Run, who won the Smarty Jones-G3 at Parx in his last start with a game effort going 1 1/16-miles and who also fits another one of our favorite angles. After breaking his maiden and following up with a romp in an N1X allowance race at Parx earlier this year, he was then thrown to the wolves in the Haskell Invitational-G1 and finished third beaten 9 ¼-lengths by Maximum Security.
Spun to Run was ambitiously spotted for the Haskell and wasn't ready for the class raise at the time. The Haskell did tune him up for his Smarty Jones win, however, and now he takes another shot at the big boys. This time he should be ready.
The other two entrants in this race have already proven they can't beat these types. Math Wizard was soundly defeated by Mr. Money in his last two starts, and Shanghai Superfly is still a maiden. These two look like race fillers.
We're going to guess that improbable goes to the lead and he may or may not be pressured, but we still think he's beatable regardless. Both War of Will and Spun to Run could pressure him early, but even if they don't, we believe that Mr. Money can run him down with his ability to accelerate when it counts.
Mr. Money on top of Improbable and Spun to Run will be our main exactor, and we'll reverse it for half the amount. We'll also take a smaller ticket with War of Will second in the exactor. Additionally, we'll take Mr. Money on top of Improbable and Spun to Run in the trifectas and in the first three slots in our superfectas, again using him in second place on some smaller tickets.
Mr. Money to win and place.
How to Bet on Horses
Read our Race Betting Guide to get insight on all of the types of wagering options in horse racing. Dig deeper below to get tips on the most popular exotic wagers with winning strategies provided by expert Kenneth Strong.