Boston Red Sox vs. Philadelphia Phillies Pick 5/22/21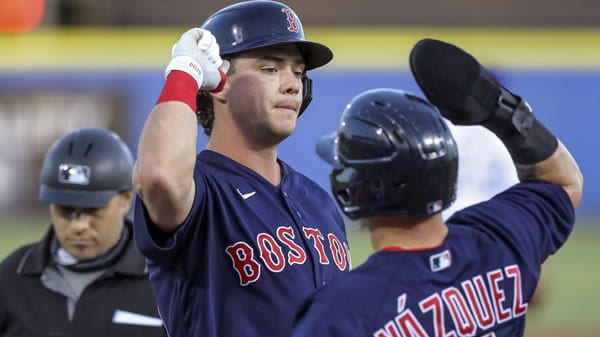 Boston Red Sox (28-18) vs. Philadelphia Phillies (22-23)
When: 7:15 p.m., Saturday, May 22
Where: Citizens Bank Park, Philadelphia
Moneyline: BOS -130/STL +120 (Bovada)
Runline: Red Sox -1.5/Phillies +1.5
Total: 9
Starting Pitchers: Nathan Eovaldi (4-2, 4.50 ERA, 1.18 WHIP) vs. Spencer Howard (0-0, 8.31 ERA, 1.85 WHIP)
Road Warrior
For whatever reason, Nathan Eovaldi really seems to be a fan of pitching somewhere other than Fenway Park. Eovaldi hasn't been terrible at Fenway by any means, but he's done some of his best work on the road in 2021. In two road starts, he's emerged with a pair of victories and held his two opponents to a combined three runs.
The big question is whether Eovaldi's road success is because he really is more comfortable away from home or because of the lack of quality of the opposition he was facing. Texas and Minnesota haven't exactly provided much resistance this season, and it remains to be seen how Eovaldi will fare against a home opponent that isn't incompetent. Then again, the Phillies might not do any better against him, considering that offense has not been one of their strengths this year.
Missing Power
At first glance, the Phillies are actually reasonably solid bets to get men on base. The problem is that they're not exactly a team that takes advantage of its opportunities once it gets those men on base. Philadelphia has had a real issue with driving in runs, as the Phillies rank just 19th in runs scored on the year.
Part of that could be because of the division they call home, as the Phillies share a division with NL East rivals Miami, Washington, and the New York Mets, all of whom rank in the top 10 in run prevention (the Mets actually lead the majors in run prevention and the Phillies have already had to play them nine times). But the other half of the equation is that the Phillies' main bats are not getting the job done. Right now, Philadelphia's best hitting options are either not driving in runs (Bryce Harper), not getting on base (Andrew McCutchen), or not healthy enough to play (Didi Gregorius). In Harper's case, the problem seems to be the lineup around him, as he's not getting much in the way of opportunities to drive in runs. Harper hits a more than respectable .285, but with only 13 runs batted in, he's either shrinking in the spotlight (no) or not getting many opportunities to bring his teammates home.
Boston Blast-Off
At the other end of the spectrum, the Red Sox are mashing the ball at the moment. Boston has been bringing in runs at such a ferocity that the Red Sox have scored 40 in their past six games, even with one of those being a shutout loss to Toronto. The win over Philadelphia was exactly what Boston baseball wants to be: taking advantage of opportunities and getting extra bases whenever they can.
On Friday against the Phillies, the Red Sox broke the game open in large part because they struck for extra-base hits in two-out situations. In particular, Rafael Devers and Christian Vazquez proved deadly in clutch situations, as each came up with three two-out RBIs to turn what was a tight game into one-way traffic. Right now, this is a confident team that feels it can produce runs at any point — definitely far from an ideal situation for Philadelphia starter Spencer Howard, who has all of 4.1 innings to his name in 2021.
Betting Trends
The Red Sox have won four straight against a right-handed pitcher.
The Red Sox are 6-2 in their past eight games.
The Phillies are 4-10 in their last 14 interleague home games.
The Phillies are 3-13 in their past 16 interleague games against a right-handed starter.
The Phillies are 1-7 in their past eight against the AL East.
The under is 5-1-1 in the Red Sox's past seven games as a favorite.
The under is 8-3 in the Phillies' past 11 games.
The Red Sox have won four of their past five trips to Philadelphia.
Weather Report
It should be warm and mild in the City of Brotherly Love, with winds blowing at eight miles per hour toward first base on an 80-degree evening.
Dan's pick
The Phillies haven't played good baseball this week, as they come in as losers in five of their past six contests. To make matters worse, the Phillies have scored 20 runs in those games but managed to bunch 16 of them into just two games. In their past three games, they've notched just four runs, and they've been shut out twice this week alone.
Those aren't good trends when you've got a fine-hitting Boston team in the opposing dugout, and with Eovaldi performing well on the mound on the road, the Red Sox appear in good shape in this one. Give me Boston.