Miami Marlins vs. Philadelphia Phillies Pick 5/20/21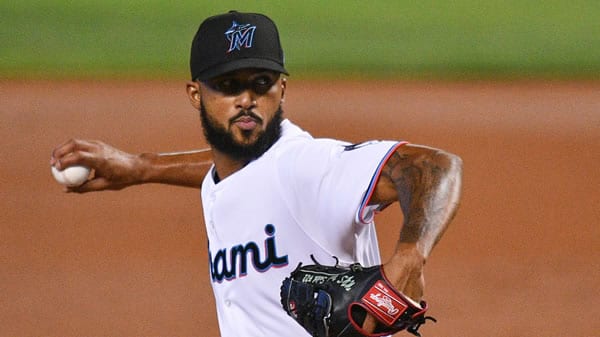 Miami Marlins (19-23) vs. Philadelphia Phillies (22-21)
When: 7:05 p.m., Thursday, May 20
Where: Citizens Bank Park, Philadelphia
Moneyline: MIA +100/PHI -120 (BAS)
Runline: Marlins +1.5/Phillies -1.5
Total: 8
Starting Pitchers: Sandy Alcantara (1-3, 4.06 ERA, 1.16 WHIP) vs. Vince Velasquez (1-0, 3.68 ERA, 1.40 WHIP)
Blowing It Up
Through his first eight starts of 2021, Sandy Alcantara had been a reliable starter who could get the game through the sixth inning, hand it over to the Marlins' bullpen and call it a day. And for the most part, that strategy has been executed rather well, as the Marlins have seen Alcantara pitch six innings or more in all but two of his appearances in 2021. He's also held to normal pitching levels for a starter, routinely throwing somewhere between 90 and 100 pitches in all but his first and most recent starts in 2021.
The problem is that Alcantara is coming off a horrific start in his previous appearance, which sent his ERA skyrocketing after giving up eight runs in 1.1 innings. Against the Dodgers, nothing Alcantara tried worked except getting strikeouts, as he managed to record just one out by something other than a K. However, don't expect the Phillies to take things any less seriously against the Marlin hurler, as Philadelphia should know first-hand just how difficult Alcantara is when he's got his good stuff. In six previous games against Philadelphia, Alcantara owns a 4-1 record. What's more, he's well-suited to pitch in Citizens Bank Park because he gets most of his outs by either strikeout or groundout, the only real safe ways to keep your ERA down in South Philadelphia.
Home Park Heroes
South Philadelphia is never a friendly place for visitors, but it's been even less friendly than usual this year, as Philadelphia has jumped out to a 14-7 mark at home in 2021. To date, Philadelphia has only lost home series to the Giants and the Mets, both of whom lead their respective divisions. That mark underscores two things: how poor the Phillies are on the road and how effective they've been at closing out tight games. Seven of Philadelphia's 14 wins at Citizens Bank Park have been decided by a single run, which is actually a fairly impressive feat given just how awful the Phillies' bullpen has been in recent years.
That creates a strong live-betting opportunity if the game is close because the Phillies have shown that they know how to handle the tight games and turn things their way. Given that the Marlins haven't exactly been putting up a lot of offense, being able to manufacture a couple of runs in the later innings could be a deciding factor as to who wins this series.
Long Trip Home
However, one Phillie who might not be all that comfortable at Citizens Bank Park is Thursday's starter, Vince Velasquez. Velasquez has pitched well since becoming part of the rotation after beginning the year in the bullpen, but thanks to his late addition to the rotation and the quirks of the calendar, only one of his starts has come in Philadelphia.
Velasquez did manage to earn a win in that game for his only result of the year against the offensively-challenged Brewers, but when you're not used to pitching in Citizens Bank Park, it can be a challenging task to have sustained success there. With its small dimensions, this is a park that is going to get you eventually, and the Phillies will be hoping that "eventually" took place back in April when Velasquez was still coming out of the Phillies' bullpen. In his first appearance of the season, Velasquez struggled in Philadelphia, giving up four runs in 1.1 innings, despite keeping the ball in the park.
Betting Trends
The Marlins are 3-8 in their past 11 games as a road underdog.
The Marlins are 4-9 in their past 13 road games against a team above .500.
The Phillies are 5-1 in their past six home games.
The Phillies are 16-6 in their past 22 games as a home favorite.
The under is 6-1 in the Marlins' past seven games against a right-handed starter.
The under is 5-1 in the Phillies' past six against the NL East.
The over is 7-3 in the past ten matchups.
The Marlins have won four of the past five meetings.
Weather Report
The wind could be a help to hitters on a warm night in Philadelphia, with temperatures hovering at 78 degrees and the wind blowing out to left-center, going south-southeast at nine miles per hour.
Dan's pick
Philadelphia has been a great home team this year, but Alcantara has really had the Phillies' number when he's faced them, which makes this one that's worth a pause. For me, the best bet to make might be to play conservative and take the Marlins on the run line, as Philadelphia's history suggests that this is likely to either be a Miami victory or a one-run win for the Phillies.
I don't feel great about taking the Phillies here, but I don't think they let up at the end of this series. With Velasquez pitching pretty well right now, I'll take the Phillies to keep it going.
MLB Betting Guide
New to betting on baseball? We've got you covered! Our comprehensive how to bet on baseball article explains all the different types of wagers offered at the sportsbooks including money lines, over/unders, run lines, parlays and more! Also get tips and strategies to increase your odds of beating the bookies!