[et_pb_dcsbcm_divi_breadcrumbs_module hide_homebreadcrumb="off" homebreadcrumbtext="Home" separator="sep-raquo" hide_currentbreadcrumb="off" homebreadcrumborientation="left" _builder_version="3.8″ fontsbreadcrumbs_font="Lato||||||||" fontsbreadcrumbs_text_color="#000000″ fontsbreadcrumbs_font_size="15px" fontsbreadcrumbs_line_height="16px" fontsseperator_font="||||||||" fontsbreadcrumblinks_font="||||||||" fontsbreadcrumblinks_text_color="#2567cf" custom_margin="25px|||" custom_margin_phone="30px|||" custom_margin_last_edited="off|desktop" custom_css_main_element="font-family: Helvetica Regular;" global_module="3641″ saved_tabs="all"][/et_pb_dcsbcm_divi_breadcrumbs_module]
Miami Marlins at Washington Nationals Pick – Odds Analysis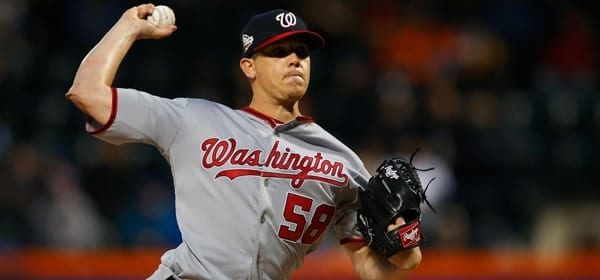 Time: July 5, 2018 7:05 PM ET
Venue: Nationals Park
Location: Washington, D.C.
TV: FOX Sports-Florida & MASN
Moneyline: Miami (+165) / Washington (-185)
Over/Under: 9
By Bryan B.
The Washington Nationals welcome divisional foe Miami to Washington, D.C. Thursday night for the first game of a four-game set at Nationals Park. This will be the fourth of twenty-one meetings between these two clubs this season. Washington swept a three-game set at Miami in late May, outscoring the Marlins 18-8 in the series. However, the Nationals are in freefall mode right now and hope their recent success against the Marlins can propel them onto a winning streak they so desperately need approaching the All-Star break. Pablo Lopez (1-0, 3.00 ERA & 1.17 WHIP) is the scheduled starter for Miami, while Jeremy Hellickson (2-1, 2.63 ERA & 1.02 WHIP) is set to toe the rubber for the hometown Nationals.
Fish claim another series victory
At 36-52 (.409) on the year, Miami's pretty much where everybody expected after cleaning house in terms of their roster in the offseason. The Fish are 14.5 games behind the division-leading Atlanta Braves in the National League East Standings. However, the Marlins are on a nice little run for themselves lately. Miami's taken two of three games in back-to-back three-game sets versus the Mets and Rays. On Independence Day, Miami blanked Tampa Bay 3-0. Jose Urena (2-9, 4.18 ERA & 1.18 WHIP) received a no-decision despite throwing five innings of scoreless baseball with six strikeouts. It was reliever Drew Rucinski (4-1, 3.24 ERA & 0.90 WHIP) who was credited with the victory after allowing just one hit in two scoreless frames with two punch-outs. Shortstop J.T. Riddle (.258 AVG, 5 HR, 17 RBI & .288 OBP) went three for four with a triple, home run, and two RBI. Consequently, Miami's 5-5 in their last ten decisions.
The Marlins haven't been stellar on the road thus far, compiling a 17-26 (.395) record. Miami's scored 320 runs (28th in MLB) and allowed 432 (6th worst in MLB). Their -109 run differential is third worst in the Big Leagues. Not only has their pitching staff been suspect all year long, but their offense has been feeble too. With a team on-base percentage of .306, the Fish are 24th in the League in that category. Miami's .361 team slugging percentage is the worst in MLB.
Getting the nod for the Fish is Rookie right-hander Pablo Lopez (1-0, 3.00 ERA & 1.17 WHIP). The 22 year old Venezuelan made his Major League debut on June 30th, getting a victory versus the New York Mets (5-2). Lopez pitched six innings, giving up two earned runs on six hits with five strikeouts and one walk. Both runs he allowed were solo home runs. Thursday night will be Lopez's first MLB road test at Nationals Park. In his Minor League career, Lopez has compiled a 23-17 record with a 2.93 ERA and 1.05 in 64 starts.
Hello Washington
After Wednesday's loss to the Boston Red Sox, the Nationals have fallen below .500 at 42-43 (.494). The Red Sox swept the Nats Monday-Wednesday, outscoring them 18-7. Consequently, Washington's losing streak has extended to five games. The Nationals are 5-15 (.250) in their last twenty games, getting outscored 107-76. Due to getting swept by Boston, Washington's lost four straight series in a row. Washington's potent offense of years past seems to have disappeared this season. In their last twenty games, the Nats are averaging just 3.8 runs per game.
Bryce Harper (.215 AVG, 21 HR, 50 RBI & .362 OBP) is 5 for 27 (.185) in his last nine games. Harper's had two extra-base hits, two homers, four RBI and 14 strikeouts during his slump. Another big bat who's struggling is talented Rookie Juan Soto (.306 AVG, 8 HR, 21 RBI & .419 OBP). He's gone 2 for 18 (.111) in his last five starts with only two hits to go along with five strikeouts. The Nationals aim to "right the ship" at home where they've lost three consecutive games and 19 of 42 (.452) on the year.
Veteran right-hander Jeremy Hellickson (2-1, 2.63 ERA & 1.02 WHIP) gets the ball for the Nats Thursday night. Hellickson's made three starts at Nationals Park this year, earning three no-decisions despite posting a tidy 1.68 ERA and 0.93 WHIP. In 12 career starts versus Miami, Hellickson's 4-3 with a 2.88 ERA and 1.05 WHIP.
Fish or Nats?
I'm not sure how a team that's lost 15 of their last 20 games is a favorite, but the Nationals are a sizable one here with the -185 line. This means Washington would need to win this game 64.9% of the time for betting on them to be profitable. Even though they're 3 for 3 this year against Miami, I wouldn't trust them to beat anyone right now. Two similarities are eminent in the matchup between these two clubs. Both teams are sending solid pitchers to the mound, and both have anemic offenses. Consequently, this looks like a recipe for a low-scoring affair Thursday night. There's great value in taking the under, which is set oddly high at 9 currently. The under is 4-1-2 in the last 7 meetings between Miami and Washington. Furthermore, the under is 4-1 in the Nationals previous five games.
Get the best value on baseball totals at 5Dimes when you choose a reduced vig account.
<div class="widget105"><!-- [et_pb_line_break_holder] --><h4 class="baseball">Baseball Sportsbooks</h4><!-- [et_pb_line_break_holder] --><table id="dimeline"><!-- [et_pb_line_break_holder] --> <tr><!-- [et_pb_line_break_holder] --> <th></th><!-- [et_pb_line_break_holder] --> <th width="110px">10¢ to:</th><!-- [et_pb_line_break_holder] --> <th width="110px">20¢ to:</th><!-- [et_pb_line_break_holder] --> </tr><!-- [et_pb_line_break_holder] --> <tr><!-- [et_pb_line_break_holder] --> <td><div class="col1"><a href="https://record.commission.bz/_BhTQDVOVie23_O3IiMN7EWNd7ZgqdRLk/1/"><!-- [et_pb_line_break_holder] --> <img src="https://www.predictem.com/wp-content/uploads/2018/06/SportsBettingDark.png" width="150" alt="SportsBetting" /></a><!-- [et_pb_line_break_holder] --> </div></td><!-- [et_pb_line_break_holder] --> <td>-200</td><!-- [et_pb_line_break_holder] --> <td>-279</td><!-- [et_pb_line_break_holder] --> </tr><!-- [et_pb_line_break_holder] --> <tr><!-- [et_pb_line_break_holder] --> <td><div class="col1"><a href="https://www.predictem.com/betting-sites/heritage-sportsbook/"><img src="https://www.predictem.com/wp-content/uploads/2018/06/heritage-xs.png" width="150" alt="Heritage" /></a></div></td><!-- [et_pb_line_break_holder] --> <td>-200</td><!-- [et_pb_line_break_holder] --> <td>-240</td><!-- [et_pb_line_break_holder] --> </tr><!-- [et_pb_line_break_holder] --> <tr><!-- [et_pb_line_break_holder] --> <td><div class="col1"><a href="https://affiliates.5dimes.eu/tracking/Affiliate.aspx?idBook=1&mediaTypeID=220&AffUrlID=80&LandingPageID=2"><img src="https://www.predictem.com/wp-content/uploads/2018/06/5Dimes_sm.png" width="150" alt="5Dimes" /></a></div></td><!-- [et_pb_line_break_holder] --> <td>-195</td><!-- [et_pb_line_break_holder] --> <td>-266</td><!-- [et_pb_line_break_holder] --> </tr><!-- [et_pb_line_break_holder] --></table> <!-- [et_pb_line_break_holder] --><div class="widget-footer"><a href="https://www.predictem.com/best-sportsbooks/mlb-dimeline/">See all Dimeline Sportsbooks</a></div><!-- [et_pb_line_break_holder] --></div><!-- [et_pb_line_break_holder] --><!-- [et_pb_line_break_holder] --><style><!-- [et_pb_line_break_holder] --> #dimeline {border: 0px;}<!-- [et_pb_line_break_holder] --> #dimeline th{color:#000;}<!-- [et_pb_line_break_holder] --> #dimeline td{padding: 2px; text-align: center;}<!-- [et_pb_line_break_holder] --> #dimeline td, #dimeline th{padding: 8px 2px; text-align: center;border-bottom: 1px solid #bbb;}<!-- [et_pb_line_break_holder] --> .img-hover {border: 1px solid #fff; padding:5px}<!-- [et_pb_line_break_holder] --> .img-hover:hover {background: #edeef0; border: 1px solid #008156; margin-top:1px; padding:5px}<!-- [et_pb_line_break_holder] --></style>