[et_pb_dcsbcm_divi_breadcrumbs_module hide_homebreadcrumb="off" homebreadcrumbtext="Home" separator="sep-raquo" hide_currentbreadcrumb="off" homebreadcrumborientation="left" _builder_version="3.2.1″ fontsbreadcrumbs_font="Lato||||||||" fontsbreadcrumbs_text_color="#000000″ fontsbreadcrumbs_font_size="15px" fontsbreadcrumbs_line_height="16px" fontsseperator_font="||||||||" fontsbreadcrumblinks_font="||||||||" fontsbreadcrumblinks_text_color="#2567cf" custom_margin="25px|||" custom_margin_phone="30px|||" custom_margin_last_edited="off|desktop" custom_css_main_element="font-family: Helvetica Regular;" global_module="3641″ saved_tabs="all"][/et_pb_dcsbcm_divi_breadcrumbs_module]
Orioles at Nationals Pick 6/20/18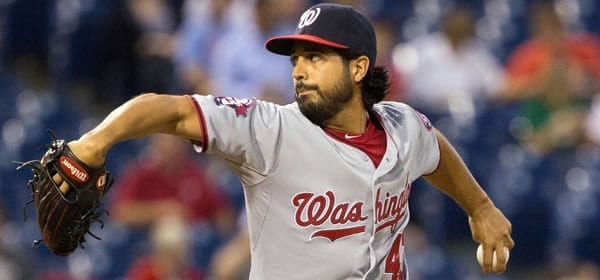 Orioles at Nationals (6/20/18)
Time:
7:05 PM ET
Venue:
Nationals Park
Location:
Washington, D.C.
TV:
MASN
Moneyline:
Baltimore (+185) / Washington (-220)
Over/Under:
9
By Predictem handicapper Bryan B
It's a beltway battle Wednesday night in D.C. when the Baltimore Orioles clash with the Washington Nationals in the second game of a three-game set at Nationals Park. Washington took the series opener Tuesday night with a 9-7 comeback victory. Down 4-1 thru 4.5 innings, the Nats put up four runs in the fifth to knot it at five apiece. The O's responded quickly with one run in the Top of the 6th to regain the lead. However, it was short-lived. Washington poured on four runs in the bottom of the 7th to open the flood-gates, ultimately winning by a 9-7 final. This will be the fifth meeting of the year between these two clubs, with the Nationals leading the season-series 4-0 thus far. The birds look to "buck" that trend Wednesday night in the nation's capital.
Orioles season is for the birds
This season has been a nightmare for Buck Showalter and his Baltimore Orioles. They're 20-51 (.282) overall, which is the worst record in Major League Baseball. The O's have plated just 255 runs this year (worst in MLB) and have the second-worst run differential in the League (-115). Baltimore's 51 losses is tied with Kansas City for worst in the League. Notice a trend? Orioles baseball has become synonymous with futility. Recently, things haven't gotten any better as Baltimore's lost nine of their last ten contests getting outscored 60-37. On the road, the O's are a pitiful 9-28 (.243) this season. Their nine road wins is by far the least in the MLB, which is just another category they're probably not honored to be at the nadir. Baltimore has been shutout eight times this year, which is also the worst in the league. You almost feel bad for the poor birds. They've literally not scored in 11.7% of their games this year!
Baltimore is 0-4 versus Washington this season, getting outscored 20-9. The O's have allowed 370 runs, which is sixth-worst in the league. Their lone bright spot has been shortstop Manny Machado (.305, 18 HR, 53 RBI & .373 OBP) whose name has been swirling in trade rumors lately. Machado's career average vs. scheduled Washington starting pitcher Gio Gonzalez is .313. The Orioles have been historically bad so far this season, and it's come to the point where heads are going to start rolling. Head Coach Buck Showalter's on the hot seat, as Baltimore is just a dumpster-fire that's implosion of their current roster is imminent.
Nationals end a three-game skid
Washington has lost seven of their last ten games, but a 9-7 victory over the lowly Orioles Tuesday night ended a three-game slide for the defending National League East Champions. Shortstop Trea Turner (.268, 8 HR & 26 RBI) went 4 for 4 with 2 runs, a homer, and an RBI, while third baseman Anthony Rendon (.277, 6 HR & 27 RBI) went 2 for 4 with 3 RBI. At 39-32 (.549), the Nationals are second in the NL East Standings and 3.5 games behind the Division-leading Atlanta Braves. Nationals Park has proven to be not much of a home-field advantage this season as the Nats have posted a .500 record on the grass (17-17). Washington's pitching has been great this year, allowing just 258 runs (3rd-best in MLB). Only the Chicago Cubs and Houston Astros have allowed fewer runs thus far. The Nationals also boast a +48 run differential.
Cash vs. Double G
Toeing the rubber for the Orioles is Andrew Cashner (2-8, 4.98 ERA &1.69 WHIP). Nicknamed "Cash," he's been anything but recently going 0-3 in his last three starts with a 5.82 ERA and 2.12 WHIP. Cashner's last victory came on May 21st at the Chicago White Sox (3-2), and a win will be elusive up against a Nationals club that's had success versus him in the past. The following Nationals players have a career average north of .400 against Cashner with at least eleven at bats: Anthony Rendon (.417), Bryce Harper (.455) and Daniel Murphy (.455).
Taking the hill for the Nats is Gio Gonzalez (6-3, 3.01 ERA, and 1.35 WHIP), known as Double G to his teammates. In his most recent start, Gonzalez recorded his first loss since April 23rd at Toronto. He was roughed up for five earned runs on nine hits and allowed two home runs. June hasn't been kind to Mr. Gonzalez as he's gone 0-1 with a 6.71 ERA and 1.61 WHIP. It's possible his start to June is an anomaly because his numbers in May were outstanding. Gonzalez went 3-0 with a 1.49 ERA and 1.16 WHIP. On May 28th, Gonzalez got the "W" on the road against Baltimore. He tossed 7.2 innings giving up no earned runs, allowing just six hits and two free passes. Consequently, Gonzalez is 1-0 versus Baltimore with a 0.00 ERA and 1.11 WHIP this season.
Prediction
With the line at -220 for the Nationals, the oddsmakers are saying they'll win this game 68.75% of the time. The Nationals have won all four matchups with the O's already this year and have Scherzer taking the mound Thursday. So, this game is definitely Baltimore's best chance to take a game off the Nationals finally. However, best chance doesn't equate to a great opportunity. According to my calculations, Washington takes this game 81% of the time. Baltimore is 2-9 in Cashner's last 11 starts, and 0-9 in their previous nine interleague games versus a team with a winning record. The Nationals have a winning record, and an undefeated one against the Orioles to boot. Take Washington to win on the money line with a 12.25% edge against the number. To get the best line on this game check out Intertops who offer new bettors a free $100 if you deposit $100!