Reds vs. Cardinals Moneyline Pick 9/10/21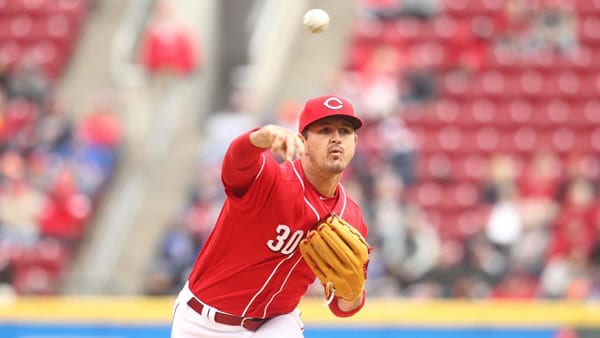 Cincinnati Reds (74-67) vs. St. Louis Cardinals (71-68)
When: 8:15 p.m., Friday, September 10
Where: Busch Stadium, St. Louis
Moneyline: CIN -125/STL +115 (Sportsbooks offering dimelines >>> Saves you BIG bucks!)
Runline: Reds -1.5/Cardinals +1.5
Total: 8.5
Starting Pitchers: Tyler Mahle (11-5, 3.76 ERA, 1.21 WHIP) vs. Jon Lester (5-6, 4.89 ERA, 1.58 WHIP)
All or Nothing
By the end of this week, St. Louis will either be firmly in the wild card race or on the outside looking in. The Redbirds trail the Padres by three games and the Reds by two with 23 to play, and both teams must play a series at Busch Stadium before the year is over. Getting to that Padres series either with the lead or within three runs is critical to the Cardinals because if they can get through it with the lead, their schedule sets up beautifully for them to make a run.
St. Louis will play its final 14 games against Milwaukee and Chicago, and with the Cubs playing out the string and the Brewers almost certainly resting players and getting ready to face the NL East champion, the Cardinals could be the only team in those games who cares about the result. St. Louis has been ridiculously inconsistent all year long, but if the Cardinals can piece something together here, they can finally take control in the wild card race and get themselves in a position to scare someone in a short series.
From Out of the Grave
The ghost of Jon Lester's career apparently still has life in it, after all. After struggling through the year in Washington and then getting rocked twice in his first two starts in St. Louis, I theorized that Lester was simply out of bullets at 37 years old. It turns out, a trip to Kansas City was all he needed to get on track, as he's looked excellent in four of his past five starts.
Saturday Night College Football: Utah vs. BYU Free Picks
Since getting tattooed for 11 runs a month ago, Lester has given up just eight runs in his past five trips to the hill, and four of those came in an 8-4 win over Milwaukee in which the Cardinals' offense made sure he didn't need to be perfect or even all that great in order for them to get a win. Otherwise, he hasn't let any of the other four opponents come up with more than a run, and he's back to giving his team a consistent five innings, usually plus an out or two.
The Whiff
To be an effective pitcher in Cincinnati, you need to be able to rack up a good amount of strikeouts. Contact pitchers tend not to do well for the Reds because if you allow too many balls to be put into play in Great American Ball Park, you're going to be sending a fair amount of baseballs toward the Ohio River.
Tyler Mahle has been the typical successful Cincinnati pitcher in that he consistently misses bats. In his past seven trips to the mound, he's recorded at least five strikeouts each time. That includes a win over the Cardinals in July, although it was a close shave, as the Reds claimed a 6-5 decision and Mahle only managed five strikeouts.
The concern is that the Cardinals do not strike out all that often, as only Washington has fewer strikeouts than St. Louis among National League teams. If Mahle isn't missing bats, this might not be as disastrous as if it took place in Cincinnati, but it still gives the Cardinals an edge.
Betting Trends
The Reds are 1-4 during their past five road games.
The Reds are 3-8 in their past 11 against the NL Central.
The Cardinals are 2-6 in their past eight as a home underdog.
The Cardinals are 3-7 in their past ten after a win.
The under is 8-0 in the Reds' past eight road games.
The under is 6-2 in the Reds' past eight against the NL Central.
The over is 5-2-1 in the Cardinals' past eight overall.
The under is 6-1-2 in the Cardinals' past nine home games.
The Reds have won four straight in St. Louis.
The over is 5-2 in the past seven meetings.
Weather Report
It'll be warm but comfortable in St. Louis, with temperatures getting to 79 degrees and winds pushing balls toward the third-base line at 10 miles per hour.
Dan's Pick
There's not a lot to like with either team, based on how they've played lately, but St. Louis is coming off a win over the Dodgers, and Lester has shown he's still got enough left to do the job. I don't love the situation, but I'd rather take a shot on a desperate home dog. Give me the Cardinals here.
Spice up your NFL season by jumping into BetOnline's 500K NFL Handicapping Contest! The winner takes 200K! That's life-changing loot! Somebody's gotta win! Why not you?
STOP LOSING TODAY! START WINNING WITH DOC'S TEAM OF PROFESSIONALS! GET A FREE NO STRINGS ATTACHED $60 FOR THIS WEEKEND'S GAMES!