Washington Nationals vs. Houston Astros Pick – World Series Game 1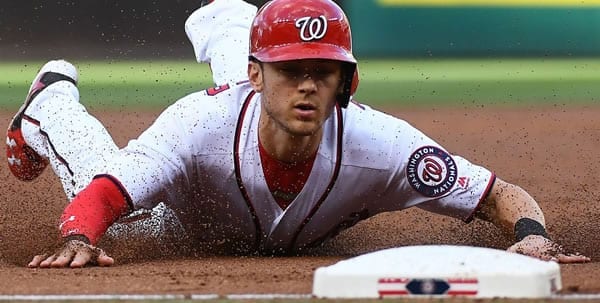 Washington Nationals (100-71) vs. Houston Astros (114-59)
When: 8:08 p.m., Tuesday, October 22
Where: Minute Maid Park, Houston
TV: FOX
Moneyline: WSH +175/HOU -195
Runline: Nationals +1.5/Astros -1.5
Total: 7
Starting Pitchers: Max Scherzer (11-7, 2.92 ERA, 1.03 WHIP regular season; 2-0, 1.80 ERA, 0.85 WHIP postseason) vs. Gerrit Cole (20-5, 2.50 ERA, 0.89 WHIP regular season; 3-0, 0.40 ERA, 0.79 WHIP)
Rusted or Rested?
When one team finished off its opponent in the minimum time (sweep), and the other had to stretch to get through their series, there's always a question of whether the team that's been sitting around will be ready to play. The Nationals haven't played since Tuesday, which means that they've been able to get their three big guns back to full strength. Washington's biggest weakness is its relievers that are not named Daniel Hud-son, so the Nationals' strategy is built entirely on getting their starters to go as deep into the game as possi-ble.
In this case, having a rested Max Scherzer on the mound could be the difference the Nationals need against the likes of Gerrit Cole. Scherzer was below average for him in the Wild Card Game against Milwaukee, but his past 15 innings have been nothing short of fantastic. Other than one solo home run against the Dodgers, Scherzer's basically been invincible on the mound, and he'll have to continue that to get the Nats off to a good start.
Mr. Big Game
Gerrit Cole has been the man when the Astros really need a strong performance on the mound. Like Scherzer, he's only made one mistake in the postseason, a solo home run in an already decided game against Tampa Bay. Otherwise, he's gone deep into all three games where he's made an appearance, going into the seventh inning each time. The Astros would have used him in Game 7 had they needed it against the Yan-kees, and they'll need him to go deep into the game again this time. Scherzer is likely to do the same because neither team has to worry about pinch-hitting for their pitcher with the game in Houston, so a strong perfor-mance is a must.
Full Circle
The Astros and Nationals no longer play in the same league, but they're more familiar with each other than usual for World Series opponents. In 2017, the two teams partnered on a spring training complex in Palm Beach, Fla, which means that they play a lot of their spring games against each other because neither side has to travel.
Whether that knowledge comes into play is anyone's guess. But, if it does favor anyone, it's likely to favor the hitters. Pitchers tend to do their best work when opponents don't get to see them often, and very few play-ers in this World Series won't be at least somewhat familiar with the opposing starter. Even though Cole, Scherzer and the rest of the teams' stars weren't going along at full strength, the hitters have still had the chance to see the motions of most of the opposing pitchers, which could make the games more high scoring than expected.
Betting Trends
The Nationals are 14-3 in their past 17 games after a win.
The Nationals are 14-5 in their past 19 games after an off day.
The Astros are 40-12 in their past 52 home games.
The Astros are 23-9 in their past 32 home playoff games.
The under is 6-1 in the Nationals' past seven road playoff games.
The under is 5-2-1 in the Astros' past eight playoff games.
Weather Report
With temperatures expected to be at 79 degrees at first pitch, expect the roof to be open at Minute Maid Park.
Dan's pick
This match is a tough one to pick, given just how dominant Houston has been at home. But the Nationals have been on fire and are going off at a great price given that you're investing in Max Scherzer, who has yet to reach the pinnacle of being a World Series champion and badly wants that ring. Houston is an outstanding team, and Cole is a fantastic pitcher, but the way you're going to make money here is to take someone who's got a good chance to win and is going off at a reasonable price.
That's the Nationals and Scherzer here. I wouldn't get much money back from backing Cole, so I'm going to take a shot with the Nats here to steal Game 1.
STOP LOSING TODAY! START WINNING WITH DOC'S TEAM OF PROFESSIONALS! GET A FREE NO STRINGS ATTACHED $60 FOR THIS WEEKEND'S GAMES!