Autotrader EchoPark Automotive 500 Picks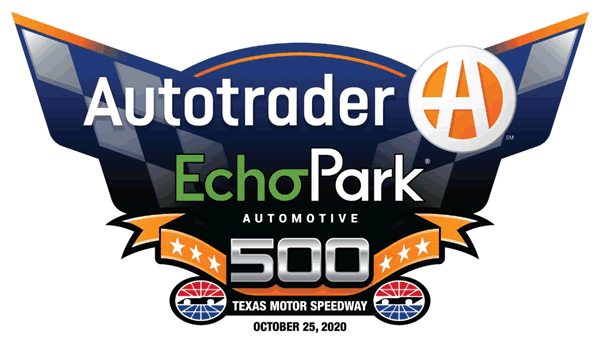 Race: Autotrader EchoPark Automotive 500
Date: Sunday, October 25, 2020
Track: Texas Motor Speedway
Time: 3:30pm ET
Channel: NBCSN
What Did We Learn From Last Weekend?
Just when I was getting worried about Joey Logano, he managed to pull it off. Logano had a little bit of help from the misfortunes of other teams, but hey, whatever it takes, right? He didn't win either of the first stages. In fact, the race was muddled with many lead changes, but Chase Elliott and Denny Hamlin were both stage winners. Logano won the stage that mattered most, though. He grabbed the checkered flag after Hamlin hit the wall and suffered a flat rear tire with 86 laps to go. Hamlin went down several laps but somehow made them up with a lot of strategy and luck. He ended the day with a 15th place finish. Kurt Busch suffered a catastrophic failure after losing an engine shortly after Hamlin's incident. The closing laps saw Logano and Harvick racing hard for the win, with Alex Bowman closing the gap but still coming home with a third-place finish.
While Logano secured his spot in the final round of playoffs, several others have secured their rides for next year. A lot of drivers were or are in limbo for the 2021 season. Alex Bowman was never really in jeopardy, but he is changing from the #88 car and moving to the No. 48, which is being vacated by Jimmie Johnson at the close of the season. Christopher Bell is moving to the No. 20 of JGR from the No. 95 of Leavine Family Racing. The No. 20 was vacated by Erik Jones. Jones has secured the No. 43 of Richard Petty Motorsports, which was previously occupied by Bubba Wallace. Wallace is moving to the new team formed by Michael Jordan and Denny Hamlin. The car number has yet to be formally released, but rumor has it that No. 23 might be the number on the door. Ross Chastain, who has been a development driver for Ganassi, is moving up full-time to the Cup Series and taking over the No. 42 car. It was previously vacated by Kyle Larson and taken over by Matt Kenseth for the remainder of the 2020 season after Larson's removal from NASCAR earlier in the year. Larson is set to return after his reinstatement was just announced this week for the 2021 season. No plans have been announced as to where he will land, but that No. 88 Hendrick car is open, and no one has said a word on its replacement yet.
Where Are We Headed This Weekend?
Whew. That's a lot of shuffling. For now, the drivers are still focused on these last few races of the 202 season. Two races are remaining before the championship is awarded at Phoenix. This weekend, the drivers leave Kansas in the dust and head to Texas for another intermediate race. Texas Motor Speedway is a 1.5-mile asphalt oval with 20 degrees of banking through turns 1 and 2 and 24 degrees through turns 3 and 4. It's a pretty straight forward track with a lot of room for different grooves, although we see a lot of high-line drivers when it comes to this place. Texas is similar to Kansas in its demands from the drivers. Track position is everything once again. With such a big wide track, going down a lap or two is not favorable. It's also a place where drivers tend to pull away from the field. While we saw many lead changes last weekend, I don't think we'll see as many at Texas. Keep your eyes on tires too. The tire game is going to be very important. With typically few cautions at this track, tire wear becomes something that the drivers battle against. Two or four will be a big question, although I think most will choose four under normal circumstances. The distances run are too great to do just right or left sides unless it's a short run.
Odds and Value Picks
The drivers that did well at Kansas should fare well at Texas. That being said, I think we'll have a pretty equal match, once again, between Harvick and Logano. Denny Hamlin should also be in contention, as should Chase Elliott. If Hamlin can not hit the wall, he should be on your radar, but that being said, his consistency at Texas just isn't the most reliable. Although he's got a win here, which was last spring, his previous 11 starts only captured a total of 3 top 10 finishes. Relative to his other finishes, this isn't a guaranteed win for him. On the flip side, Kevin Harvick has three wins, three second-place finishes, and 9 top 5 finishes in his last 12 starts here. Um, that's pretty good, y'all. Harvick is safely in the championship round unless something goes horribly wrong, so he's going to be racing for more wins and those valuable points. Let's take a look at your potential winners heading into this weekend's race.
Top Favorite: Kevin Harvick (+220)
Mid-Range Pick: Erik Jones (+2000)
Dark Horse: Tyler Reddick (+5000)
So, Reddick has never won here. That said, he had the pole in the 2019 Xfinity fall start and a third starting position in the spring race. He's had two runner-up finishes. Overall, Reddick is finding his groove and really learning from his inaugural year in the Cup Series. He's got a good shot at Texas to throw a wrench in things. Texas isn't a place where a lot of wrecks happen, so if he can stay out of trouble, I dare say he can come to the track with a good car and get a solid finish. Erik Jones is another driver to keep your eyes on. Being that he's not in the playoffs anymore and that he has secured a ride for the 2021 season, I think that his confidence is probably much higher than it has been in a while. He's finished in the top 6 in his last six consecutive starts here. That's nothing to sneeze at! Jones is going to bring something to the track that we haven't seen from him in a while this weekend. Both Reddick and Jones have their work cut out for themselves if they're going to pass Harvick. Harvick is battling for a championship, so you know he's looking to keep his nose at the front of the pack. With lines currently showing him at +220, he's very clearly the favorite, with Denny Hamlin being the closest competitor at +450. Hamlin is comfortably in the top 4 right now, but anything is possible in the next couple of weeks. Here are your current leaders after Kansas.
NASCAR Standings
Joey Logano (+700)
Kevin Harvick (+220)
Denny Hamlin (+450)
Brad Keselowski (+1200)
Chase Elliott (+800)
Alex Bowman (+2000)
Martin Truex Jr. (+1000)
Kurt Busch (+2500)
Poor Kurt. That engine problem last weekend basically knocked him out before this round is even over. He sits 73 points below the cutoff line right now. He's in a has to win position either here at Texas or Martinsville. It's either that or he needs to pray that the other drivers all don't race for some reason. Truex is sitting 31 points below the cutoff. I actually thought I'd see him doing a little bit better at this point in the season, but he's been falling off. This could be a good race for him this Sunday, but he's got a lot of hard-driving to do if he wants to be in the final four. Aside from winning, I think that only Chase Elliott has a shot in the ones below the cutoff to make it based on points alone. I'll eat my words if something different happens, but realistically, I think that Bowman, Truex, and Busch are all out after Martinsville. Texas should give us a pretty good race. As the season closes out, we're going to see some risker moves from a lot of teams. Stay tuned for a great afternoon of racing at Texas Motor Speedway!