[et_pb_dcsbcm_divi_breadcrumbs_module hide_homebreadcrumb="off" homebreadcrumbtext="Home" separator="sep-raquo" hide_currentbreadcrumb="off" homebreadcrumborientation="left" _builder_version="3.8″ fontsbreadcrumbs_font="Lato||||||||" fontsbreadcrumbs_text_color="#000000″ fontsbreadcrumbs_font_size="15px" fontsbreadcrumbs_line_height="16px" fontsseperator_font="||||||||" fontsbreadcrumblinks_font="||||||||" fontsbreadcrumblinks_text_color="#2567cf" custom_margin="25px|||" custom_margin_phone="30px|||" custom_margin_last_edited="off|desktop" custom_css_main_element="font-family: Helvetica Regular;" disabled="on" global_module="3641″ saved_tabs="all"][/et_pb_dcsbcm_divi_breadcrumbs_module]
Houston Rockets vs. Milwaukee Bucks Pick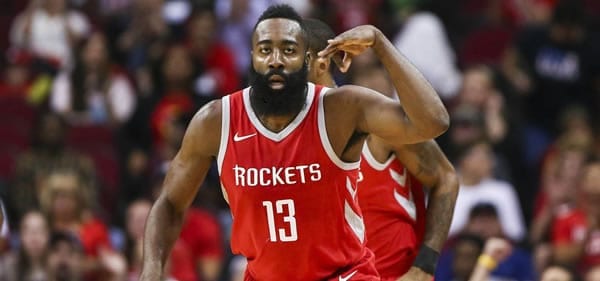 Houston Rockets (47-27, 34-37-3 ATS) vs. Milwaukee Bucks (55-19, 44-27-3 ATS)
When: Tuesday, March 26th, 2019 – 8:00 pm ET
Where: Fiserv Forum – Milwaukee, WI
TV: TNT
By: Kyle Cash, NBA Basketball Handicapper, Predictem.com
Point Spread: HOU +4/MIL -4
Total: 227
Last Night in the NBA
To be fair to me, I did specifically say that I was choosing the Sixers based on the presumption that all five of their star players would be on the court. While TJ McConnell's contributions to the team are many and greatly appreciated, Ben Simmons he is not. That's the problem with March NBA handicapping; so much can change in the course of 12 hours. Keep those notifications on, fellow degenerates.
Elsewhere in the quiet Association, Bruno Caboclo finally arrived after famously being "two years away from being two years away," Devin Booker scored 50 more points than any of his fellow teammates (that's bad), and Damian Lillard became the Lone Survivor in Portland's Big 3 unit. No – I have not watched the Nurkic injury, and no – I will not be doing so. Bunch of monsters you all are.
Speaking of Lone Survivors, the Lakers meet the Wizards, tonight…kidding, those teams barely lived to see spring. But…Speaking of Lone Survivors, we have a Battle of the Bastards shaping up between two one-man armies as the Houston Rockets and James Harden head into Milwaukee to take on the Greek Freak's Bucks. With both teams' injury reports relatively free of consequential absences, the Bucks are a 4-point favorite with the total set to a pristine 227 points. To the victor goes the MVP award?
Rocketmen
With Houston's real roster is finally getting consistent minutes again, they have been on an absolute tear. Winners of 14 of their last 16 games, long gone are the dog days of December when Harden strapped on his boots and dragged them into the New Year. With Golden State's malaise and Denver's inexperience, they have a puncher's chance at stealing the 1-seed in the West – a feat that would've seemed as likely three months ago as LeBron missing the playoffs (whoops). Some teams peak in November, and some teams peak in May; it's much better to be (and bet on) the latter. Welcome to the NBA championship race, Houston.
The best part about Houston's resurgence is that I can write about them as though they are a real basketball team again. However, that doesn't mean that Harden isn't still carrying them in his mouth like a lioness with her cubs. With Chris Paul acting as tertiary playmaker, Harden has more room to operate as a scorer rather than a facilitator, and that is a problem for all teams to stop.
But Milwaukee may be uniquely qualified to do so. While Lopez is likely to get attacked on all switches, the Bucks have the ability to play Giannis at center with four wings and try to offset Houston's isolation plays. The Rockets are primarily a small-ball team, but if they can counter with some Capela/Faried effort plays to punish Milwaukee's interior rebounders, they should be able to generate enough second-chance opportunities to help Houston stay alive. Also, no one in the world is better at drawing fouls, and while The Freak is a highly gifted defender, he's still just 24 years old and liable to make a mental error here or there. Giannis' 3.6 fouls per 36 minutes is second only to Towns' 4.2 of any player with a PER over 25.0, and it's a lone weakness in an otherwise flawless basketball specimen. The last thing we want is for this game to be decided by officiating, but I'm just warning you ahead of time. Don't shoot the messenger.
Brogdon Come Back!
You can blame it all on Bledsoe. The Bucks are still getting used to life without Brogdon while simultaneously resting on their laurels before the playoffs begin. With a 4-game lead and 8 to go, any team mounting a comeback on Milwaukee's NBA best record seems far-fetched, and I assume that Coach Bud will find as much rest for his players as he can down the stretch.
But a Tuesday night TNT game against the reigning MVP doesn't seem like one of those nights. By any statistical metric, Milwaukee has been the best team in the NBA all year long. Their net rating is almost double the team in second (9.1 for Milwaukee and 5.5 for Golden State), they are top-4 in Offensive Rating and 1st in Defensive Rating. They second only in 3-point attempt rate to Houston and true shooting percentage to the Warriors. And to top it all off, they have the best two-way player in basketball, a top-5 coach, elite role players and an "eff you" attitude about them. What's not to like?
Downsides: inexperience and inconsistency. As we transition into playoff atmosphere games, there's real concern about the lack of big game reps that Milwaukee has under its belt. Say what you want about Harden's shortcoming when it comes to big playoff games, but there's no denying the onions on that guy. Just like in great action movies, there can be a huge battle between warring sides, but sometimes, it has to come down to a mano y mano affair. James Harden is ready for that fight, and his ability to win it is the biggest reason to back Houston tonight. Can Giannis answer the call? Tune in to find out!
Best Bet
What happens when an unstoppable force meets an immovable object? I used the exact same sentiment to describe Joel Embiid's game last night, and it's telling that I feel the same way about Giannis; he truly is a center, isn't he? But Giannis' opponent in this game can be described in the same way, and it's a testament to the amount of work he puts into his craft that Harden could be filed under the same category of "freak" as the two guys above. I was lucky enough to prognosticate about their first showdown a few months ago, and I'll go ahead and echo my thoughts for tonight's affair: winner take all. Giannis, with a stellar 20-20 game, usurped the crown from Harden's head, and James will need to snatch it back tonight if he has any hope of repeating as league MVP. But unfortunately, I slightly prefer the team with the 30-6 home record who have a margin of victory in their last five home wins of 20.2 points. Last time I checked, 20.2 > 4 – easiest math I've ever done.
Final Score Prediction: Milwaukee 117 – Houston 109
Who else wants $60 of FREE member picks & predictions?