Indiana Pacers vs. Milwaukee Bucks Pick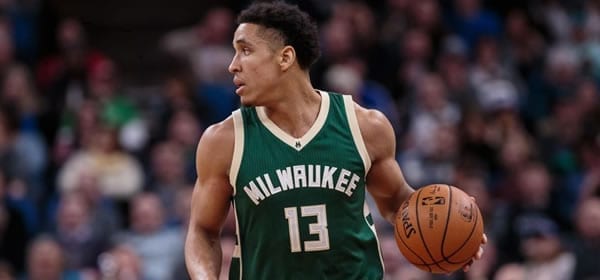 Indiana Pacers (42-23 SU, 34-31 ATS) vs. Milwaukee Bucks (48-16 SU, 37-24-3 ATS)
When: Thursday, March 9th, 2019 – 8:00 PM ET
Where: Fiserv Forum – Milwaukee, WI
TV: TNT
By: Keith Franks, NBA Handicapper, Predictem.com
Point Spread: IND +11 / MIL -11
Total: 221
Power Rankings: Milwaukee -7 (5Dimes)
Takeaways From Indiana and Milwaukee's Most Recent Games
The Pacers step into this contest on the heels of a home win on Tuesday when they hosted Central Division rival Chicago. As a 6.5-point favorite, Indiana generated a cover as they defeated the Bulls by a score of 105-96.
The Bucks enter into this match-up on a two-game losing streak. Most recently, the Deer were shocked in the desert when they were upset by the lowly Phoenix Suns on Monday. Closing as a 13-point underdog, the Bucks fell by a final tally of 114-105.
How the Public is Betting the Indiana-Milwaukee Game
At the moment, 67% of the consensus fancy taking the points with the Pacers. Despite this significant public lean on the underdog, we have seen the market move in an opposite direction as the Bucks are spotting an additional half-point compared to the opening number of Milwaukee at -10.5.
The Historicals
This series has been one that has been well-balanced as each team has won two of the last four meetings between both parties. Milwaukee and Indiana last met in Indianapolis on February 13th when the Bucks defeated Indiana by a score of 106-97. Milwaukee was able to produce a cover as they closed as a 4.5-point favorite.
Injury Concerns
It is well-documented that Indiana will be without Shooting Guard Victor Oladipo who suffered a season-ending knee injury in February. The Pacers have since addressed that void by bringing veteran Shooting Guard Wesley Matthews into the fold to fill that position. Outside of this narrative, there are no emerging or prevalent injury concerns for either team heading into this rivalry contest.
Rest Advantages and Concerns
For Indiana, they will be playing this game on two days of rest. Indiana wrapped up a three-game home-stand against the Bulls on Tuesday and now are playing their first away game in a two-game road trip. Milwaukee has had three days to prepare for this game and will be playing their first game in Milwaukee after ending a grueling five-game road trip in Phoenix on Monday. Milwaukee will play two games at home before getting back on the road to face San Antonio on Sunday. Situationally, Milwaukee is positioned to be a good play. Historically, teams that play a road trip of three-games or more have been quite a profitable play.
Can Indiana's Defense and Bench Play Bring Them In Under The Number?
The Pacers do one thing better than every team in the NBA: scoring defense. Presently, Indiana's defense sits first in the league in scoring defense as they give up a stingy 103.7 points per game. On paper, this could be a huge advantage to Indiana as they have an excellent counter to Milwaukee's second-ranked scoring offense (117.3 points per game). Should Indiana turn this into a defensive game, they have excellent prospects of coming in under the double-digit point spread. In addition to their defense prowess, the Pacers own a significant edge in their bench play compared to Milwaukee. The Pacers bench averages 39.2 points per game which is 7.9 points greater than Milwaukee's bench which averages 31.3 points per outing.
Will Turnovers Lead To A Milwaukee Rout of Indiana?
The Bucks own an advantage in the turnover department which is a significant edge for Milwaukee given the fact that it will give their offense more opportunities to test Indiana's vaunted defense. Should Milwaukee render this into an affair where offense dictates, there is a very good chance that Indiana will struggle to keep pace as they sit 21st in the NBA in scoring averaging 108.7 points per game. While the Bucks are not the best defense in the NBA in terms of scoring, they are still a top-ten outfit in their own right giving up just 108.2 points per match (ninth overall). However, there are two areas where Milwaukee has shown a defensive proficiency that places them at the top of the list. First, the Bucks are the best team in the NBA in limiting opponent field goal efficiency as opponents shoot just 43.3% against them. This will be a serious problem for Indiana to contend with as they bank heavily on intelligent shot selection as they own the league's second best overall field goal percentage (48%). Moreover, the Bucks are not one to give away points either as they are the best team in the NBA in opponent free throw percentage (74.1%). With the Pacers sitting 19th in free throw percentage (76%), there is a great chance they will not be able to cash in on many free points.
Betting Trends
Between these two opponents, two noteworthy trends have emerged. First, the Pacers are 1-4 ATS in the last five contests that have taken place in Milwaukee. In addition to this, the Under is 5-1 ATS in the last six meetings between these two teams.
Keith's Pick to Cover the Spread: Milwaukee -11
One of my favorite handicapping strategies is targeting an overreaction. Given what occurred in Phoenix on Monday night with the Bucks being upset by the Suns, there is little doubt that this one result is influencing this market heavily. After all, I would normally expect Milwaukee to be seeing most of the public action since they still have the best record in the league despite their two-game skid. However, as indicated in how the public likes this game, the opposite has happened and consensus have leaned significantly on the Pacers. From what I gather, Indiana looks too easy here given the amount of points they are taking back. However, there are many reasons why the Pacers are heavy underdogs here. To begin, Indiana is just 17-14 SU on the road this season and the Bucks are the best team in the league at home as they are 25-5 SU in Milwaukee. Furthermore, the Bucks are 23-8 SU against teams with a .500 record of greater. Contrarily, Indiana remains a losing proposition against winning teams as they are 12-14 SU against opponents with a .500 record or better. When you combine these narratives with the fact that the Bucks are 35-4 SU in games settled by 10 points or more (as this market forecasts this contest to be settled by 11 points), Milwaukee is in prime position for a bounce back here. I expect the Bucks to dismantle the Pacers and cover this number with ease.