NBA Pick: Rockets vs Raptors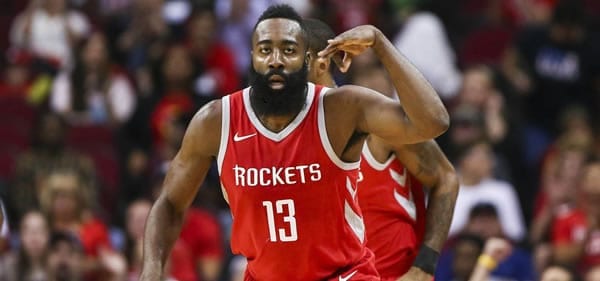 Houston Rockets (38-25 SU, 28-33-2 ATS) vs. Toronto Raptors (46-18 SU, 27-37 ATS)
When: Tuesday, March 5th, 2019 – 8:00 PM ET
Where: Scotiabank Arena – Toronto, ON
TV: TNT
By: Keith Franks, NBA Handicapper, Predictem.com
Point Spread: HOU +3.5 / TOR -3.5 (MyBookie Sportsbook)
Total: 226.5
Power Rankings: Toronto -4
Takeaways From Houston and Toronto's Most Recent Games
The Rockets enter into this contest in searing form as they have won five straight games (three of which have been on the road). Over this span, "Clutch City" has knocked off some big name teams, including the Boston Celtics and Golden State Warriors on their own court. Most recently, the Rockets pulled an upset as a two-point underdog when they defeated the Celtics in Boston by a score of 115-104 on Sunday. It was we picked over the total of 226.5.
The Raptors come into this game on the heels of a bitter overtime loss in the Motor City on Sunday against the Detroit Pistons. Despite closing as a two-point favorite, the Pistons would dispatch Toronto by a score of 112-107. The Raptors have been a liability against the spread as of late going 1-7 ATS in their previous eight matches.
How the Public is Betting the Houston-Toronto Game
At the moment, 52% of the consensus like the Raptors as the home favorite. However, the market has shown the opposite as the line has fallen by half of a point from Toronto's opening number as a four-point favorite to reflect action coming in on the Rockets.
The Historicals
The Raptors and Rockets met in January in Houston and the Rockets put together an impressive 125-107 win over visiting Toronto. The Rockets closed as a 3.5-point favorite and had no trouble fostering a cover in their dominant win against the Raptors.
Injury Concerns
There are no prevalent injury concerns for either team heading into this high-profile match-up.
Rest Advantages and Concerns
Both teams enter into this contest on two days' rest. For Toronto, this is one quick home game for the Raptors before they embark on a three-game road trip that starts on Friday in New Orleans and extends through to next Monday. Houston will be wrapping up a two-game road trip in Toronto and will be back home Friday to host the Philadelphia 76ers.
Read more: Super Bowl Picks and Sportsbook Odds
Can Houston's Dynamic Duo Launch The Rockets To Another Big Win?
As will be highlighted below, Toronto has many advantages heading into this contest. However, Houston has a duo of players who need no introduction: Point Guard Chris Paul and Shooting Guard James Harden. While Toronto does have a true defensive weapon in Kawhi Leonard, he cannot be in two places at once. James Harden presently averages 36.7 points per game which makes him the league leader in scoring. Harden is the epitome of the word eruptive as he now holds the record for most consecutive 30-point games. A mark he set this season and was only ended due to an untimely injury. In his last game against a vaunted Boston defense, "The Beard" went off for 42 points. In his preceding contest against Miami (another team known for a strong defense), he put up 58 points. Seemingly, Harden is impervious to defenses. In addition, to his scoring ability Harden also averages 7.9 assists per game. The Raptors will have their hands full in finding an answer for CP3, as well. Paul has made a career off of being one of the best facilitators in the game (he does average 9.7 assists per game over his career). Against Boston, CP3 procured 12 assists but he is also a guy that score should the Rockets need him to. In three of his last six matches, Paul eclipsed the 20-point threshold. With these two firing at all cylinders, they will be tough to stop and they make a Rockets viable threat to be yet another live dog here against the Raptors.
Will Toronto's Many Advantages Produce A Win and Cover Too?
The Raptors own several advantages heading into this cross-conference collision. First, the Raptors are far more efficient in field goal shooting on both sides of the ball. Toronto sits ninth in field goal percentage (46.9%) while allowing their opponents to shoot a ninth-ranked 45.4% from the field. Contrarily, Houston sits 26th in field goal percentage (44.7%) while their opposition have hit 47.6% of their field goal attempts (27th in the NBA). This is a huge edge for the Raptors, especially given the fact they are playing this game at home where they remain 27-6 SU on the year. Another advantage for Toronto is in defensive play. Toronto's defense gives up 108.9 points per game (10th in the NBA) which is 2.2 points less per game compared their Houston counterparts that give up 111.1 points per outing (15th in the NBA). Another significant edge for Toronto lies in bench play. Toronto's bench produces 34.9 points per contest which is 8.6 points more on average compared to Houston's bench which produces 26.3 points per game. This edge in itself can give the Raptors the points it needs to win and cover should this game be settled by each team's bench. Unfortunately, it doesn't stop there. The Raptors also an advantage in the turnover department. The combination of these varying advantages put Toronto in position to potentially win and cover.
Betting note: Line comparison is important and players tend to do it less and less today because it's hard to find a better lines and then withdraw money and move it to another bookmaker before the game begins. The solution is using bitcoin and the best bitcoin betting sites. In minutes you can fund a betting site and get a half point in your favor. The best part however is you never have to keep your money in your bookmaker balance.
Betting Trends
A prominent betting trend heading into this match-up is the narrative that Houston is 2-9 ATS in the last 11 meetings in Toronto. In addition, the Over is 6-1 ATS in the last seven contests between these two opponents.
TIRED OF YOUR CREDIT CARD NOT WORKING AT SPORTSBOOKS? IT WILL AT MYBOOKIE+ GET a $1000 Free Play!
Keith's Pick to Cover the Spread: Houston +140
I'll make this one short but sweet: Houston is not a team to trifle with. However, home court advantage is something that will weigh heavily on the minds of takers here backing the Raptors. After all, Houston has not been a profitable choice in the Great White North as of late. Furthermore, Toronto was the best team in the NBA in the 2017-18 season in terms of home record and they are in position here in the 2018-19 season to perhaps do the same. It is for this reason however that the Raptors have been a liability as of late against the spread. Toronto is 1-5 ATS in their previous six home matches despite going 5-1 SU over this same six game span. Why? Because the market inflicts a premium on takers to back Toronto at home because of their perceived home court advantage which means anyone who backs the Raptors in Toronto is making themselves vulnerable to backing an inflated number. As I have already touched upon this article, Houston has won their last three games on the road and they have done so against some excellent teams that are known as very hard to beat in their own stead. The Rockets won't even bat an eye at playing the Raptors in Toronto. I expect CP3 and The Beard to go off yet again here and lead the Rockets to another win.
Who else wants $60 of FREE member picks & predictions?