Bucs vs. Bears Week 5 Pick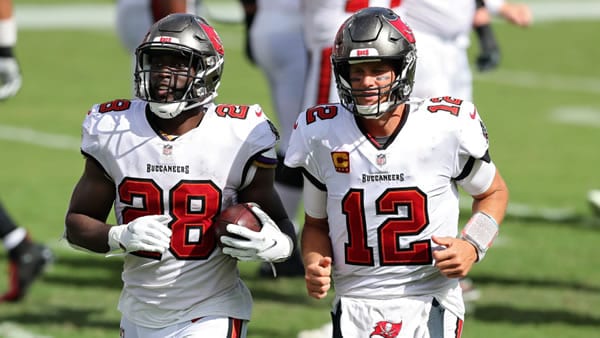 Tampa Bay Buccaneers (3-1 SU, 2-2 ATS) vs. Chicago Bears (3-1 SU, 2-2 ATS)
Week 5 NFL
Date/Time: Thursday, October 8, 2020 at 8:20PM EDT
Where: Soldier Field, Chicago, Illinois
TV: NFL Network
Point Spread: TB -5.5/CHI +5.5 (BAS - You can bet on games at -105 odds there!)
Over/Under Total: 44.5
The Tampa Bay Buccaneers come to Soldier Field to take on the Chicago Bears on Thursday Night Football. Both teams are 3-1 and 2-2 against the spread. That's about where the similarities end. Chicago is back at home after losing their first game of the season last week here to the Colts, 19-11. With a lot of road games coming up, they'd like to make their mark at home. It won't be easy against a Tampa Bay bunch that has won three straight and is coming off a nice 38-31 win over the Chargers. Tom Brady is in fine form, and they look for another big win this week at Soldier Field. Who will cover the spread on Thursday?
Why Tampa is Dangerous in this Spot
It's not an easy road-game and Chicago will by vying hard to avoid back-to-back setbacks at Soldier Field, but Tampa is starting to show themselves as a complete team. Tom Brady adds a lot—that much is known. It is now what the offense doesn't do that makes a ton of difference, and with Brady commandeering the show, there are fewer mistakes on this side of the ball. And that helps both sides of the ball, as we now see a defense that isn't unexpectedly running back onto the field all the time.
Brady has a lot of weapons with which to work in this offense, something he hasn't always had aerially the last few seasons in New England. Getting Chris Godwin back will help, but he's making it work with Mike Evans, Scotty Miller, and others. Even Rob Gronkowski is getting involved and had a big catch on Sunday in crunch-time. Losing OJ Howard, who was connecting well with Brady, does hurt, as he is now lost for the season. With Ronald Jones, II. playing well and Leonard Fournette (questionable) in the fold, they have some balance with an improved run-game and look to throw a good Chicago "D" off-kilter. Chicago has given up just 32 points at home in two games this season and will be looking to quell this Tampa offense. But Brady sure looked great last week with five TD throws.
Naturally, all the attention will gravitate to Brady and what the offense is doing. It has also had an effect on the defense, which is playing very well. When you look at their front-seven, with hitters like William Gholston, Vita Vea, Ndamukong Suh, Jason Pierre-Paul, Lavonte David, and Shaquil Barrett, it's really one of the more fearsome fronts in the league. And the way they're shutting down the opposing run attests to their wherewithal. Against a Chicago offense struggling to find their footing this season, this "D" looks to do damage.
More Picks: Giants at Cowboys Week 5 Bet
Chicago Better Than They Look?
Last week was an "a-ha" moment for some questioning how good the Bears really were at 3-0, coming off wins over the Lions, Giants, and Falcons. In scoring 11 points against the Colts last week at home, they looked pretty flat, not what they were looking for on offense with Nick Foles being handed the starting QB gig. And eight of those points came with less than two minutes left. For most of the game, they were spinning their wheels. They have some things to be thankful for, as Foles has a good offensive line upon which to rely. And he has some receivers who can do damage with Allen Robinson, Anthony Miller, Ted Ginn, Jr., TE Jimmy Graham, and rookie Darnell Mooney. But without a cemented quarterback and a run-game that doesn't usually make much of an impact, this offense will struggle. Over the long haul, though, one has to be wary of Nick Foles and what he can come up with on a given week. The Tampa defense has been good in spots this season, but their secondary lags well behind their front-seven, and maybe this is a spot where Foles can better connect with his ball-catching crew.
Though Chicago has tumbled from grace following their 12-4 season of a few years ago, their defense hasn't completely fallen off the map. In fact, they've been pretty tough in allowing an average of just over 20 points, despite an offense that often strings them out. Their defense has a more-complete feel to it than Tampa's. Mainly, attributed to a secondary that is a little stouter that has massive playmaking potential. Against Brady, who has thrown four pick-sixes in his last six games, that looms as a potential problem. And with guys like Khalil Mack, Roquan Smith, Akiem Hicks, and other monsters up-front, it could be a lot for this Tampa offense to negotiate.
Give and Take
This is a tough bet to make and might be a reflection of what you like more. Tampa has a cemented legend thriving at the QB position, while Chicago's QB situation is liquid and in flux. Tampa has better pieces on offense, with a front-seven on defense that has a lot of prestige. Chicago can't compete on the offensive firepower front, perhaps, but their defense is solid through-and-through. And they're at home. The equation seems to shake out for what should be a pretty competitive game.
Take the Points on the Home Dog
I understand that points are the name of the game and in that category, the nod goes to Tampa. I just think there are certain matchup wrinkles that favor Chicago, with their "D" and home-field advantage being enough to make this less of a Tampa slam-dunk than some might be forecasting. I think Foles can do reasonable damage against this Bucs' secondary, while the "D" makes enough big plays to keep the Bears squarely in this game. I'll take Chicago.
Loot's Prediction to Cover the Point Spread: I'm betting on the Chicago Bears plus 5.5 points. Bet your Week 5 NFL picks FREE by taking advantage of a 100% real cash bonus offer on your first deposit of $100 to $300 at
Football Betting Guide
New to football betting? NFL point spreads can be confusing at first, but our how to bet on football article help you bet like a seasoned pro! You'll also learn how to wager on teasers, parlays, over/unders, prop bets, futures and how point buying works.