Los Angeles Chargers vs. Chicago Bears Pick ATS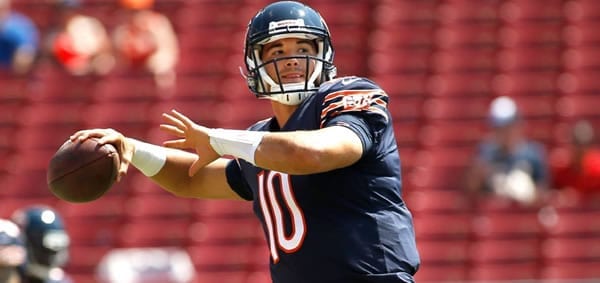 Los Angeles Chargers (2-5 SU, 1-4-2 ATS) vs. Chicago Bears (3-3 SU, 2-4 ATS)
NFL Week 8
Date/Time: Sunday, October 27, 2019 at 1PM EDT
Where: Soldier Field, Chicago, Illinois
TV: Fox
Point Spread: LAC +5.5/CHI -5.5 (GTBets)
Over/Under Total: 40
The Los Angeles Chargers come to Soldier Field to take on the Chicago Bears on Sunday in week eight action. Both teams had a rough time of it last week. The Bears fell to .500 with a 36-25 loss at home to the New Orleans Saints. After losing their previous game to Oakland, they didn't want to come out of the bye with another loss, and that's just what they did. They now have a chance to get back on the right track with a wayward Chargers team that lost its third straight and fifth in six games with a 23-20 loss to the Titans on Sunday. With a chance to punch it in from the one-yard line, the Chargers couldn't get it done in a deflating final sequence where their limitations were again shown. Which struggling 12-win team from last season can get it together this week?
Chargers Better in This Role?
It's been a massive letdown as the Chargers have already lost more games than all of last season. The way they lost last week could have a deflating effect that is hard to shake. Whatever recipe for success they applied last season is a distant memory, with inconsistent play, injuries, departures, and other issues having derailed the entire operation. The run-game is in the dumps, leaving them with a still-effective, but one-dimensional passing offense. And the defense has lost enough pieces to render them an ordinary unit.
Be that as it may, the Chargers have largely failed in the role of celebrated favorite. Only last week when they got three points and pushed against Tennessee did oddsmakers start perceiving them as the depreciated team they are. And they've only covered the spread once this season as a result. Now that the writing is on the wall and the Chargers are getting the type of point spread they deserve, maybe they can better deliver in this realm.
More Picks: Cards vs. Saints Pick Against the Spread
Issues for Chicago
Getting Mitchell Trubisky back is a big help and he threw two TDs on Sunday, throwing for 251 yards. It wasn't a great performance, but getting Allen Robinson, Anthony Miller, and others involved in the aerial attack is critical moving forward. Establishing a run-game will also be crucial. Last season, they rode a defense that was on a razor's edge, showing just enough firepower on offense to make the winning formula work. This season, the defense isn't quite as sharp. A big part of that equation might be a few injuries, but an offense that can't do much of anything right is also a big part of the problem.
Some of the problems might be Trubisky himself. After taking a few steps forward in his career in years two and three of his career, he seems to have regressed. The line isn't playing as well, and the run game has really taken a step back with David Montgomery and Tarik Cohen failing to provide a meaningful enough run-presence to make up for a dilapidated passing-attack utterly devoid of any star-power. With all these issues on offense, will they even be able to take advantage of a Chargers' defense that has made a few steps backward this season?
Can the Chargers Right the Ship?
Fans of the Chargers will attest that they've made a lot of runs when people counted them out before, The main problem might be when people expect things, as they did to enter this season. But it's hard to run behind this offensive line, and even if Melvin Gordon would have been in there the whole time, it may have still been a problem. The failure of Gordon and Ekeler to get it in from close to win the Tennessee game was disgraceful, both on the line and on them. Gordon and especially Austin Ekeler are good aerial targets. And the re-emergence of Hunter Henry is this offense as a viable tight end target could really pay off. But again—that line. Under ideal conditions last season, they were able to make up for it with good play at QB, RB, and WR. With Rivers a bit awry and endless injury hits upfront, it's just not the same.
For the Chargers to go out of conference into a venue which they are unaccustomed against this Chicago defense would seem like a strange time to get it together. After allowing a combined 45 points in their first four games, the Chicago defense has since allowed a combined 60 in their last two games, so they're looking to get it together at home. What can one expect from a sideways Chargers' offense in this matchup?
For the Chargers to Cover…
Against the Chicago front seven on defense, they have to hope for the best, as maybe some guys can make some plays to make up for that awful front. Rivers will need to be on-point, and he knows it. This season, the Chicago pass-defense has been exploitable in spots, but the mistake-prone Chargers' offense feeds right into the playmaking Chicago defense's hands. And this game is a big play on defense away from throwing this solidly into Chicago's column. But if Rivers can be sharp and hit what is still a pretty deep cast pf targets in Henry, Ekeler, Keenan Allen, and Mike Williams, who knows? But having Ekeler doing the heavy-lifting aerially is symptomatic of Rivers not connecting as he used to with receivers Allen and Williams—a direct result of a dilapidated line no longer able to withstand the pass-rush for long, forcing Rivers to dish the ball out quickly.
Take the Points
Granted, one hesitates in plunking down their money on a massively underachieving and battered Chargers team playing out of their element at Soldier Field. Just as we need to wrap our heads around what the Chargers are in reality; The same applies to the Bears. Their recipe for success hasn't hit its stride yet and to come off the bye and lose by 11 as 4-point favorites at home shows they're working some things out too. Now at home for the second straight week, this is a must-win. But I see the Chargers having enough firepower to vaguely hang in there with some big plays, sneaking out of the Windy City with the cover.
Loot's Pick to Cover the Point Spread: I'm betting on the Los Angeles Chargers plus 5.5 points.
STOP LOSING TODAY! START WINNING WITH DOC'S TEAM OF PROFESSIONALS! GET A FREE NO STRINGS ATTACHED $60 FOR THIS WEEKEND'S GAMES!