NFL Pick Philadelphia Eagles vs. Jacksonville Jaguars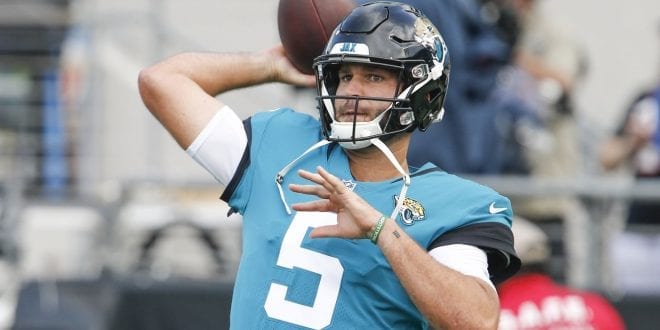 Philadelphia Eagles (3-4 SU, 2-5 ATS) vs. Jacksonville Jaguars (3-4 SU, 3-4 ATS)
NFL Football Week 8
Date and Time: Sunday, October 28th, 2018 - 9:30 am ET
Where: Wembley Stadium - London, England
TV: NFL Network
By: Kyle Cash, NFL Football Handicapper, Predictem.com
Spread: PHI -3.5/JAX +3.5
Over/Under: 42
Week 7 Round Up
It's been a forgettable last couple of weeks for these Conference Finalists, and it's nearing a tipping point for both teams. The Eagles coughed up a 17-0 fourth quarter lead with a truly embarrassing lack of effort on the defensive side, and Jacksonville is going to have to post an ad on ZipRecruiter for a new quarterback if Blake Bortles doesn't quickly find the horseshoe that was up his ass in last year's playoffs.
College Football Pick: Washington vs California
In an ironic twist of fate, the exciting Conference Finalist matchup that the NFL had planned on shipping over the pond is now one of the worst games on the slate from a watchability standpoint. England has been taking Ls from 'Merica since 1776, but one of these two NFL teams is going to fly back home with a much-needed victory. The line currently sits in favor of the Eagles by 3.5 on a neutral field with the total set at 42 points. Away we go!
Oh no! We suck again!
Unlike the Mud Dogs, the Waterboy Bobby Boucher ain't walking through those locker room doors anytime soon to save their butts. Next man up has turned into next man down, and the Eagles are now without standout second year pass rusher Derek Barnett for the remainder of the season. A wimpy secondary combined with a thinning four-man front is a recipe for disaster, and Jim Schwartz' bend-don't-break defense was shattered into smithereens on Sunday.
Luckily for the Eagles, No. 11 Carson Wentz has been even better this season than he was last in terms of raw statistics, and if anyone can kick-start this engine, it's him. Unluckily for the Eagles, they have no semblance of any running game and they are facing a defense that has only allowed 6 passing touchdowns all season. With veteran weapons like Zach Ertz and Alshon Jeffery, and the improved play of young guys like Dallas Goedert and Nelson Agholor, Philadelphia has all of the tools to launch a devastating attack against any opponent. This game will be won in the individual matchups on the outside against Jalen Ramsey and AJ Bouye, and Carson's ability to extend plays and throw guys open will be the key to their chance at a victory.
This is Blake…from State Farm
If Sir Blake Bortles doesn't have a good game this week overseas, he might end up having to take a job as a State Farm Insurance representative just to pay his rent. Bortles is reportedly on "a very short leash," and with his 60.6 completion percentage, 9-8 TD-INT ratio, and QB Rating of 46.1, it's a miracle he still has the job already.
While the offense is wholly unimpressive, Jacksonville's defense is still a force to be reckoned with. Calais Campbell, Myles Jack and Telvin Smith are still wreaking havoc up front, and their All-Pro secondary gets the job done more often than not. They allow the 9th fewest points per game in the NFL, and are the 4th least penalized defensive unit.
Even with their offensive struggles, the game plan for Jacksonville remains business as usual; get Bortles a lead, and pray he doesn't mess it up. Easier said than done.
What History Has Taught Us
Well, first of all, to Londoners, Blake Bortles is the greatest quarterback on Earth. In three trips overseas, the Jaguars have been underdog three times, and they have won three times. For a while, the only chance that Jacksonville had to salvage Bortles' career was to pack up and move to England to be the London Jaguars. But the rest of the league has different thoughts about our country's homeland, as the favorites that aren't playing against Jacksonville are 16-2-1 straight up and have covered 10 of the last 15 games. We can ignore the personal history between these two, as sadly, Chad Henne will not be making a start for the Jaguars like he did in the last game versus the Eagles (a 34-17 Philadelphia victory).
What The Future Holds
I try not to do this too often, but I have gazed into my crystal ball, and I see the following: a pumped up Doug Pederson, a laughing, taunting Malcom Jenkins, and a worrisome-looking Blake Bortles looking at an iPad on the bench while wearing his baseball cap. Bortles is more likely to be wearing a headset and holding a clipboard in 2 years than he is wearing a helmet and holding the Lombardi trophy. It appears as though the Blake Bortles Bandwagon has two flat tires and the Check Engine light is flashing, and it is time for all patrons to exit the vehicle slowly. In all seriousness, the hook of the extra 0.5 point is begging you to take Jacksonville, and I'm going the other way. I couldn't care less about the Majesty of Sir Blake Bortles. Fly, Eagles, Fly.
Final Score Prediction: Philadelphia 27 – Jacksonville 12