[et_pb_dcsbcm_divi_breadcrumbs_module hide_homebreadcrumb="off" homebreadcrumbtext="Home" separator="sep-raquo" hide_currentbreadcrumb="off" homebreadcrumborientation="left" _builder_version="3.8″ fontsbreadcrumbs_font="Lato||||||||" fontsbreadcrumbs_text_color="#000000″ fontsbreadcrumbs_font_size="15px" fontsbreadcrumbs_line_height="16px" fontsseperator_font="||||||||" fontsbreadcrumblinks_font="||||||||" fontsbreadcrumblinks_text_color="#2567cf" custom_margin="25px|||" custom_margin_phone="30px|||" custom_margin_last_edited="off|desktop" custom_css_main_element="font-family: Helvetica Regular;" global_module="3641″ saved_tabs="all"][/et_pb_dcsbcm_divi_breadcrumbs_module]
Oakland Raiders vs. Miami Dolphins Prediction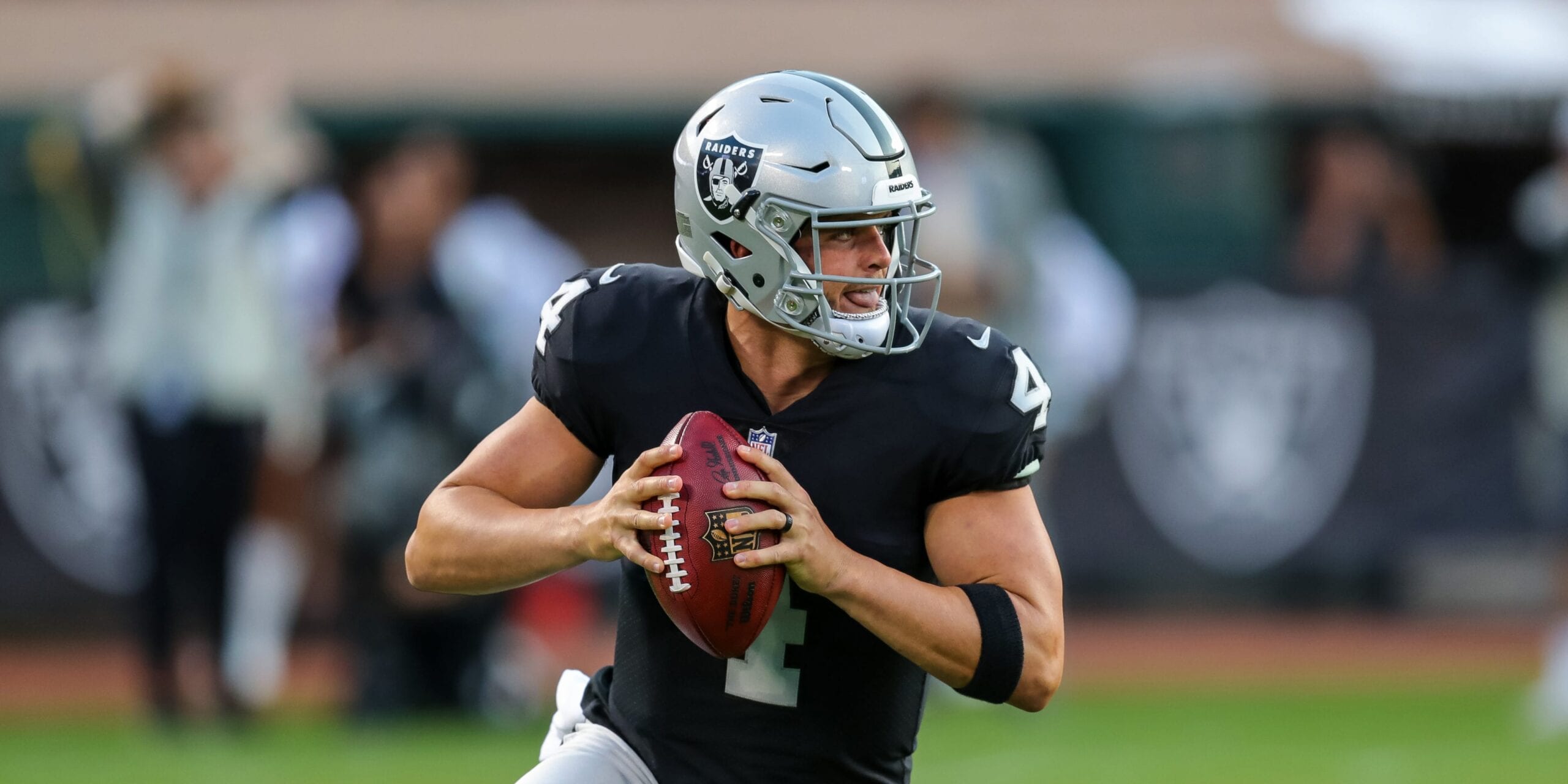 Oakland Raiders (0-2 SU, 1-1 ATS) vs. Miami Dolphins (2-0 SU, 2-0 ATS)
NFL Week 3
Date/Time: Sunday, September 23, 2018 at 1PM EDT
Where: Hard Rock Stadium, Miami, Florida
TV: CBS
By: Loot Levinson, Expert Football Handicapper, Predictem.com
Spread: OAK +3/MIA -3
Total: 44
The Oakland Raiders come to Hard Rock Stadium for a week three matchup with the Miami Dolphins on Sunday. Oakland is looking for their first win of the season. They fell apart late against the Rams in a week one MNF spot, before blowing what seemed like a win at Denver on Sunday, falling 20-19 in disheartening fashion. Miami, meanwhile, was an underdog in both of their first games, managing two covers and two straight-up wins for a nice start to the season.
The Silver and Black looked to be on their way to evening their record and giving Gruden his first triumph since his return. A late third-quarter 19-7 lead couldn't be held, with Oakland's defense wilting and the offense unable to keep pace. With ten seconds left, after crawling their way back in the game, Denver sealed it with a FG. Miami came off a win over the Titans and then went on the road to beat the Jets on Sunday, 20-12. The offense was pedestrian, but their defense played well and mistakes were kept to a minimum. Who can come out ahead this week?
Too Soon to Panic for the Raiders?
We can talk about any number of different things, but this is a bottom-line business at the end of the day. Oakland has won 4 of their last 16 games going back to last year, making their 12-4 run in 2016 a distant memory. Issues exist across all phases—things people perhaps chose not to look at as they were blinded by the Gruden light. And make no mistake—it would be a big surprise if the return of "Chuckie" didn't pay off at some point. Those who felt they'd be flying out of the gates, however, might need to recalibrate their expectations.
In a sense, the Raiders were impressive for much of three quarters, with little to separate themselves from the Rams in week one. The Rams finished strongly. And the Broncos followed suit in week two, with the Raiders blowing what looked to be shaping into a routine win. This is an early troubling pattern they will need to conquer if they want to salvage the season. You just have to close games strongly in this league or it's all-for-naught.
And let's face it, they have personnel issues. Carr is going to need to grow, as he seems to have stagnated at the level he is presently at. Sure, he was 29-for-32 on Sunday, so there's only so much you can say, but he commandeers the offense and they couldn't do squat late. You can't really knock Marshawn Lynch and he can still do things, but as far as having a reliable and consistent run-attack, they fall short of that. Amari Cooper and Jared Cook are great aerial assets and Martavis Bryant could become a weapon in this offense, but as it stands, their aerial package lacks some clout. Still, a lot of the guys on this offense were pretty big last season in a November win over Miami.
Should We Take the 'Fins Seriously or Wait and See?
It's going to take a lot for the Dolphins to start making noise, as one can sense with how little we hear about them now even after a 2-0 start with two covers. In their two wins, there was an understated way in how they got the "W" and it wasn't all that eye-catching. They haven't been lighting anything on fire, but they look ready to ascend again with Adam Gase at the helm.
I like what the Miami offense is doing and the variety they show. Tannehill was efficient against the Jets, taking what he could get and throwing two TDs. On the ground, it's an interesting mix with emerging back Kenyan Drake, old-reliable Frank Gore, and even Tannehill who is useful with his legs. WR Albert Wilson is being used on some end-arounds, as he and Danny Amendola look to add a different element to an aerial attack that needs a star or two to emerge outside of DeVante Parker (day-to-day after missing first two games) and Kenny Stills.
CREDIT CARD NOT WORKING AT SPORTSBOOKS? IT WILL AT BOVADA + GET A 50% BONUS!
Opponents have scored a combined 32 points on Miami through two games, with a TD coming on special teams. They've been rigid, while also showing a knack for timely playmaking. DE Robert Quinn is already paying off up-front., with Akeem Spence adding beef up-front. Rookie Raekwon McMillan gives their middle a boost to go along with omnipresent Kiko Alonso. They have five picks through two games. And corner Bobby McCain is the only one in the secondary who hasn't already picked off a pass.
Take the Points on the Road Underdog
One would suspect some urgency to resonate for the Raiders this week, with Gruden really facing his first coaching test. Can he get them on the right track or will he have to resign himself to this being a long-rebuild? In this league, willpower alone is not enough to turn losing situations into winning ones, but heightened urgency can resonate. In week one, the Raiders were overpowered by a top offense, while Denver's still-good defense stymied them late in week two. Miami is a team that isn't particularly excellent in any one area; they're just solid in more of an overall way. With that, I see some angles where Oakland can register enough big plays to at least keep this one close for the big cover.
Loot's Pick to Cover the Point Spread: I'm betting on the Oakland Raiders plus 3 points.
<aside><!-- [et_pb_line_break_holder] --><div class="widget105"><!-- [et_pb_line_break_holder] --><h4 class="cash">Best Sportsbook Bonuses</h4><!-- [et_pb_line_break_holder] --><div class="widgetlist"><!-- [et_pb_line_break_holder] --><div class="col1"><!-- [et_pb_line_break_holder] --> <a href="https://www.predictem.com/out/IntertopsB"><img src="https://www.predictem.com/wp-content/uploads/2018/04/intertops.png" width="" alt="Bovada" /></a><!-- [et_pb_line_break_holder] --></div><!-- [et_pb_line_break_holder] --><div class="col2"><!-- [et_pb_line_break_holder] --><span class="list"><b>50% Cash</b></span><br><!-- [et_pb_line_break_holder] --><span class="list">4x Rollover</span><!-- [et_pb_line_break_holder] --> </div><!-- [et_pb_line_break_holder] --> <div class="col3"><!-- [et_pb_line_break_holder] --><a href="https://www.predictem.com/betting-sites/intertops/"><button class="btn-widget">Review</button></a><!-- [et_pb_line_break_holder] --></div><!-- [et_pb_line_break_holder] --></div><!-- [et_pb_line_break_holder] --><div class="widgetlist"><!-- [et_pb_line_break_holder] --><div class="col1"><!-- [et_pb_line_break_holder] --> <a href="https://www.predictem.com/out/BovadaB"><img src="https://www.predictem.com/wp-content/uploads/2018/04/bovada.png" width="" alt="Intertops" /></a><!-- [et_pb_line_break_holder] --></div><!-- [et_pb_line_break_holder] --><div class="col2"><!-- [et_pb_line_break_holder] --><span class="list"><b>50% Cash</b></span><br><!-- [et_pb_line_break_holder] --><span class="list">10x Rollover</span><!-- [et_pb_line_break_holder] --> </div><!-- [et_pb_line_break_holder] --><div class="col3"><!-- [et_pb_line_break_holder] --><a href="https://www.predictem.com/betting-sites/bovada/"><button class="btn-widget">Review</button></a><!-- [et_pb_line_break_holder] --></div><!-- [et_pb_line_break_holder] --></div><!-- [et_pb_line_break_holder] --><div class="widgetlist"><!-- [et_pb_line_break_holder] --><div class="col1"><!-- [et_pb_line_break_holder] --> <a href="https://www.predictem.com/out/GtbetsB"><img src="https://www.predictem.com/wp-content/uploads/2018/05/gt-bets.png" width="" alt="GtBets" /></a><!-- [et_pb_line_break_holder] --></div><!-- [et_pb_line_break_holder] --><div class="col2"><!-- [et_pb_line_break_holder] --><span class="list"><b>100% Cash</b></span><br><!-- [et_pb_line_break_holder] --><span class="list">20x Rollover</span><!-- [et_pb_line_break_holder] --> </div><!-- [et_pb_line_break_holder] --> <div class="col3"><!-- [et_pb_line_break_holder] --> <a href="https://www.predictem.com/betting-sites/gtbets/"><button class="btn-widget">Review</button></a><!-- [et_pb_line_break_holder] --></div><!-- [et_pb_line_break_holder] --></div><!-- [et_pb_line_break_holder] --><div class="widget-footer"><a href="https://www.predictem.com/best-sportsbooks/bonuses/">See all sportsbook bonuses</a></div><!-- [et_pb_line_break_holder] --> </div></aside>
<h4 class="widgettitle">More NFL Picks</h4><!-- [et_pb_line_break_holder] -->
<div style="width:340px; margin: 0 auto;"><!-- [et_pb_line_break_holder] --> <a class="twitter-timeline" data-width="340" data-height="500" data-link-color="#008156" href="https://twitter.com/PredictemPicks?ref_src=twsrc%5Etfw">Tweets by PredictemPicks</a> <script async src="https://platform.twitter.com/widgets.js" charset="utf-8"></script><!-- [et_pb_line_break_holder] --></div>