Patriots Picked To Cover The Spread in Super Bowl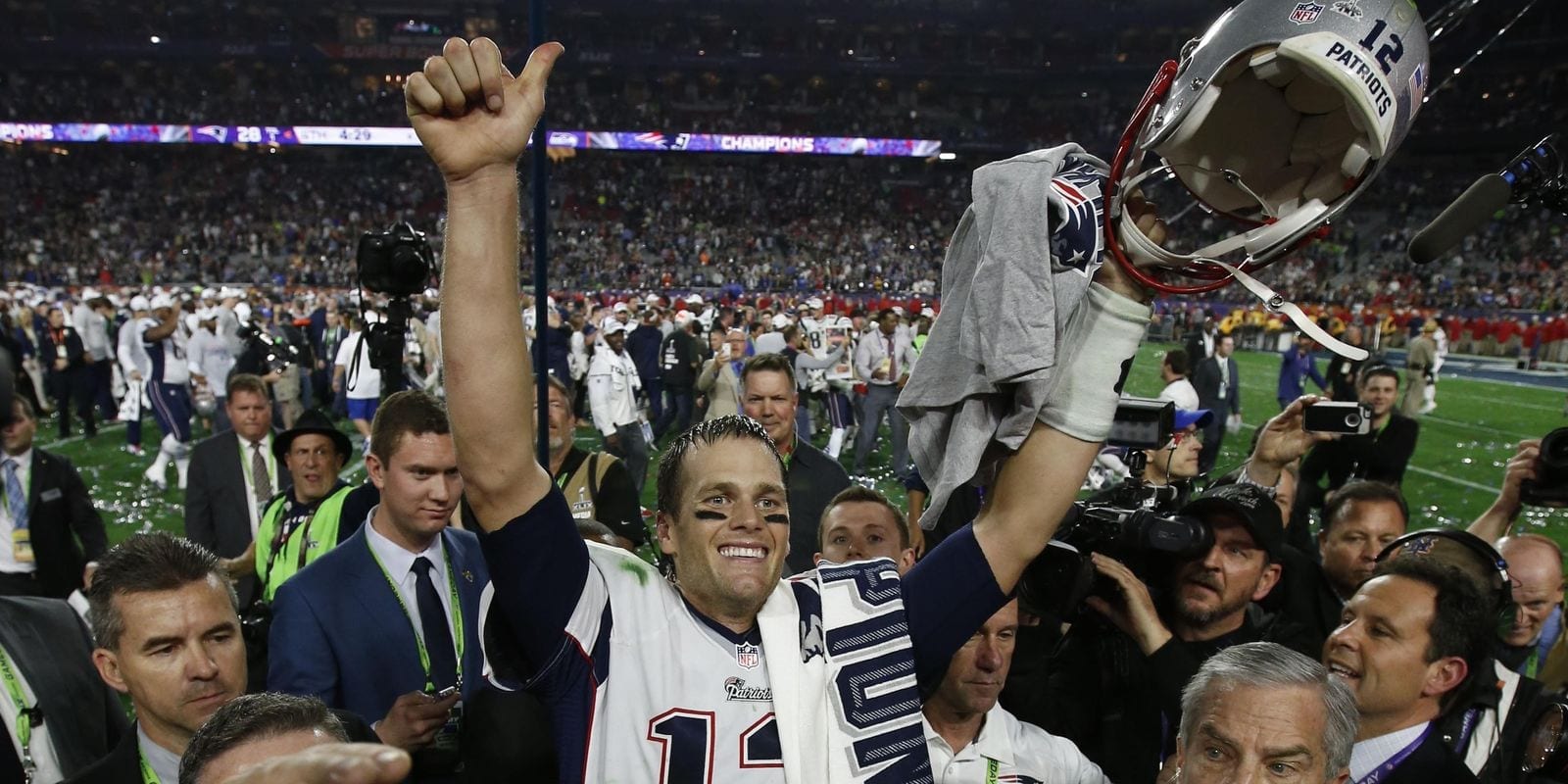 Los Angeles Rams (15-3 SU, 9-8-1 ATS) vs. New England Patriots (11-5 SU, 9-7 ATS)
Date/Time: Sunday, February 3rd, 6:30 PM
Where: Mercedes-Benz Stadium, Atlanta, GA
TV: CBS
By: Mike Mann., NFL Football Handicapper, Predictem.com
Point Spread: LAR+2.5/ NE-2.5 (Youwager)
Over/Under Total: 57
The New England Patriots and Los Angeles Rams meet in Atlanta for a Super Bowl LIII matchup that pits two of the highest scoring teams in the league against each other. The game will be played seventeen years to the day since they met in Super Bowl XXXVI, a game the underdog Patriots won 20-17. New England has won five straight games in the series and owns an 8-5 overall advantage versus the Rams.
Related: Loot Levinson Gives His Super Bowl ATS Pick!
WHEN THE RAMS PASS
Leading the way for Los Angeles is quarterback Jared Goff, who helped propel the team to the second ranked offense in the league in both yards per game and scoring. He has gone 24-7 as a starter and put up a 60/19 touchdown-to-interception since getting the Jeff Fisher albatross removed from around his neck and is now going to the Super Bowl in just his third year in the league. One important factor in the game will be how well Goff protects the ball as half of his twelve interceptions this year came in the teams' three losses, and he has struggled a bit of late with seven interceptions in his last seven games. The Patriots were tied with the Rams for third in the league in interceptions this season, and with 1st Team All Pro Stephon Gilmore leading the way in the Patriots defensive backfield its abundantly clear that they have the personnel to be able take advantage of any wayward throws.
Goff's primary weapons are Brandin Cooks and Robert Woods, both of whom had over 1200 yards receiving this season. Woods has at least six receptions in five of his last six games, but has also caught just one touchdown in that same time span. Cooks is in the same sort of drought, with just two receiving touchdowns in his past nine games, both of which came in the regular season finale against San Francisco. Josh Reynolds has stepped into the third wide receiver spot since Cooper Kupp was lost for the season to injury, and should continue to see plenty of playing time considering the high percentage of times the Rams use the three wide receiver formation. At tight end there is a near even split between Tyler Higbee and Gerald Everett, who have combined for a total of 14 targets in the postseason.
BRUISING BACKFIELD
The Rams backfield is now a dual threat with both Todd Gurley and CJ Anderson a viable threat. Gurley earned 1st Team All Pro honors after rushing for over 1200 yards and 17 touchdowns during the regular season, though his use and production has dropped in recent weeks. After getting 20+ carries in five of his first seven games of the season he has done so just once since. And while he did have a strong game against the Cowboys in the Divisional Round, in the three games surrounding it he has rushed 27 times for just 86 yards which amount to a barely above three yards per carry average. Coach Sean McVay stated that CJ Anderson got more use in their previous matchup due to the flow of the game, and during the playoffs Anderson has gotten 19 more carries than Gurley overall. CJ didn't have his best game against the Saints, rushing for 44 yards on 16 carries, but he has been stout of late after rushing for 422 yards and four touchdowns in three games before New Orleans. It remains to be seen which direction they will go in for the Super Bowl matchup, but no matter what you can count on the Rams to continue using both backs with Gurley getting a majority of the outside carries and Anderson more the inside rusher.
THE RAMS D
Defensively the Rams feature the arguably best player in the NFL in lineman Aaron Donald, who led the league in sacks this year with 20.5. He is joined up front by Ndamukong Suh and Dante Fowler, with Fowler coming over in a trade from Jacksonville and proving to be a great find for Los Angeles. In the middle is linebacker Cory Littleton, the team leader in tackles in both the regular and postseason. The defensive backfield was supposed to be highlighted by cornerbacks Aqib Talib and Marcus Peters, but Peters has struggled throughout the season and Talib missing time due to injury. Both are still plenty talented and how they react to the quick throws of Tom Brady will be an important subplot in the game.
WHEN THE PATRIOTS PASS
Brady is now entering his ninth Super Bowl, more than any other team in league history. One of the reasons he has averaged 511 yards per game and been able to complete 70% of his passes this postseason is due to the great blocking of the offensive line, who has the added bonus of essentially having an additional right tackle with the great blocking of Rob Gronkowski. Brady has barely been touched in the past two games (three QB hits, one sack and one questionable roughing the passer all), and how his front line holds up against the rush of Donald, Suh and Fowler will likely go a long way in deciding the outcome.
Julian Edelman continues to be Brady's favorite target, and has at least 69 yards receiving in nine of his past ten games. With sixteen receptions this postseason he moved into second place all time in playoff receptions behind Jerry Rice and promises to be a focal point of the Patriots passing game against the Rams. Joining Edelman at wide receiver are Chris Hogan and Phillip Dorsett, both of which could find holes in the Rams defense with the attention sure to be paid to Edelman, Rob Gronkowski and the possibility of James White coming out of the backfield. The team is 5-0 when Dorsett gets into the end zone and he has scored in both games so far in the postseason.
WHEN THE PATRIOTS RUN
The recent success of the Patriots backfield has come as a surprise to some, though it shouldn't considering their rushing attack ranked higher (5th) than the passing game did (8th) in yards per game in the regular season. So far they have averaged 165 yards per in the postseason, and seeing their use in the previous game now have three options to lean on. Sony Michel is the primary back, and has set a rookie playoff record with five touchdowns in his previous two games. The team has responded well to his success with a 7-0 record when he scores and 8-1 when he gets at least 18 carries. James White is next up and is primarily used in the passing game, having just 10 carries in the last three weeks compared to 23 receptions. Behind them comes Rex Burkhead, who has scored all three of his touchdowns this season in during the playoffs, including last two scores for the Patriots against the Chiefs.
There are hundreds of x factors but one of the most important matchups of the Super Bowl will be how the Patriots running game does against the Rams. LA allowed a league worst 5.1 yards per carry in the regular season but has been dominant so far in the playoffs, giving up a total of 98 yards on 43 attempts, which average out to just 2.3 yards per carry. The success of their running game has proven great dividends for New England since 2000, as they are 11-0 in the playoffs when a back rushes for 100 yards or more and 62-1 overall.
THE FINAL DECISION
This years' Super Bowl pits two evenly matched, high scoring teams and promises to be an entertaining game. The one area where I believe the Patriots could hold a decided advantage is at quarterback, as with Brady you know you are going to get consistency that Goff is not a guarantee to have. Brady holds a 7-1 record in his past eight postseason games, with an average of 334 yards per and an impressive 15/3 TD-INT ratio. Love them or hate them, the Patriots are a true sports dynasty and what they have been able to accomplish over the past 17 seasons will likely never happen again in the NFL. At games' end you can count on Brady and Belichick standing on the podium with the Lombardi Trophy held high after yet another Super Bowl win.
Mike's Pick to Cover the Point Spread: New England –2.5
First Fidelity's call-in sportsbook had built its client base through word of mouth and professional service starting in the early 90s. Many of their players were established, wealthy, older gentleman. Word would spread at the golf course about how easy it was getting paid big amounts. First Fidelity's then marketing manager told me they didn't need to market and their phone-in middle aged client base was growing faster than ever. I asked, then why advertise online? He said their "customers are loyal but people eventually retire and even pass away. People die." It was honest and forward thinking. 15 years later Youwager still has many silver-haired VIPs but is considered cool by the younger connected generation. Maybe Buick needs to hire Youwager's team.