Olympique Lyonnais vs. Bayern Munich Predictions 8/19/20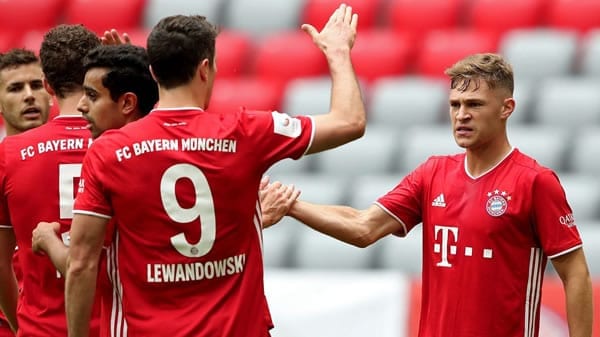 Olympique Lyonnais vs. Bayern Munich
When: Wednesday, August 19, at 3 p.m.
Where: Stadio Jose Alvalade, Lisbon, Portugal
TV: CBS Sports Network
Point Spread: Olympique Lyonnais +2/Bayern Munich -2
Moneyline: Olympique Lyonnais +1050/Bayern Munich -455/Draw +600
Total: Over 3.5 (-118)/Under 3.5 (-118)
(Soccer odds available at (Bet365)
Last Time Out:
Olympique Lyonnais beat Manchester City 3-1; Bayern Munich beat Barcelona 8-2.
Previous meeting:
Bayern Munich defeated Olympique Lyonnais 3-0 on April 27, 2010 at Parc Olympique Lyonnais.
About the Matchup:
It's David vs. Goliath, in the semifinals of the Champions League, as Lyon goes for its third straight shock of the tournament after taking down Italian champion Juventus and England's most talented team in Manchester City. But Bayern Munich has often looked like the best team in the world on its way to another Bundesliga championship and seemed to be on another level in seeing off Barcelona in the quarterfinals.
Lyon has never been past this level in the Champions League, losing its only semifinal appearance in 2010. Bayern, on the other hand, is the only team left in the competition that has lifted the trophy before, but it's fallen at this hurdle in four consecutive appearances since winning its last Champions League title in 2013. Can Bayern handle the pressure of expectations again and roll past Lyon to an appearance in the final, or can the French squad knock out another European giant on its way to a shock appearance in the finals?
Scouting Olympique Lyonnais:
When Lyon needed a lift, Moussa Dembele was there to provide it. Dembele had struggled to find the net at any point in the Champions League competition, putting up a goose egg in eight previous games, but when his team needed him most, Dembele came through with two big goals to knock Manchester City out of the tournament.
Now, can Lyon find a way to get the early goal against Bayern Munich? In their wins over Juventus and Manchester City, Lyon was able to take the early lead and dictate the tempo of the match from then on, playing the way that it wanted to play. That hasn't been something anyone's been able to do against Bayern, which was rarely challenged in the Bundesliga and has barely been scratched by either Chelsea or Barcelona. If Lyon goes down a goal, it's difficult to see any way back for them.
There's also the question of whether Lyon has the experience to compete at this level. The club hasn't gotten this far in 10 years — when it lost to Bayern in the semifinals — and is mostly full of younger players who don't have experience at either this level or at the World Cup level. Memphis Depay is the only one who has competed at a similar level when he played for the Netherlands in the 2014 World Cup, but otherwise, Lyon can't match up to Bayern's experience in big games. That said, Lyon also couldn't match Manchester City's experience, and it didn't faze them there.
Scouting Bayern Munich:
There's only one way to describe Bayern's performance against Barcelona: truly frightening. The Bavarians were clinical from the beginning and never let up, dealing the Spanish titans their most humiliating defeat in 69 years. After the match, the really impressive thing was that Bayern's reaction to putting home eight goals was workmanlike as if they're on a mission, and nothing's going to distract them from their ultimate goal.
That's why there's little reason to fear the kind of a letdown that claimed Manchester City in the quarterfinals. Bayern has had a chance to suffer a letdown since Hansi Flick took over, and it hasn't come close to happening. On the contrary, Bayern has looked better every time out, and Robert Lewandowski is having a season for the ages. When Bayern is on its game, there's not a squad in the world that can stand up to them, and they've shown that time and time again in the Champions League. In nine Champions League matches, Bayern has won them all, winning eight of nine by at least two goals.
Dan's Best Bets:
Unlike Manchester City, Bayern Munich hasn't been prone to head-scratching performances. The Bavarians have won 19 in a row and have won their past five matches by at least two goals. With that being the case, I think a Bayern win and over 3.5 goals makes a lot of sense. You're only getting +105 odds for it, but given that Bayern's past five matches have all featured at least four markers, there's a good chance that it happens.
For a better chance to win money, I'd take over 4.5 goals in the match at +190. These teams have both been finding the net pretty well as of late, and Bayern's defense has been a bit leakier than it was during the Bundesliga season. I can easily see this match featuring five or six goals as Lyon tries to press late, and Lewandowski is going to have no problem taking advantage of such a situation.
Speaking of Lewandowski, I wouldn't worry about backing him to score in this one. He probably will, but Vegas knows it too well, as he's -335 to find the net in this match. Unless you want to take him to score the first goal of the game at +175, stay away.
Dan's Score Prediction:
Lyon has done brilliantly to get this far, but I can't see them getting past Bayern. I think Lyon can find a goal in this match, but I think that's going to be all that they get in another comfortable win for the Bavarians. My 4-1 score prediction proved to be conservative, but nobody could have predicted just how badly Bayern would undress Barcelona in the last round. I think it's got value at +1250, so I'll go back to it again and take Bayern for a 4-1 win here. Bet this week's soccer picks for FREE by taking advantage of a 100% real cash bonus on your first deposit of $100 to $300 at MyBookie!