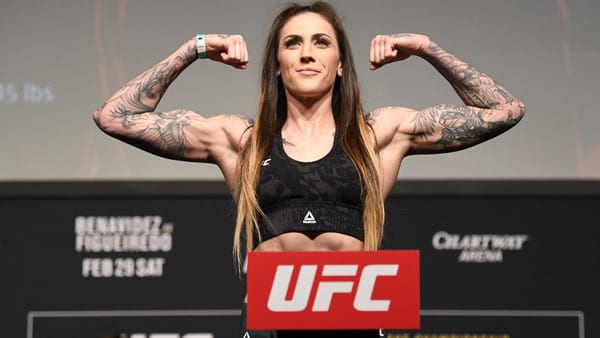 UFC 259 Main Card Picks
When: Saturday, March 6, 2021
Where: UFC Apex Facility in Las Vegas, Nevada
TV: PPV
Bet it LIVE!: Bovada Sportsbook - Credit cards work for deposits there + 50% Bonus!
Fight Analysis:
The UFC 259 main card is packed with action, with two UFC championship fights atop of the list. UFC Featherweight Champion Amanda Nunes takes on challenger Megan Anderson for the Women's 145-pound crown in the co-main event. Also, on the main card, UFC Bantamweight Champion Petr Yan makes the first defense of his crown against top contender Aljamain Sterling. Let's break these fights down!
Amanda Nunes, 20-4, 14 KOs, 3 Submissions), (-1100) vs. Megan Anderson, 11-4 (6 KOs, 3 Submissions), (+650)
Amanda Nunes defends her UFC Featherweight Title against Megan Anderson on the UFC 259 main card. Nunes continues to reign as the Women's champion at bantamweight and featherweight. She won the 145-pound title with a first-round KO over Cris Cyborg, and this is her second defense, also having defended the belt at UFC 250.
Some may consider this a quixotic task for Anderson. Without dispute, Nunes is the most-decorated fighter in women's history. Name a top female fighter, and the chances are that Nunes has beaten her. Anderson can't help but be a little intimidated looking at Nunes' list of victims. Nunes has beaten Germaine de Randamie twice, Valentina Shevchenko twice, Miesha Tate, Ronda Rousey, Cyborg, Holly Holm, and many others.
So what chance does Anderson legitimately have? You see a list of the who's-who of women's fighters on Nunes' resume, and it's just not easy picturing an 11-4 fighter like Anderson, who lost two of her last five fights to former Nunes victims Holm and Felicia Spencer being able to turn the trick. But maybe there is something beneath the surface that can turn things in Anderson's favor.
Let's not forget about the typical turnover in the sport. No star stays on top forever, and if the past is any indication, Nunes' number might be close to being up. We've seen some less-violent performances lately, with Nunes scoring two decision wins in a row. After facing a murderer's row of opposition, could Nunes be getting a little complacent now taking on a slew of more rank-and-file contenders like Anderson? And with this being a featherweight title defense, Nunes is at the high-end of her weight-range, taking on a truly large featherweight fighter in Anderson.
Anderson brings some things to the table that make her an interesting upset candidate even in this spot. At 6-feet tall, Anderson has a unique range advantage and is definitely the longest fighter Nunes has faced. She also has a knack of finishing fights. Her last nine wins have all been finishes, featuring knockouts with strikes and a variety of submissions. She brings a lot to the table, and the 30-year old might be coming into her own.
I just don't think Anderson has the special dimension required to dethrone the greatest female fighter of all-time. But I think she might be dangerous enough to arouse the full ire of Nunes, and I picture a more typically high-impact fight than what we've seen in her last few outings. I picture a short fight with Nunes coming out on top.
My Pick to Win:
I'm betting on Amanda Nunes at -1100 betting odds, while also looking for a position on a short fight closer to fight-night. Anderson is a fine fighter, and kudos to her for elevating herself to this spot. But Nunes is an entirely different ball game, and Anderson will find that out in short order.
More UFC 259 Picks: Loot's Blachowitz vs. Adesanya Picks >>>
Petr Yan, 15-1 (7 KOs, 1 Submission), (-135) vs. Aljamain Sterling, 19-3 (2 KOs, 8 Submissions), (+105)
UFC Bantamweight Champion Petr Yan makes the first defense of his belt against top contender Aljamain Sterling. Yan won the vacant belt with a fifth-round TKO over Jose Aldo last July. But now he has to start taking on the top 135-pounders in the world, and one of them is Sterling, a rangy and versatile contender who is on a run of five straight wins. It should be a really good fight.
At 27, four years younger than Sterling, Yan has really come into his own. He has not tasted defeat since joining the UFC. With wins over Urijah Faber and Jose Aldo, Yan took down two of the older names in the division and now turns his attention to more of the younger wave of 135 pounders. He is lightning-quick, suddenly launching a variety of strikes that are hard to detect. He is absolutely expert at concealing his strikes, and opponents will be certain a punch is coming, only to find Yan slinging a kick over his shoulder.
If looking to nitpick Yan's sense of overall worth as a champion, one could say that he won a vacant belt over a past-his-prime fighter in Aldo, who had lost two in a row and four of his last 6. While Yan has shown unmistakable ability and done great in his fights, Sterling might be his toughest opponent yet. He has a lot of skills, and his best fighting may still be ahead of him, unlike recent Yan victims.
Sterling's road to this spot has not been all that smooth. Unbeaten after winning several UFC fights, he fell on hard times, losing three of his next five, but learning a lot along the way. He retooled and came back stronger and is now on a run of five straight fights, with wins over tough foes like Cory Sandhagen, Pedro Munhoz, and Jimmie Rivera. He has the stamina to last in a protracted battle, can sink in any number of different submissions, and lash out with vicious strikes.
Time could prove me wrong, but I feel that the more-special fighter in this equation is Yan. His talent leaps off the screen more in some respects, as does his simple ability to cultivate victory. The ability to find victory in a difficult situation is often an overlooked ability when breaking down MMA fights, and it's an area where Yan excels. I see him piling it on in the latter rounds to retain his 135-pound belt.
My Pick to Win:
I'm betting on Petr Yan at -135 betting odds. Over the 25-minute championship distance, I see Yan's package of assets and skills being slightly more-bankable, allowing him to cross the finish line a nose ahead in what is truly a dangerous fight where a viable winning-case can be made for either man. Want more bonus cash to bet with? Receive a 100% REAL CASH bonus on your first deposit of $100 to $1000 at BetNow! The biggest sportsbook from a legit sportsbook that we've ever seen!