Stanford Cardinal vs. Oregon Ducks Week 4 Pick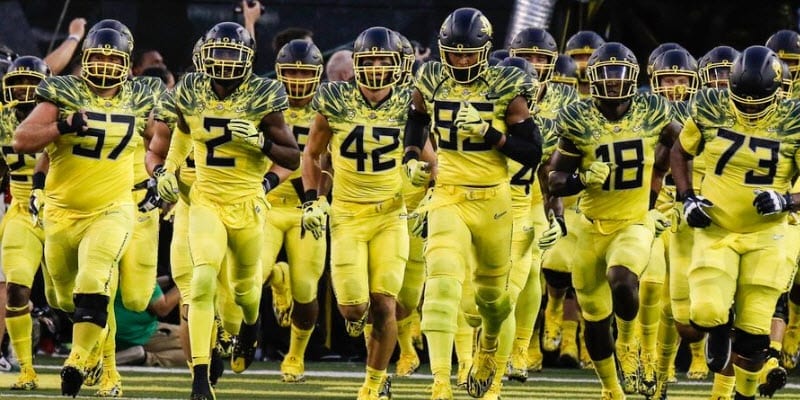 Stanford Cardinal (3-0 SU, 2-1 ATS) vs. Oregon Ducks (3-0 SU, 0-3 ATS)
College Football Week 4
When: Saturday, September 22, 2018 at 8PM EDT
Where: Autzen Stadium, Eugene, Oregon
TV: ABC
By Loot Levinson, NCAA Football Handicapper, Predictem.com
Spread: STAN -2/ORE +2
Total: 55
The Stanford Cardinal come to Eugene to take on the Oregon Ducks in a battle of 3-0 Pac-12 teams looking to add a big win to their ledger. Both teams face a tough spot here. Oregon is 3-0, while having not yet covered a spread. Still, they are ranked and have more hope now then they've had in a few years. Stanford is also 3-0, ranked highly, and much better than a lot of people thought they would be. Last week, Oregon beat San Jose State at home, 35-22 to go to 3-0. The Cardinal enjoyed their third straight game at home to open the season, with a 30-10 win over UC Davis.
Going off their respective records and last week's results, one would assume there's not a ton to separate the two. Their paths to this spot, however, have been very different. Oregon benefits from opening the first month of their season at home. That's a comfy situation to be able to dig in like that, with this being the fourth of four straight games at Autzen to open 2018. But while Oregon was beating Bowling Green and Portland State, Stanford was laying a good San Diego State team to waste and then easily beating USC.
REDUCED ODDS SAVES YOU BIG MONEY! START SAVING $$$ BY MAKING THE SWITCH TODAY TO 5DIMES SPORTSBOOK!
Oregon: Should We Care?
Well, that depends on how you look at it. Mario Cristobal is in his first season as head coach and has a good quarterback with which to work in Justin Herbert. The big 6'6" junior hasn't been terribly on-point yet this season, especially considering the level of opposition. Still, he's a nice talent with experience. He has some useful tools to work with and how good they really are will be shown this week against a tip-top Stanford defense. There are the usual newcomers and rising youngsters, along with some older standbys like Tony Brooks-James, Jacob Breeland, and Taj Griffin.
Coming off an 11-14 run over the past two seasons, the Ducks still have a lot to prove. This is the litmus test, not games against Bowling Green and Portland St. Their defense, or lack of it, has been a big part of that unflattering equation. The fact that they've allowed three times more points than Stanford this season while playing infinitely worse teams is not that great of a sign, either.
Like we said, though, it's not about games against these lesser set-up teams. The Ducks get judged by how they do in these spots. Surely, the Ducks weren't in a maximum state of alert for BGSU, Portland, and San Jose. But for goodness sake, if you're a prime-time Pac-12 team, aren't you supposed to beat San Jose State by more than 13 at home? That's not just the 42.5-point spread talking. They got outplayed in the second half by a team that lost to UC Davis by 6 in week one—the same Davis that Stanford just stomped out effortlessly. We know, that kind of arithmetic doesn't always add up. What it does tell us is there is something behind these 3-0 records.
Stanford: Better than Advertised
There was a lot of pessimism to open the season for the Cardinal. Bryce Love was a leading Heisman candidate, but what surrounded him didn't elicit a lot of promise. People anticipated a deflated version of the team that beat Oregon 49-7 last season at Stanford Stadium. That hasn't really panned out yet. Love hasn't really been heard from and missed the last game with a knee, yet is going to play this week. Everything else has been great, a complete flip of the preseason script.
Quarterback KJ Costello has been excellent, running the Stanford offense with a lot more confidence and fluidity. And he's been flashing a better arm, getting the most of a talented receiving crew. The rise of senior receiver JJ Arcega-Whiteside from reliable role receiver to monster has been impressive enough to give him a pass for being a male with a hyphenated last name. Where I'm from, that doesn't fly. Why did no football player for 100 years have two last names and suddenly, every third player has that? At any rate, Stanford's offense has been showing a nice dash of variety, building other facets of their approach this season. But you can just sense Love is due to explode and why not here?
Avoiding Overly-Obvious Storylines
When it's too easy, something's wrong. It's easy to sit back and make the conclusions where arriving at it takes no work. "Oh look, I have it all figured out. Oregon is beating weak teams and missed covering the spread against a woeful San Jose State by 30 points. They're 11-14 the past two years, their QB barely completes 50%, and their defense at this level is garbage. Meanwhile, Stanford is beating and covering against better teams."
Seldom does it work out that conveniently. Sure, there are some takeaways from that analysis, as simple as it may appear. Stanford is more proven at the end of the day. But maybe SDSU and USC aren't all that wonderful and made Stanford look better than they are. Eugene is still a tough place to play and the crowd and team will be at a heightened state to kick off the conference schedule. I'm just saying, there's a window there to make a case that the first three weeks were not enough to etch anything in concrete yet. There's something about the notion that Stanford is so much more higher-level that doesn't ring right.
Take the Points on the Home Underdog
I feel like I might be caught in a loop going against Stanford, but this might be the week where they fall short in an ATS sense. You have to wonder what's going on with Love, though he looms as a scary factor. The Cardinal defense will be facing he most-together offense they have seen this season thus far. Oregon's offense is what it's going to be, while the better teams Stanford played already were in a transition-stage on that side of the ball. I see Oregon hanging in there for the cover at home.
Loot's Pick to Cover the Point Spread: I'm betting on the Oregon Ducks plus 2 points.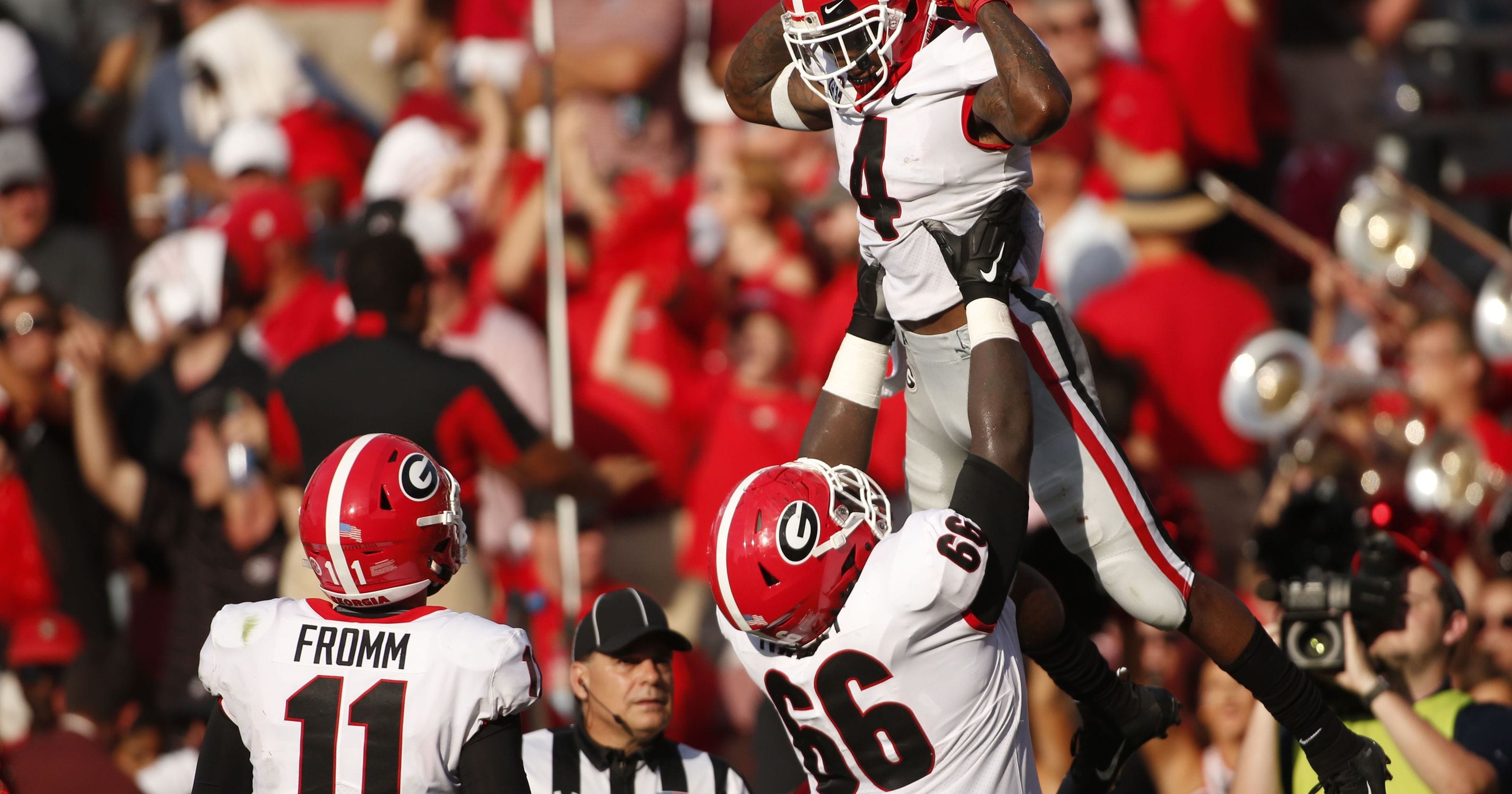 The Georgia Bulldogs will take their number 2 ranking on the road this week when they visit Columbia, Missouri for a showdown with the Tigers. The spread is currently set at Missouri -14. Jay Horne analyzes the game and shares his selection.
---
---
---
---
---
---
---
---
---
.