Washington Huskies -21 picked versus UCLA Bruins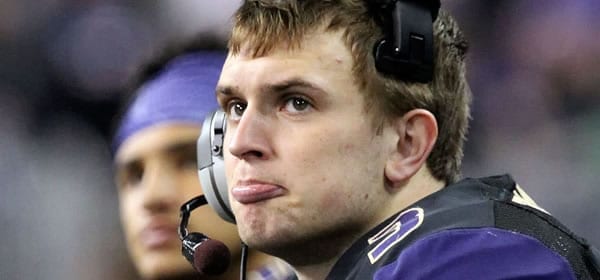 Washington Huskies (4-1 SU, 2-3 ATS) vs. UCLA Bruins (0-4 SU, 1-3 ATS)
College Football Week 6
Date and Time: Saturday, October 6th, 7:30pm EST
Where: Rose Bowl – Pasadena, CA
TV: FOX
By: Bob Clark, NCAA Football Handicapper, Predictem.com
Spread: WAS -21/UCLA +21
Over/Under: 50
PAC-12 SHOWDOWN…OR BEATDOWN?
Saturday night, in Pasadena, California, the 4-1 and tenth ranked Washington Huskies come to town to take on the highly disappointing UCLA Bruins. Under new head coach, Chip Kelly, UCLA has not yet been able to win a game while Washington still considers themselves a potential College Football Playoff team.
Sportsbooks opened the Washington Huskies opened as a 21 point road favorite and that line has not moved at most betting sites. As for the over under, the number sits at 50. As of Wednesday night, 57% of the public liked Washington to get the cover at home while regarding the total points, 55% thinks it goes over the 50 total points. From a trend standpoint, these two teams have split the last four games both straight up and against the spread. Can UCLA get their first win of the season? Or hell, can they at least make it fun and attempt to cover the 21?
UCLA ON THE OFFENSIVE:
Do not lie… when you heard the news that Chip Kelly was headed to UCLA, you thought "oh damn, these guys are about to become a contender." I admit, I did. Did I think they would come out year one and rack up 50 points a game and run the table? No, but I did think the offense would show signs of life while Kelly worked to recruit his type player. These guys straight up suck. I hate saying that about college kids, but it is true. The "UCLA Chip Kelly Offense" is ranked 126th in the FBS in points scored at just 17 a game. If that was not bad enough, the defensive rank is 113th in FBS…trash.
So how can UCLA win on Saturday night? Hell if I know, but I will say this: I put more pressure on the offense than the defense. Lets be real, no Pac-12 team outside of Stanford and Washington even care about defense. Pac-12 games are high scoring, high flying affairs. For UCLA to have a chance, the entire offense needs to shine. Passing game, run game, O-Line…something has to come together for these guys to not just have a shot to pull the huge upset, but to even keep it close. The Huskies COULD win this game by 50 and if UCLA plays like they have all season, they just may.
WASHINGTON ON A MISSION:
Washington entered the season as one of the top teams in the nation. After an opening weekend loss to Auburn, a lot of the Playoff chatter stopped, but I am here to tell you that this team is still very alive and well in the discussion, but they have ZERO margin of error at this point. One more loss and Washington is done for…at least done for in the National Title hunt.
I like this Washington team a lot. Do I think that they can hang with Alabama, Georgia, or Ohio State? Probably not but again I do consider them in the conversation as one of the top 5-8 teams in America. Since losing a hard fought game against Auburn, the Huskies have gone 4-0 and other than a one score game against Arizona State, they were all blowout wins. Washington, with that one loss and the lack of games against high ranked opponents left, needs to start winning the eye test. They cannot play team like UCLA and win by a score. Games like this need to be beatdowns and I think Washington knows that. The key to this weekend is jump on UCLA early. Get in, go up 14-0 in the first seven minutes then it is game over. This UCLA team is not ready for this type of game and the Huskies MUST take advantage.
TIRED OF YOUR CREDIT CARD NOT WORKING AT SPORTSBOOKS? IT WILL AT BOVADA + GET A 50% BONUS!
THE PREDICTION:
As much as I would love to see a fun game, I think it will be anything but that. Also, as much as I hate taking three score favorites at night on the road, I just have to in this case. Washington is going to come into this game and murder UCLA. I think by half time we will all see that Washington will win and cover this one. UCLA just is not talented enough to hang here. Maybe in a couple of years but not now. I think Washington jumps on the Bruins early then coasts to a 45-10 win both covering the spread and improving to 5-1 on the 2018 season.
Bob's Pick to Cover the Point Spread: TAKE THE WASHINGTON HUSKIES -21 AGAINST THE UCLA BRUINS AND ALSO TAKE OVER THE POSTED TOTAL OF 50 COMBINED POINTS.