The Masters Analysis & Predictions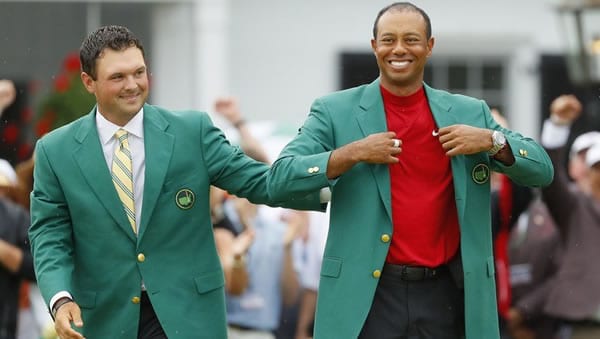 Event: The Masters
When: November 12-15, 2020
Where: Augusta National GC - Augusta, GA
Watch: ESPN/CBS
I have often stated that The Masters was the unofficial start of Spring in my mind but for one year, I guess it will have to serve as a lead-in to Winter. Azalea blooms will be replaced by fall foliage but the jacket is still green and Augusta is still the most special place in golf. 2020 has taught us to expect anything but the 84th edition of The Masters will have to be somewhat amazing to live up to what we saw in 2019 when Tiger turned back the clock and won his fifth title. Much of the news leading into this week surrounds Bryson DeChambeau and how plans to attack Augusta with raw power, much like he did when he won the U.S. Open. The roughs at Winged Foot were no deterrent to DeChambeau and Augusta is an easier driving challenge on paper so it is rather easy to see why Bryson is the unquestioned betting favorite. Dustin Johnson, Jon Rahm, Justin Thomas and Rory McIlroy are also popular picks but remember that The Masters has a reputation of being a wide-open event and several lesser-known players have won over the years.
Augusta National remains one of the most unique and secretive golf courses in the PGA rotation and the move to the fall adds an additional layer of curiosity. The potential for cooler weather had some players worried but it looks like temps will be Spring-like and that will at least have the ball carrying in a way players are used to. The tee-to-green turf at Augusta is essentially new as the course is over-seeded each fall. In a typical year, The Masters would be played near the end of the growing season and mature grass can be tailored for speed. This newer grass has been watered heavily and the result could be a slower version that plays all of its 7,475 yards. The greens here should remain immaculate and each can be manipulated depending on moisture conditions so look for the same lighting fast stimpmeter readings as we have always seen. Wind and rain have contributed to higher in years past but if conditions stay benign, expect the winning total to get into the teens under-par as it has many times over the last decade.
Each week, we take a look at the sportsbooks and highlight the best values on the board. We make a short, middle and long odds pick to win and break down a couple of popular head-to-head matches that you can find at any golf betting outlet. Odds and pairings for this week can be found at Bovada (You can live bet the tournament there!) Here are our picks to win the 2020 Masters.
Bryson DeChambeau (8 to 1 odds to win)
This isn't an official pick as there isn't much imagination in picking the favorite that happened to win the last Major but I did want to say a couple things about the mad scientist. The first is that he could and probably should win if he successfully attacks this course the way he plans to. Bryson is averaging 350+ yards per drive and is gaining over a stroke on the field off-the-tee. There are several fairways at Augusta that open up after the 290-310 yard range so he doesn't need to be especially accurate if he is carrying the ball 330 yards or more. Short irons into these par-4's will provide a big edge and we all know how important par-5 scoring is here. The only thing DeChambeau doesn't have going for him is his Masters record. His best finish in four starts is a T21 and his scoring average is over par at 72.3 in twelve career rounds. Since making his Masters debut in 2106, Bryson has been one of the weakest statistical putters here over that span. For those more conservative, you can bet Bryson to finish in the top 10 at -135 odds at Bovada Sportsbook.
Xander Schauffele (14 to 1)
Few have been better in Majors to start a career and Xander enters this week with seven Major top-ten finishes in thirteen career starts. He was a runner-up here last year to Tiger and matched Woods' 13-under winning total over the final three days. Schauffele is top-ten in greens hit, off-the-tee play and overall tee-to-green performance so he checks all the ball striking boxes. He isn't an elite putter but is still well above average with a top-35 mark in strokes gained-putting which helps turn in top-5 birdie and scoring ranks. Xander is 2nd in scrambling and should be able to negotiate the tight lie pitches around these greens. He isn't getting a lot of headlines ahead of the tournament but the sportsbooks know this guy is primed to win. If 14-1 odds is too risky, you can get Schauffele to finish in the top 10 for +120 odds at Bovada. 
Hideki Matsuyama (28 to 1)
I actually had Matsuyama as a pick to win in Houston last week and it was a near-miss as he wound up one stroke back as the runner-up. I think he keeps the good play going as he has made the cut here in five straight years with four top-20s over that span, including three finishes at 11th or better. Matsuyama finished last season as the 2nd best player from tee-to-green and ranks 34th in driving distance to have the pop off-the-tee to attack here. He is also a top-5 player on approach shots and around the greens to be one of the more complete ball strikers in this field. The putter has been the stopping block to more wins in his career but he does putt well enough to produce the 14th best scoring average and his clutch putting helps him to 19th in scrambling so he doesn't need to improve much on the greens to be a factor. Hideki has enough Augusta experience to know when and where to be aggressive and he should be hovering around the front page as Sunday rolls around.  One of the better bets of the Masters is for Hideki at +210 to finish in the top 10 at Bovada. They also give you a 50% bonus!
Scottie Scheffler (66 to 1)
Former champs like Trevor Immelman, Charl Schwartzel and Danny Willett have proven tha Augusta National can name the least likely of victors so don't dismiss the dark horses this week. Scheffler is light on Major championship experience overall but a T4 at the PGA Championship showed he is ready to hang with the big boys. His Sunday 65 in Houston is a nice way to head into this week and he is coming off a season where he notched seven top-tens and finished with five straight top-25s, including the playoff events. He ranks 10th in off-the-tee performance and tee-to-green metrics while averaging 305 yards per drive. The stat sheet is remarkably consistent for a young player with top-12 marks in both birdies and scoring and Scottie is 15th in total strokes gained. You wonder if the moment gets a little too big for some of these younger players but winning early on Tour is commonplace these days and Scheffler has the ball striking to put himself in good spots on this course. If 66-1 is too scary for ya, you can get him at +400 to finish in the top 10 at Bovada.
Head-to-Head Matches
Picks to win based on predicted score after all four rounds. Check with MyBookie Sportsbook for single round pairings and a variety of prop bets.
Bryson DeChambeau (-140) v. Patrick Cantlay (+110) (pick to win: Cantlay)
I talked about DeChambeau up top and his ceiling is very high this week but there are mixed results for him both at Augusta and near the end of last season so I don't think there is anything automatic for him. The U.S. Open win for Bryson is about as impressive as a single result can be but he is just 2-2-1 against Cantlay in the last five events where they have both appeared and Cantlay got the win here last season with a T29 while DeChambeau was back at 29th. Bryson does not have a top-20 finish in three starts at Augusta and has notched just one round in the sixties over that span. One reason for his "struggles' could be the lack of information provided by course and tournament organizers. Just about every championship course has detailed yardage books, including maps of each green but Augusta is stingy with information and that works against DeChambeau's in-depth approach. Bryson is a generational talent but he favors calculation over feel and Augusta has always been a feel course. DeChambeau leads the Tour in scoring and tee-to-green performance but Cantlay has the better birdie numbers and is more accurate overall. The numbers wind up very tight between these two across the balance of the stat sheet so getting Cantlay as an underdog is great value considering he is among the favorites to contend this week.
Tiger Woods (-110) v. Matt Wolff (-120) (pick to win: Wolff)
Last year continued to prove that Tiger simply understands Augusta. There was no real statistical basis that predicted his win in 2019 but Woods pulled another one out of the hat on guts and course familiarity. He is in a similar position this time around as the stat sheet isn't his friend and that fact is fueling the pick for Wolff to win. Tiger has an 0-3 record against Wolff in the last three events where they both played and has finished behind Wolff in each of the last two Majors. Tiger has the course experience edge but Wolff is the longer driver while also hitting more fairways and greens. The putting and birdie numbers are closer than a Georgia presidential vote count so look for Wolff to hang with Tiger despite the experience disadvantage. These kids on Tour are fearless these days and I'm not looking for Wolff to shrink from the general Masters challenge. Woods has just one top-10 finish since the Masters last season so a strong week this time around may be more of an upset than what he pulled last year.
Good luck and good golf!