Vivint Houston Open Analysis & Picks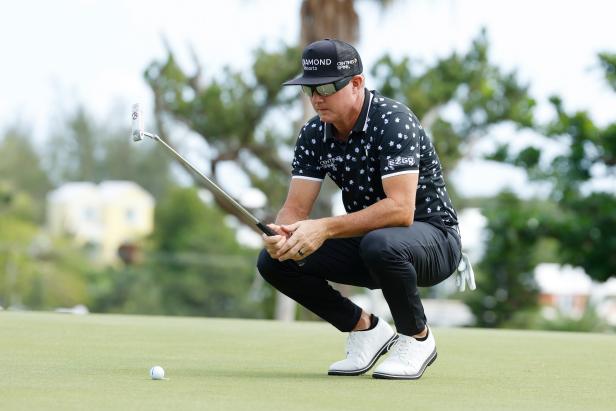 Event: Vivint Houston Open
When: November 5-8, 2020
Where: Memorial Park Golf Course - Houston, TX
Watch: The Golf Channel
Magnolia Lane is calling, but before we get to Augusta, the Tour will stop in Texas for the Houston Open. This event has often been a lead-in event to The Masters, and the schedule shuffle has again positioned the Houston Open in that spot. The winner will not get an invite to Augusta as had been a tradition with The Masters field set several weeks ago, but a 2021 invite is at stake as well as full FedEx points. Players are looking for that last warm-up before next week, and a strong field has come to Memorial Park Golf Course. Dustin Johnson headlines the field and is the betting favorite with Adam Scott and Brooks Koepka among those to watch. Viktor Hovland and Sergio Garcia are also in the mix, as is last week's champ Brian Gay.
Memorial Park GC will host its first Houston Open, and the course has recently been redesigned to promote playability and provide some risk/reward scoring chances. As a public course, the layout isn't especially demanding, but there are some features that will challenge players, including a ravine that is in play on the front nine and a few greens that are well guarded by water. The par-72 layout will play at 7,300 yards for the championship, and scoring is predicted to be quite fast. Several greenside bunkers were removed in the recent redesign, leaving some tight lie up-and-down chances for those that miss the putting surface. The general consensus is that the best iron players will emerge as top contenders, but that also includes the long-ball drivers that will consistently have very short iron shots left.
Each week, we take a look at the online betting sites and highlight the best values on the board. We make a short, middle, and long odds pick to win and breakdown a couple of popular head-to-head matches that you can find at just about every golf betting outlet. Odds to win and pairings for this week can be found at Bovada. Here are our picks to win the 2020 Houston Open.
Hideki Matsuyama (20 to 1 odds to win)
Matsuyama has been putting in steady results with a slew of top-25 finishes since play resumed in June. He hasn't been a significant threat to win in many of those weeks, but his consistency suggests he is ready to contend if he can just put it all together. Hideki finished last season as the 2nd best player in overall tee-to-green performance and 5th in strokes gained around the greens. His overall putting average is outside the top-150 but improves to 73rd on greens in regulations, and Matsuyama is able to turn in the 14th best scoring average. His overall ball striking is going to produce birdie opportunities, and he should contend if he can finish inside the top half of this field in putts per round.
BET YOUR HOUSTON OPEN PICKS FOR FREE! DEPOSIT $100 TO $300 AND THEY'LL GIVE YOU A 100% MATCHING REAL CASH BONUS AT MYBOOKIE SPORTSBOOK! ALREADY GOT AN ACCOUNT AT MYBOOKIE? YOU CAN GET THE SAME OFFER UP TO $1000 AT BETNOW!
Jason Day (40 to 1)
Day may not be a weekly contender at this point, but his play last summer suggests he is still capable of top-end finishes. From July through August, Day notched four straight top-7 finishes, and that included very tough events like the Memorial and the PGA Championship. Day hasn't turned in impressive ball-striking numbers in general, but he has made up for that with the putter, and he led the Tour in strokes gained around the greens last season. Day one-putts over 40 of the time, and that not only is helpful in producing birdies but also saves strokes when faced with scrambling chances. Day may have lost a bit of his fastball, but he has evolved his game and increased his efficiency, turning the 106th ranked birdie average into the 28th best scoring mark. Getting the most of each round is going to be a factor on a highly playable course, and that is going to favor the veteran players that know when to attack and when to play it safe.
Cameron Davis (66 to 1)
Davis struggled mightily coming out of the break with four straight missed cuts, but he found traction immediately after and was around for the weekend in each of his last four starts. He has continued that trend with three made cuts in the fall, including a T6 finish at the Sanderson Farms. Statistically, Davis is one of the longest drivers in this field and turns that power game into the 10th best eagle rate and ranks 14th in birdie-or-better percentage. He has been mistake-prone at times but is improving there as well, finishing 45th in scrambling last season. He was 23rd in birdies last year and should be able to keep up if scoring gets really fast. If you like Dustin Johnson or Tony Finau to win this week, Davis provides a similar skill set but at a much better potential payday.
Head-to-Head Matches
Picks to win based on the predicted score for all four rounds. Check with Bovada Sportsbook for single round pairings, to bet the tournament live in progress and for a variety of prop bets.
Sergio Garcia (-110) v. Zach Johnson (-120) (pick to win: Garcia)
Both of these veterans have had good runs lately, but Garcia was able to get a win at the Sanderson to show he still has that winning ceiling. There is no question that Johnson is the better putter of these two, but Garcia has the ball-striking edge, and that looms large considering the tee-to-green profile of this course. Sergio should be able to attack in a few more spots as the longer driver of the two, and that should give him a few more birdie looks on those risk/reward holes. If Memorial Park would be projecting as a bit tougher challenge, I think Johnson would be the play as the more steady player, but with the course being somewhat wide open, I believe Garcia looks better and should be able to pull ahead over the weekend.
Brian Gay (+125) v. Stewart Cink (-165) (pick to win: Gay)
Prior to last week, Gay was mired in a terrible slump with ten missed cuts in his previous twelve starts, but it obviously all came together in Bermuda. He is a rightful underdog as Cink currently ranks 2nd in FedEx points with a win this fall to match, but I don't think the gap between these players is especially large. Even with a poor finish to the summer season, Gay was close in most statistical categories, with Cink only owning a significant advantage in greens hit. These guys are very similar performers on the greens, but Gay has routinely edged ahead on birdie numbers. If that advantage holds, Gay should be able to ride the momentum from last week and get a head-to-head win despite Cink's strong trend over the previous two months or so.
Good luck and good golf!