World Golf Championships-Dell Technologies Match Play Picks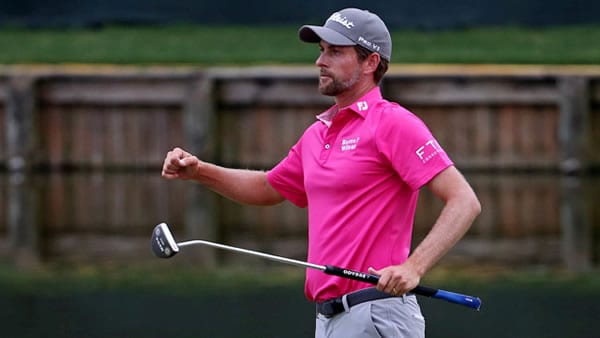 Event: World Golf Championships-Dell Technologies Match Play
When: March 24-28, 2021
Where: Austin Country Club – Austin, TX
Watch: The Golf Channel/NBC
If your NCAA Tournament bracket is in shambles, you can always start fresh with another kind of bracket for the WGC-Dell Technologies Match Play. Fans love the upsets in basketball, and golf's March tournament also features plenty of underdog wins as eight different Match Play winners have been seeded higher than 20th since the event started in 1999. The overall number one seed has won on five occasions, with Rory McIlroy and Dustin Johnson on that list alongside Tiger Woods and his three victories as the top seed. Geoff Ogilvy and Jason Day are the two others with multiple Match Play wins, and previous success has been a good predictor of future results with five different players making back-to-back finals appearances, including the 2019 champion Kevin Kisner who was also the runner-up in 2018. Anything can happen in these match play scenarios, and 2002 is the proof as the 62-seed Kevin Sutherland beat the 43-seed Scott McCarron to win that year. The basketball equivalent of that would be a 16-seed meeting a 10-seed for the championship. Players will face off in a series of round-robin matches to decide the winner of their respective pools, and those winners will then advance to single-elimination matches starting in the round of sixteen.
Austin Country Club will host its fifth Match Play, with the event canceled last season due to Covid-19. The 7,108 yard, par-71 course is likely one of the best choices for this format as it presents a little bit of everything and provides the chances for high drama as players are forced to honor hazards but can also attack the risk/reward opportunities. Everything is turned up to ten around this course. If there is a slope next to the green, it is probably extreme, and if there is a ravine alongside a fairway, it is deep enough to get lost in. The holes that play alongside the lake have water in play the entire way, and the bunkers and waste areas are massive as well. There are a lot of places where you do not want your ball to wind up, but players that can avoid those obvious trouble spots will score well. Control players have done well here, but Bryson DeChambeau is the 14-to-1 betting favorite for a reason, and it's not his ability to hit fairway after fairway. Dustin Johnson, Jon Rahm, and Justin Thomas are also at 14-to-1 and all three fall more into the power category than anything else.
Each week, we take a look at the golf betting sites and highlight the best values on the board. We make a short, middle, and long odds pick to win with a super-long pick this week as the event has such a long history of upset champions. Here are our picks to win the 2021 WGC-Dell Technologies Match Play.
Collin Morikawa (22 to 1 odds to win)
Morikawa has played some of his best golf in significant events, and he won the first WGC event of this season just a few weeks ago. His pool is solid (Horschel, Homa, Poston), but I think he is the clear favorite to emerge from there, and he should have the edge over whomever advances between Hovland, Ancer, Wiesberger, and Streelman. I have Morikawa over Abraham Ancer in the round of sixteen, and I think things will be relatively easy for Collin into the quarterfinal round before a potential pairing against DeChambeau. Morikawa is the best player on Tour in strokes gained on approach shots, and that is a fantastic feather in the cap at a course that has some very tricky shots into greens. He is 3rd in overall tee-to-green and 5th in GIR with the 13th best GIR putting average producing 4.7 birdies per round. This will be his first Match Play appearance, and experience can pay the bills in this event, but I think Morkikawa understands how not to beat himself, and he also has the gas to keep up if his opponent starts stringing birdies.
Webb Simpson (33 to 1 odds to win)
Simpson has just one appearance in the quarterfinals as his best result at this event, but I really like his chances to make it further this weekend. He is well ahead of Hughes and Gooch in his pool, leaving only a tough match against Paul Casey away from a spot in the round of sixteen. I think he gets there with the kind of consistency that has him 4th in fairways and 21st in greens hit. Sergio Garcia or Lee Westwood likely await him in the second round, but I am moving Simpson through on the strength of top-10 ranks in scoring and scrambling. Things get tough in the quarters if Dustin Johnson advances, but that isn't a given, and I actually think Webb is the kind of player that would give DJ a tough time. The stat-keeping gets a little messy in match play situations as not all players log the same amount of holes, but I would bet that Webb would be among those with the fewest bogeys through pool play, and that makes him a difficult man to get rid of as things progress.
BET YOUR GOLF PICKS FOR FREE THIS WEEK! SIMPLY DEPOSIT $200 AND YOU'LL GET $200 ADDED TO YOUR ACCOUNT AT BETNOW SPORTSBOOK!
Will Zalatoris (50 to 1 odds to win)
By OWGR metrics, Zalatoris is the hottest player on any Tour right now as he has advanced to 43rd in the world after being ranked 2004th to start the 2019 Korn Ferry Tour season. He has ten top-25 finishes in thirteen starts this season, including five top-10 runs and while this is his first Match Play, a T6 at his U.S. Open debut shows he isn't afraid of a big spot. He is a bomber, ranking 18th in driving distance but improves to 4th in overall tee-to-green performance, and that can push him past Tony Finau, who is sitting atop that pool. Zalatoris will have to get through DeChambeau or Tommy Fleetwood in round two, and that seems a longshot on paper, but Will is 12th in scoring average and 23rd in total birdies to give him that puncher's chance. This kid is one of the hottest players that most fans still don't know about, and I think those folks are going to get an introduction this weekend. The books see something here as well, as Zalatoris is just the 40th overall seed, but his odds suggest he is a top-24 play.
Lanto Griffin (125 to 1 odds to win)
Match Play can be won with a volatile approach, but I like consistency, and Griffin has been consistent with just one missed cut in 2021 and an average finish of 24.1 over his last six starts. He won in Houston last season, and that course shares some features with Austin, so I give him a good chance to solve the riddle at ACC. His biggest equalizer is the putter, as he ranks 18th in total putting and 16th in strokes gained. He will need that putting prowess to advance from a pool with Rory McIlroy and a match play whiz in Ian Poulter, but I think it may actually get easier for him coming into the weekend if he can make it past those two and Cam Smith. Griffin is 17th in strokes gained on approach shots, and 35th in total strokes gained, so there is a lot to like in his game overall, and it is not uncommon for these mid-tier seeds to make noise.
Good luck and good golf!