American League Central Odds & Pick To Win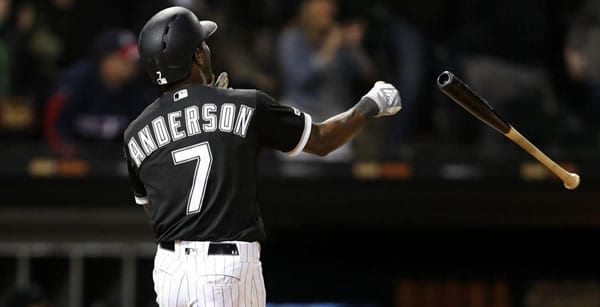 We're not sure when baseball will take place this year, but when it does, we want to make sure that we're ready, and that means taking a good look at each division to find where the best value is.
Much like our piece on the World Series or the over/under for the American League East, we're looking for the best bang for our buck, not just what's most likely to happen. There might be a runaway favorite in a divi-sion, but if you've got to lay juice to get a piece of that action, you'll probably be a lot better off taking a shot on someone else with a realistic shot at the crown. We're not going to be talking ourselves into a team at +20000, but if we've got a choice between a team at -200 versus a squad at +450, I want to get more for my money in that situation.
With that in mind, let's take a look at the American League Central and figure out the smartest places to put our money.
Chicago White Sox, +350
The Pale Hose are coming, and it's just a question of when. There hasn't been much to cheer about on the South Side in this decade. The White Sox are on 11 years and counting without a trip to the playoffs and haven't posted a winning season since 2012. But all that losing finally has the White Sox ready to take ad-vantage of an opportunity, as they've rebuilt their farm system and patiently waited for a bunch of home-grown talent to make its way to Illinois. This year, they've added several solid veterans to pair with their youth movement, as Yasmani Grandal, Dallas Keuchel, and Edwin Encarnacion will be wearing the white, black, and silver of the Sox whenever they finally get to play in 2020.
This is not a low-risk bet by any means. For example, is Tim Anderson's success last season for real? Anderson was the AL batting champion last season with an average of .335, 52 points higher than he's posted in any previous season and 95 points higher than he did in 2018. If he can hit anywhere close to that this season, the Sox should be well ahead of schedule. On the mound, has Michael Kopech recovered completely from Tommy John surgery, which kept him out for all of 2019? Kopech is a power pitcher with an iffy command, and he's likely to wait a month or so before coming up from Triple-A Charlotte.
Most importantly, how does Luis Robert handle the big leagues? Robert rocketed up the ladder last season, starting the year at Single-A Winston-Salem and ending it by hitting .297 in Charlotte. If he's ready to hit MLB pitching, the White Sox could be this year's surprise team. Bet the Chicago White Sox to win the AL Central using your credit card and to receive a generous 50% REAL CASH bonus up to $250 FREE at Bovada Sportsbook!
Cleveland Indians, +275
Personally, I have a feeling that the window has closed for the Indians. They seem to agree, as Cleveland slashed another $20 million from its payroll by shipping Corey Kluber to Texas for a pair of solid, unspectacular pieces, which leaves the Tribe at a crossroads. On the one hand, the Indians still have some strong pieces in place, such as Mike Clevinger and Shane Bieber, solid pitchers who can make a real difference in the Cleve-land rotation and might even do enough to replace Kluber. Plus, Cleveland has one of the best bullpens in the majors and knows exactly how to use it properly. The Indians' pitchers ranked fourth in ERA, and the only teams ahead of them were Tampa Bay and Houston.
But Cleveland doesn't really seem to believe that it can win at the highest level. That's probably because the Tribe simply didn't score at the level of some of the top teams in the American League. Texas and Anaheim, neither of whom sniffed the playoffs, both outscored the Indians last year, and Cleveland managed just 40 runs more than Baltimore, which fell only two games short of consecutive 110-loss seasons.
There's enough here for the Tribe to compete for the title because of pitching and defense win games, but the Indians' park is designed for offense, and they aren't really built to put a lot of runs on the scoreboard. Cleveland is the type of team that would rather beat you 3-2 than 10-9, and it remains to be seen if that will work in 2020 now that the division has become more competitive.
Detroit Tigers, +30000
Take everything I said about the AL Central being more competitive and throw it in the garbage when it comes to the Tigers. Detroit is making absolutely no effort to try to win in 2020 and is barely making an effort to resemble a major league team in 2020. Truthfully, this is probably a Triple-A squad masquerading as a major league team in order to focus on making a run in 2022. The Tigers bottomed out last year and picked a good time to do it, as the Twins ascended to the top of the division as the Indians began their descent. Detroit was a putrid 47-114 last season, and the only reasons it wasn't worse was because the Tigers actually started 7-3, and MLB mercifully didn't force them to make up a game with the White Sox because both teams had long been eliminated from playoff contention.
Detroit should be a little better this year, as youngsters like Isaac Paredes and Daz Cameron make their way up to the parent club this season. The Tigers also have plenty to like about their young pitchers, as Casey Mize and Matt Manning could become the pocket aces of a rotation that would be well set up to take ad-vantage of the dimensions of Comerica Park.
But that's at least two and probably three years away. Mize and Manning will likely start the year at Triple-A Toledo, and even if they make it to Detroit sooner rather than later, the reality is that there is nowhere near enough talent on this roster for them to make a run at the AL Central. Detroit is more likely to be cannon fod-der this year for the other three solid teams in this division, as their focus is more tuned toward 2022 or 2023 when the Tigers hope to be challenging the White Sox for supremacy in this division. Until then, it's going to be a long, painful summer in Michigan.
Kansas City Royals, +25000
There's not much difference between the Royals and the Tigers at this point. Kansas City is also deep in a re-build and coming off multiple 100-loss seasons, and the only thing that might save the Royals from triple-digit defeats this year is if COVID-19 wipes out a third of the season. The Royals are further behind the Tigers as far as a rebuild goes. Mainly because Kansas City tried to hold on to its glory for a year too long after winning the World Series in 2015. So, this is likely to get worse before it gets better in the City of Fountains.
Kansas City will at least be a reasonably exciting offensive squad when it gets on base, but the Royals' de-fense is substandard, the pitching is poor, and the overwhelming fact with this team is that Kansas City doesn't get on base often enough. When the Royals do get on base, they're always a threat to manufacture runs, as only the Rangers swiped more bases than the Royals a year ago. But Kansas City ranked second-worst in the American League in OPS, only ahead of the truly punchless Tigers. Basically, unless the ball leaves the yard entirely, it's probably not going to be a big inning for the Royals, and that's a serious problem given the struggles with pitching and defense.
It's going to be a long climb back for Kansas City, and it's not happening this year.
Minnesota Twins, -150
If Home Run Derbies decided the World Series, Minnesota would have won its first world championship since 1991 last season, as the Twins hit the heck out of the ball with 307 home runs, a number that's not even seen on video games. Needless to say, Minnesota set the all-time mark for dingers in a season, and the Twins had the pitching to back it up as well as a team-friendly schedule. The Twins beat up on the teams they were sup-posed to beat last season and held their own against the Indians, setting themselves up as the favorite to repeat in 2020.
But can the Twins hit anywhere near that historic pace a second time? They brought in Josh Donaldson to try to beef up their offense and their defense, but Donaldson is 34 years old, and there's no guarantee that he can continue to post the numbers he has in recent years. The real question for Minnesota is whether the surge by players like Mitch Garver was something the Twins can count on. Garver had seven home runs be-fore last season and then somehow hit 31 in 2019, a ridiculous jump in production. But is he another Jose Bau-tista, whose surge proved to be sustainable over multiple seasons, or is he another Brady Anderson, who hit 50 home runs in 1996 and then never again topped 25 home runs over the rest of his career? How that ques-tion is answered will decide whether Minnesota is a flash in the pan or the new AL Central king.
As for the Twins' pitching, there is plenty to like with Jose Berrios and Jake Odorizzi manning the staff. But here again, it's a question of whether Minnesota's success was because that's the new normal for its players, or whether the Twins simply had a bunch of career years in 2019. Granted, the Twins might not need this to be the new normal to repeat as AL Central champions, but with the White Sox's footsteps coming and the Indians still hanging around, it's going to take some serious belief in the Twins to be willing to lay the juice.
Dan's Pick to Win the AL Central
First off, there is no point in even discussing the Royals or Tigers. If you're thinking of placing even a dollar on either team, take that dollar, head to the roulette wheel of your nearest casino, and bet it on your favorite number. Because that's got a much better chance of turning into something useful than a bet on either of these squads.
With that out of the way, I think that Minnesota has the most talent, but that's not where I want to put my money this season. Honestly, I hate the Twins at that price, because there's nothing exciting about putting down $30 to win $20 over a season-long bet, especially when an injury or a slump can prove costly. Minnesota might have another great season, and I fully expect the Twins to be in the playoffs, but there's nothing to get me excited about betting on them to win the division at -150.
Instead, I'd like to take my shot with Chicago. The White Sox could easily bust and fail to win 75 games for the fourth consecutive season, but their range of outcomes presents a lot of possibilities. Chicago could just as easily put it all together a year ahead of schedule, win 95 games and claim the AL Central if the Twins suffer a regression to the mean and the Indians take the step backward that I think is likely this season. The White Sox have plenty of talent; they only need to get experience and learn how to win at the big league level. But in a division that includes two pathetic teams in the Royals and the Tigers, there will be plenty of opportuni-ties for Chicago's young players to see success.
You can make a real case for any of the Indians, Twins or White Sox this season, but Chicago's got the most upside and fetches the best price. I'll gamble on the Pale Hose to claim the division this year.
100% REAL CASH up to $300

USE BONUS CODE:
PREDICT100