Nascar Picks: Toyota Owners 400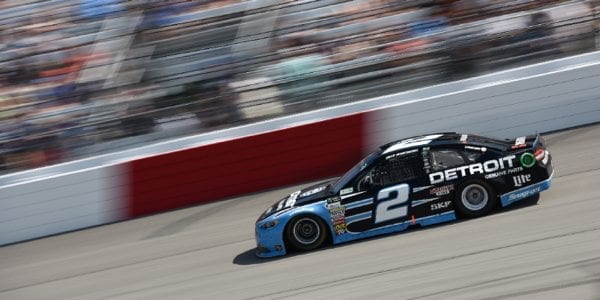 Race: Toyota Owners 400
Date: Saturday April 13, 2019
Track: Richmond International Raceway
Time: 7:30pm ET
TV: FOX
By: Virginia Vroom, NASCAR Handicapper, Predictem.com
As predicted, Bristol boiled down to a battle of the Busch brothers in the closing laps. Unfortunately for Kurt, Kyle pushed his way to the front of the pack and made his move to victory lane with his 8th win at Bristol. Kurt was trying to tie Kyle at 7 wins but just couldn't seal the deal. It was impressive for Kyle who had a very early wreck in the opening laps of the race, but that sure didn't stop him. He was a dominating force and proved that he was there for one reason only and that was to win! Overall, this is Busch's 54th NASCAR Cup Series win. He's won a total of 204 races across all three series. Talk about domination. If that doesn't tell you that Busch is a wheel man, then I don't know what will. The fact that he can dominate each series like that and understand exactly what goes into driving each type of car/truck shows experience and expertise. Sure, he's got great equipment, but that only gets you so far. Ask Danica Patrick.
But I digress. Kyle Busch's talent is unmistakable. Love him or hate him, there's got to be a mutual respect for his abilities. Busch took the checkers ahead of his brother, who finished 2nd. Joey Logano, Ryan Blaney, and Denny Hamlin rounded out the top five spots. Paul Menard, Clint Bowyer, Daniel Suarez, Ryan Newman, and Jimmie Johnson rounded out the top ten spots. Other notable accomplishments include Ty Dillon winning his first stage in a tough battle with Clint Bowyer. It wasn't without contact and certainly reminiscent of the Bristol we all know and love. The other interesting fact here was Kyle Busch's strategy in the closing laps. Most of the leaders opted to pit for tires. Busch decided to stay out in the final 20 laps on older tires. Darrell Waltrip wasn't having any of that. From the booth, Waltrip would swear that Busch made a fatal mistake and would never be able to hold off Logano or anyone else with fresh tires. Little did he know, Busch had what it took to navigate the lap traffic and hold everyone off when it mattered most.
This weekend, the drivers are heading to another short track in Virginia. Richmond is where the teams will gather for a Saturday race under the lights. The night races always bring out the excitement in the stands and the crazy on the track. If we can continue what the drivers started at Bristol, I have no doubt that this weekend will be just as exciting. The cool thing about this track is that it's much flatter than Bristol. It has 14 degree banking in the turns, 8 degrees on the frontstretch, and just 2 degrees on the backstretch. It's bigger than Bristol, though, allowing drivers to gain some speed that they can't quite get there or at Martinsville. It's a 0.75-mile asphalt D-shaped oval. Richmond is pretty unique, as are most of the short tracks. It has its own nuances, but perhaps the biggest difference between this place and others is the ability that the drivers have to put some distance between themselves and the rest of the field. Lap traffic is a concern, but tires are going to play a larger role here than what you saw at Martinsville or Bristol simply because of the configuration of the track. That being said, we'll likely see several different pit strategies through the night, as drivers try to outsmart each other.
NBA Playoffs Are Here: Predictem's Free NBA picks!
When it comes to picking winners for this weekend, the obvious choice is Kyle Busch. I mean, the guy is on fire. He's been winning everything this season and has 6 wins overall at Richmond. In fact, he won both Richmond races last year. How do you really bet against that? The next potential contender in my book is going to be Denny Hamlin. He's got 3 total wins here and has had top 10 finishes in the majority of his races. Overall, this is somewhat of a hometown track for Hamlin. He's been successful over the last few weekends and is looking to really keep the momentum going. With his ticket already punched to the Chase, you better believe he's willing to take some risks to get those wins in. Let's take a look at your potential winners heading into Richmond:
My Pick to Win: Kyle Busch (2-1)
Middle of the Road Pick: Clint Bowyer (20-1)
Dark Horse Prediction: Aric Almirola (20-1)
With a top 5 finish at the fall race at Richmond and his momentum thus far this year, I think that Almirola's best shots are at the short tracks. This is a good track for him. He had an unfortunate incident on the first lap of Bristol, but he had a nice streak of top 10 finishes prior to that. With 20-1 odds, that stats aren't favoring him, but his skill might fool a lot of folks for a nice payout this weekend. Look for him to be at the front of the pack this weekend. Clint Bowyer is going to really run hard in my opinion. He's getting pretty feisty and is tired of being shut out. He's another driver that really wants to see victory lane sooner rather than later. I'm a little surprised to see his odds not as favorable, but I think that this is setting him up to be a solid pick for a good money weekend. Bowyer is another wheelman that just doesn't get the credit he deserves. If he can keep it together this weekend, I think he's got a great shot at getting his first 2019 victory.
50% Cash up to $250

Here are your current top 16 after last week's race:
1. Kyle Busch (2-1)
2. Denny Hamlin (10-1)
3. Joey Logano (7-1)
4. Kevin Harvick (7-1)
5. Brad Keselowski (7-1)
6. Ryan Blaney (12-1)
7. Martin Truex Jr. (7-1)
8. Kurt Busch (25-1)
9. Aric Almirola (20-1)
10. Chase Elliott (12-1)
11. Clint Bowyer (20-1)
12. Daniel Suarez (60-1)
13. Jimmie Johnson (30-1)
14. Kyle Larson (20-1)
15. Ryan Newman (60-1)
16. Ricky Stenhouse Jr. (60-1)
Stenhouse seems to be fading a little bit. He's got some work to do if he wants to stay in Chase contention. Basically, those last 4 drivers are already on the bubble if you ask me. It's early in the season, but those 4 spots seem to be the most easily lost by the time we get to the Chase. Jimmie Johnson is in danger again this year if he can't figure something out. He's got a lot of work to do. Kyle Busch is doing just fine. Along with Hamlin, Logano, Keselowski, and Kurt Busch, Kyle is well on his way to the Chase this season already. It will be a great battle this weekend as the guys get on the short track once again. Stay tuned for an exciting evening of racing under the lights at Richmond International Raceway!