[et_pb_dcsbcm_divi_breadcrumbs_module hide_homebreadcrumb="off" homebreadcrumbtext="Home" separator="sep-raquo" hide_currentbreadcrumb="off" homebreadcrumborientation="left" _builder_version="3.8″ fontsbreadcrumbs_font="Lato||||||||" fontsbreadcrumbs_text_color="#000000″ fontsbreadcrumbs_font_size="15px" fontsbreadcrumbs_line_height="16px" fontsseperator_font="||||||||" fontsbreadcrumblinks_font="||||||||" fontsbreadcrumblinks_text_color="#2567cf" custom_margin="25px|||" custom_margin_phone="30px|||" custom_margin_last_edited="off|desktop" custom_css_main_element="font-family: Helvetica Regular;" global_module="3641″ saved_tabs="all"][/et_pb_dcsbcm_divi_breadcrumbs_module]
Boston Celtics at Orlando Magic Pick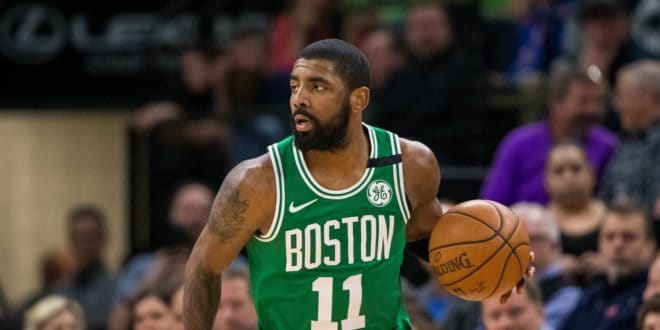 Orlando Magic (1-2, 2-1 ATS) vs. Boston Celtics (2-1, 1-2 ATS)
When: Monday, October 21st, 2018 – 7:30 pm ET
Where: TD Garden – Boston, Massachusetts
TV: NBATV
By: Kyle Cash, NBA Basketball Handicapper, Predictem.com
Point Spread: BOS -12/ORL +12
Total: 212
Last Night in the NBA
Who says NBA betting is hard? If you want a winner, read on! My scorching 4-1 start to the season was punctuated Sunday night with a 115-112 victory by the Los Angeles Clippers, and it feels good to know that Saturday nights in Los Angeles are still as fun as they have ever been. Harden was like a mother cat dragging her kittens by the scruffs of their necks with a stat-line of 31 points and 14 assists, but he was a predictably inefficient 11-for-26 from the field. Elsewhere, the Warriors suffocated in the Denver altitude, and Trae Young's Rookie of the Year odds skyrocketed. I hope you grabbed the 11-1 odds while you still had the chance!
Monday nights in the NBA are typically slower in terms of interesting matchups, and our marquee national TV matchup features the Orlando Magic taking on the Boston Celtics in Beantown. Despite Boston's slip-up on Friday night in Toronto and Orlando's frisky play in Philadelphia on Saturday, the odds makers opened this line as a 12-point favorite for the home town team and the total set at 212. Let's see if they're right.
Whoa, Whoa, Whoa, It's Magic!
Last season, the Orlando Magic came out like gangbusters for the first couple of weeks of the season. Aaron Gordon and Nikola Vucevic were making threes like a jumbo version of the Splash Brothers, and their 6-2 start to the 2017-18 season is probably, like, the 5th best Orlando Magic moment in team history. So far this season, we have gotten that Magic team in 2 games, and then the 25-57 version of the Magic showed up in Friday night's embarrassment. It's unclear what the best five-man group for them to close out a game is, and that feels like a problem that isn't going to solve itself overnight.
Bitcoin Sportsbooks have NBA Specials
Luckily for the Magic, their top-end talent is not completely hopeless. Aaron Gordon continues to make progress as a leader, scorer, and playmaker; a team could do worse at starting center than Nikola Vucevic (TRADE HIM, ORLANDO!); and Mo Bamba and Jonathan Isaac are long-armed freaks that are going to present major match-up problems for teams once they mature into their bodies and skillsets. In some ways, the future is bright for Orlando.
Did you notice that I did not mention any talented guards on their team? That wasn't exactly an accident. D.J. Augustin has been employed by 25% of the teams in the NBA and is well on his way to being employed by 20% of the professional teams in China; Evan Fournier has been sluggish so far; you wouldn't know Jerian Grant and Khem Birch if you ran them over with your car; and after watching him play on Saturday night, I'm not sure it is an exaggeration to say that Isaiah Briscoe is the worst point guard to ever play in a competitive NBA game. Against the likes of Kyrie Irving, Jaylen Brown, Jayson Tatum, Terry Rozier, and Marcus Smart, I'm not sure that this crew is going to cut it.
The one hope that Orlando has to remain relevant in the Eastern Conference playoff standings is their length. If they can figure out a way to turn Jonathan Isaac into a 6'11" shooting guard, their defensive potential under Frank Vogel is through the roof. Boston has the superior talent almost across the board, but the sum of Orlando's parts has the ability to negate any talent on any given night.
Sweet Caroline…BAH BAH BAH!
It's World Series time again up in the Boston Harbor, and I am sure that all the Bostonians are looking to wet their whistle with a nice Celtics victory on Monday night. I'm glad that a professional sports team in Boston is finally in position to win a championship – they haven't even been in a title game since February! How embarrassing!
With the Red Sox's victory within their grasp, don't be surprised if the Celtics rip off a bit of a run here. Los Angeles, Chicago, Philadelphia, and Boston are the cities that there is the most palpable juice when one of the teams is doing well. My beloved 76ers acknowledged as such this past spring; after the Eagles took home the Lombardi trophy, the Sixers took the East (and a soft schedule) by storm, and Joel Embiid attributed their success to the Super Bowl victory energy. And if you are going to start a run, where better to start it than at home versus a crappy team? 
Until we get a little bit more clarity on how Brad Stevens is going to utilize each individual player, it is impossible to forecast the success of each one. For now, it appears as though Tatum has the juice, and the offense should run through him. Al Horford is up to his usual nuanced-basketball-nerd stuff, and Rozier and Smart are like the Monster and Red Bull of the Celtics bench. Orlando's top players can hang with Boston at times, but with a bench filled with guys like Wesley Iwundu and Terrence Ross, the Celtics should feast in times when the second unit guys get some run. This could get ugly.
Quick Match-up Notes
Boston is 6-1 vs. Orlando in the last 2 seasons
Kyrie Irving is 8-1 against Aaron Gordon's Orlando Magic in his career
Boston and Orlando are 27th and 28th, respectively, this season in Offensive Rating; Boston ranks 2nd in Defensive Rating
NBA Pick:
If the only game that I had seen the Orlando Magic play this weekend was their impressive performance in Philadelphia on Saturday night, I might have considered grabbing the points in this one. Unfortunately, I also watched Kemba Walker stick their point guards on a kabob and roast them alive on Friday, and Kyrie Irving is probably sharpening his skewers as we speak. If Aaron Gordon can turn into LeBron James by 7:30 pm ET, I might have regrets, but until I see any evidence of that, I feel pretty safe laying the points in a home matchup with the second ranked defense. For some extra fun, try parlaying the Celtics -12 with the Red Sox to win on Tuesday night. That is, of course, if you love Boston. For the rest of us – let's go Dodgers!
Final Score Prediction: Boston 106 – Orlando 85
<aside><!-- [et_pb_line_break_holder] --><div class="widget105"><!-- [et_pb_line_break_holder] --><h4 class="cash">NBA Betting Bonuses</h4><!-- [et_pb_line_break_holder] --><div class="widgetlist"><!-- [et_pb_line_break_holder] --><div class="col1"><!-- [et_pb_line_break_holder] --> <a href="https://www.predictem.com/out/Bovada"><img src="https://www.predictem.com/wp-content/uploads/2018/04/bovada.png" width="" alt="Bovada" /></a><!-- [et_pb_line_break_holder] --></div><!-- [et_pb_line_break_holder] --><div class="col2"><!-- [et_pb_line_break_holder] --><span class="list"><b>50% Cash</b></span><br><!-- [et_pb_line_break_holder] --><span class="list">5x Rollover</span><!-- [et_pb_line_break_holder] --> </div><!-- [et_pb_line_break_holder] --> <div class="col3"><!-- [et_pb_line_break_holder] --><a href="https://www.predictem.com/betting-sites/bovada/"><button class="btn-widget">Review</button></a><!-- [et_pb_line_break_holder] --></div><!-- [et_pb_line_break_holder] --></div><!-- [et_pb_line_break_holder] --><div class="widgetlist"><!-- [et_pb_line_break_holder] --><div class="col1"><!-- [et_pb_line_break_holder] --> <a href="https://www.predictem.com/out/Intertops"><img src="https://www.predictem.com/wp-content/uploads/2018/04/intertops.png" width="" alt="Intertops" /></a><!-- [et_pb_line_break_holder] --></div><!-- [et_pb_line_break_holder] --><div class="col2"><!-- [et_pb_line_break_holder] --><span class="list"><b>50% Cash</b></span><br><!-- [et_pb_line_break_holder] --><span class="list">4x Rollover</span><!-- [et_pb_line_break_holder] --> </div><!-- [et_pb_line_break_holder] --><div class="col3"><!-- [et_pb_line_break_holder] --><a href="https://www.predictem.com/betting-sites/intertops/"><button class="btn-widget">Review</button></a><!-- [et_pb_line_break_holder] --></div><!-- [et_pb_line_break_holder] --></div><!-- [et_pb_line_break_holder] --><div class="widgetlist"><!-- [et_pb_line_break_holder] --><div class="col1"><!-- [et_pb_line_break_holder] --> <a href="https://www.predictem.com/out/Gtbets"><img src="https://www.predictem.com/wp-content/uploads/2018/05/gt-bets.png" width="" alt="GtBets" /></a><!-- [et_pb_line_break_holder] --></div><!-- [et_pb_line_break_holder] --><div class="col2"><!-- [et_pb_line_break_holder] --><span class="list"><b>150% Cash</b></span><br><!-- [et_pb_line_break_holder] --><span class="list">4x Rollover</span><!-- [et_pb_line_break_holder] --> </div><!-- [et_pb_line_break_holder] --> <div class="col3"><!-- [et_pb_line_break_holder] --> <a href="https://www.predictem.com/betting-sites/gtbets/"><button class="btn-widget">Review</button></a><!-- [et_pb_line_break_holder] --></div><!-- [et_pb_line_break_holder] --></div><!-- [et_pb_line_break_holder] --><div class="widget-footer"><a href="https://www.predictem.com/best-sportsbooks/bonuses/">See all sportsbook bonuses</a></div><!-- [et_pb_line_break_holder] --> </div></aside>
<h4 class="widgettitle">NFL Picks</h4><!-- [et_pb_line_break_holder] -->
<div style="width:340px; margin: 0 auto;"><!-- [et_pb_line_break_holder] --> <a class="twitter-timeline" data-width="340" data-height="500" data-link-color="#008156" href="https://twitter.com/PredictemPicks?ref_src=twsrc%5Etfw">Tweets by PredictemPicks</a> <script async src="https://platform.twitter.com/widgets.js" charset="utf-8"></script><!-- [et_pb_line_break_holder] --></div>