[et_pb_dcsbcm_divi_breadcrumbs_module hide_homebreadcrumb="off" homebreadcrumbtext="Home" separator="sep-raquo" hide_currentbreadcrumb="off" homebreadcrumborientation="left" _builder_version="3.8″ fontsbreadcrumbs_font="Lato||||||||" fontsbreadcrumbs_text_color="#000000″ fontsbreadcrumbs_font_size="15px" fontsbreadcrumbs_line_height="16px" fontsseperator_font="||||||||" fontsbreadcrumblinks_font="||||||||" fontsbreadcrumblinks_text_color="#2567cf" custom_margin="25px|||" custom_margin_phone="30px|||" custom_margin_last_edited="off|desktop" custom_css_main_element="font-family: Helvetica Regular;" global_module="3641″ saved_tabs="all"][/et_pb_dcsbcm_divi_breadcrumbs_module]
Indiana Pacers vs. New York Knicks Pick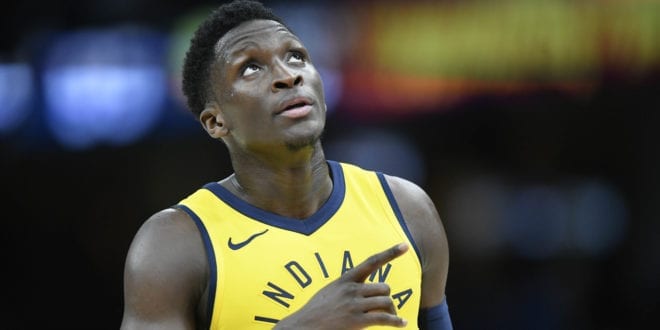 Indiana Pacers (4-3, 4-3 ATS) vs. New York Knicks (2-5, 4-2-1 ATS)
When: Wednesday, October 31st, 2018 – 8:00 pm ET
Where: Madison Square Garden – New York City, NY
TV: ESPN
By: Kyle Cash, NBA Basketball Handicapper, Predictem.com
Point Spread: IND -5.5/NYK +5.5 (Bovada Sportsbook)
Total: 211 
Last Night in the NBA
You could tell that last night was Mischief Night in the NBA because there was a whole lot of weird things happening. The Cleveland Cavaliers and Jordan Clarkson's neck tattoo started 1-0 in the post-Lue era, the Sacramento Kings moved out of the draft lottery projections and into the playoff picture, and the Houston Rockets scored the least amount of points of any of the 16 teams that played. Some days, it is best to just throw an entire night into the bin and move on, so let's forget last night ever happened.
*spends one seaon on a roster with JR Smith* pic.twitter.com/2794qHvDZx

— John Wolf (@DJTosin) September 26, 2018
In order to get back on our winning ways, let's head to the legendary Madison Square Garden to analyze the nuanced basketball scheme of the up-and-coming New York Knicks as they take on the blue-collared Indiana Pacers. Let's break down how the 5.5-point spread most online books hung early and total of 211 points has been carefully set by Las Vegas as they've poured through the hours of footage of the intricate sets that the Knicks have been running this season. Let's admire the way that the Knicks have set up their season and their future for sustainable long-term success with savvy ownership, a classy coach, and impressive young talent.
Actually, let's just make fun of the Knicks for a little bit and then take the Pacers. That sounds easier. Let's do that.
More Like the Indiana No-Pacers
How can your name be the Pacers, and yet you are dead-last in the league in the Pace stat? That's like if your team name was the Ball Hogs and you ran a beautiful motion offense. Be more on brand, Indiana!
What Indiana lacks in style they make up for in competency. Nate McMillan's team ranks in the top-10 in the NBA in Offensive Rating, Defensive Rating, and Boring as Shit rating. The Pacers are the perfect control test team; they are perfectly balanced. They are too talented and professional to lose to bad teams but lack the talent to take on the league's elite. Bad teams see them on the schedule and think, "Maybe we can catch them off-guard," and good teams see them and think, "As long as they don't catch fire, we should be okay." Every positive aspect of their team is balanced out proportionately by something bad; they lead the league in 3-point percentage but only make the 18th most; 2nd overall in Field Goal percentage but 28th from the charity stripe; 21st in Points Scored but 8th in Defensive Efficiency. They are the fulcrum of a balanced league – the keystone that keeps the NBA from crumbling.
In terms of the X's and O's, there is nothing Indiana should have to plan for to take out the Knicks. Indiana likes to subdue their opponent by lulling them to sleep before covering their face with a pillow, and New York won't be able to help but succumb. The Pacers defensive presence will be able to put the Knicks G-League players into a sleeper hold, and it is just a matter of if Oladipo and the rest of the Mystery Gang can pour in enough points to put them away. Maybe we'll get lucky and Oladipo will shine in the bright lights of Madison Square Garden in an attempt to raise his Q-score. For entertainment's sake, let's hope that's the case.
Best Teaser Odds: Where to bet Teasers based on ROI
JD and the Straight Shot
I understand that the NBA is enjoyed by many different people in many different ways. Some people like to pop in, watch some high-level athletes in a fun game, and then flip back to Better Call Saul; some people watch it with one eye on the game and one eye on NBA Twitter, looking for a chance to go viral with a funny GIF that World Wide Wob will retweet; and some people like to know every single facet of the NBA underbelly, from how players spend their free time (hint: it's clubs) to the rumor mill for potential trades and so on. In case you're unaware, I'm going to let you in on a little tidbit that is 100% truthful: the owner of the storied New York Knicks (and Rangers) is the lead vocalist of an Indie rock band in his free time. That's all you need to know about why this team is run like it's the Mickey Mouse club.
Tangents aside, the Knicks have not been a relevant basketball entity in the NBA in the entirety of my lifetime, and it's a shame that the team with the biggest market in the USA is unable to even get a meeting with top free agents. There's smoke with the KD rumors, but it requires the leap of faith that he will sign with a stagnant franchise and their distracted owner. Porzingis and Knox should blossom into something, but is it enough to even make a splash in the ever-improving East?
The macro parts of the Knicks franchise do not matter for a singular game, and I'm sure you're wondering what the chances are that the Knicks will be able to cover the spread. To the surprise of no one, New York has had a slow start coming out of the gate, but this is exactly the correct course of action. Tanking the season to maximize their chances at another superstar is their best path forward, so go ahead and start Damyean Dotson and Mitchell Robinson. Let Tim Hardaway shoot 20 times a game. Let's get nuts!
Against Indiana, their best chance is for Enes Kanter and Tim Hardaway Jr. to combine for something along the lines of 60 points, 25 rebounds, and 10 assists. Unfortunately, Indiana has an advantage at every position from point guard through center, and the chances of a Knicks victory are about as likely as a Platinum album for JD and the Straight Shot.
Quick Match-Up Notes
• The Knicks beat the Pacers last year in MSG (behind 40 points, 8 rebounds, and 6 blocks from Kristaps Porzingis who is rehabbing his ACL)
• Last season, the Pacers were 7-5 ATS as an away favorite
• Indiana ranks 3rd in Opponent Points per Game; New York ranks 11th
NBA Pick
If you've come straight to here after reading the introductory section, shame on you! This isn't a Choose Your Own Adventure story. For all you know, I could have crafted an Atticus Finch-esque case for the Knicks. I could have stumbled upon the Achilles heel of the Pacer's defensive scheme and explained exactly how the Knicks will be able to exploit it. Maybe I received breaking news that Victor Oladipo is filming an episode as a guest judge on American Idol and will be unable to play in the game. What if Myles Turner is afraid to play against opposing centers whose name rhymes with "Penis Banter?" You would be missing out on this if you just skipped to the Best Bet! In fact, let's go back and look right now. I guarantee that there is some nugget that we can pull out from my analysis that will point us directly towards a Knicks victory.
*Scrolls up*
*Squints*
*Refreshes Basketball-Reference advanced stats one more time*
*Sighs*
*Takes a swig from a flask*
Okay, fine. You were right. Indiana by a billion. Book it.
Final Score Prediction: Indiana Pacers 111 – New York Knicks 89
<h4 class="widgettitle">NFL Picks</h4><!-- [et_pb_line_break_holder] -->
<div style="width:340px; margin: 0 auto;"><!-- [et_pb_line_break_holder] --> <a class="twitter-timeline" data-width="340" data-height="500" data-link-color="#008156" href="https://twitter.com/PredictemPicks?ref_src=twsrc%5Etfw">Tweets by PredictemPicks</a> <script async src="https://platform.twitter.com/widgets.js" charset="utf-8"></script><!-- [et_pb_line_break_holder] --></div>