Los Angeles Lakers vs. Portland Trail Blazers Pick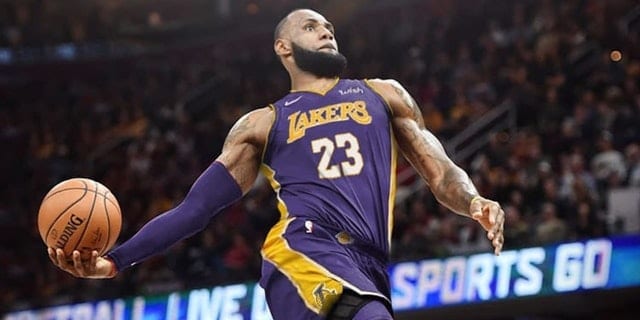 Los Angeles Lakers (0-0, 0-0 ATS) vs. Portland Trail Blazers (0-0, 0-0 ATS)
When: Thursday, October 18th, 2018
Where: Moda Center – Portland, Oregon
TV: TNT
By: Kyle Cash, NBA Basketball Handicapper, Predictem.com
Point Spread: POR -3.5/LAL +3.5
Total: 222
Last Night in the NBA
Come for the Harden vs. Anthony Davis showdown – stay for the Elfrid Payton triple-doubles and Nikola Mirotic 30-point games. The Brow is back to his normal world-beating self, and I'm glad that the OVER was able to cash easily despite Houston's sub-par performance. Elsewhere in the league, Deandre Ayton bested Luka Doncic (thanks mostly to Devin Booker), Kemba Walker electrified Charlotte en route to a mercy kill by the Greek Freak, and for a brief moment in time – half of the first quarter, to be exact – the Sacramento Kings were on pace to go 82-0.
As we look ahead to Thursday's marquee matchups, it is tempting to prognosticate on the impending beat down that Joel Embiid and the 10-9-8-76ers are going to lay on the defenseless Chicago Bulls. Unfortunately, NBA Law dictates that when LeBron James shows up on television for the first time wearing the Los Angeles Lakers' purple and gold, I am obligated to write about him. Luckily, the King is the Underdog tonight against a potentially frisky Portland Trail Blazers team in another game that Vegas is projecting to be high scoring with a total of 222. Let's break this thing down.
The Los Angeles LeBrons
Listen, I am all for maximum exposure to the daily lives of NBA players. You're looking at a guy who spent an unhealthy amount of time scouring Drew Hanlen's IG stories like the Zapruder films looking for any glimpse of Markelle Fultz's reworked jump shot. But since when do buzzer beaters in practice make for content by the Worldwide Leader in Sports? The LeBron Hype train is gaining speed in Los Angeles, and it would be only fitting for them to get shellacked by a professional Portland team so that everybody can talk about how LeBron is ruining the Lakers for two straight days.
Realistically, it is impossible to determine the identity of the team that the Lakers are going to trot out Thursday night. Are they Showtime reincarnate? Will they be the plodding, calculating type of team that LeBron has coveted for the last few seasons? Is LeBron going to play center? Will Lance Stephenson forget what team he is on and attempt to pick up LBJ full-court to intimidate him? The Lakers have officially entered "wait-and-see" territory, but let's take a guess.
Through the preseason, LBJ has shown a willingness to push the pace in a way that he has blatantly refused in prior years. With multiple athletes and floor spacers around him in Brandon Ingram, Josh Hart and Kyle Kuzma, the King should be incentivized to keep the game fast and play with his new shiny toys. Time will tell if that will be their actual scheme or LeBron has just been pulling the wool over our eyes, but for now, it is safe to assume that at the very least, the Lakers are going to play fast and loose, which lends itself to high scoring affairs.
"I'm Trying, Jennifer"
While Jennifer and the rest of the Portland Trail Blazer Soccer Moms are still yearning for more, C.J. McCollum and Damian Lillard would just like everyone to know that they are trying, and that is all we can really ask of them.
The West is a juggernaut, and Portland finds itself in a similar position as last year: two offensive superstars entering their primes surrounded by an Island of Misfit Toys of NBA wings/forward/rotation players. I will be the first to regale you with tales of the fabled Jake Layman and his per-36 scoring average, but Portland is entering what feels like its 20th straight season with a list of role players that includes Moe Harkless, Al-Farouq Aminu, and Evan Turner. Terry Stotts wears the bow tie to perfection, but when opposing teams can blitz your two ball handlers every play, you'll find yourself on the wrong end of a Jusuf Nurkic top-of-the-key jumper more often than not.
However, the infrastructure of Portland's scheme and personnel is still one that allowed them to win 49 games last year, and Lillard and McCollum are so highly regarded for a reason. If Zach Collins and the rest of the crew can be serviceable and provide quick decisions and outside shooting to their backcourt's offensive wizardry, Portland should be able to bolster its offense and keep its top-10 defense in tact.
This game should, at the bare minimum, serve as an audition for Damian Lillard for the King himself, who is rumored to be interested in the explosive point guard as a key cog in his Lakers rebuild. If Dame wants to come in and put on a show, expect an offensive explosion from one the league's best.
Quick Match-up Notes
· Last year, LeBron James' Cleveland Cavaliers ranked 29th in Defensive Efficiency but 5th in Offensive Efficiency
· In the lone game in Portland last season, the Blazers won 113-110. Lonzo Ball ended up scoreless and Dame/CJ/Nurkic combined for 82 points
Best Bet
If there is one thing that I have always admired about LeBron, it is his commitment to generating content. In a world where every word or action he says or does can be crafted into a narrative, he still loves speaking and acting. This game will follow one of two narrative paths: 1) the Lakers win and the media praises LeBron's Herculean efforts to mold their young stars, or 2) the Lakers lose due to lack of chemistry and experience and the media blames the young kids or LeBron's lack of effort. Neither of those outcomes has anything to do with the Portland Trail Blazers themselves, and Lillard and McCollum do not like to be ignored. Portland should be able to take advantage of the Laker's lack of time played together and dismantle them with ease, but just in case, let's stick with rooting for points. I can already see it now: LeBron disappoints in Portland on Thursday before destroying the formidable Houston Rockets on Saturday night. It's written in the stars.
Final Score Prediction: Portland 121 – LA Lakers 111