Philadelphia 76ers vs. Detroit Pistons Pick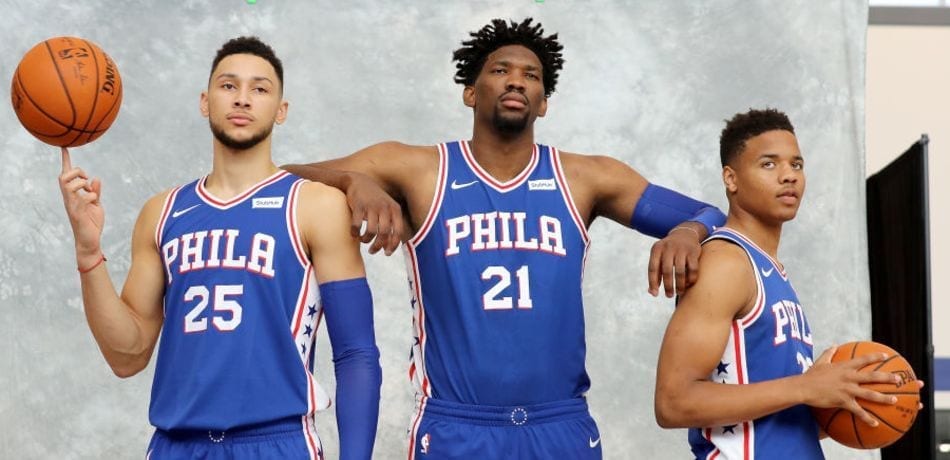 Philadelphia 76ers (2-1, 1-2 ATS) vs. Detroit Pistons (0-2, 0-2 ATS)
When: Tuesday, October 23rd, 2018 – 7:00 pm ET
Where: Little Caesar's Arena – Detroit, Michigan
TV: NBATV
By: Kyle Cash, NBA Basketball Handicapper, Predictem.com
Point Spread: Phi -2/Det+2
Total: 218.5
Last Night in the NBA
As a documented acolyte to The Church of Michael Jordan, not many things tickle my fancy more than LeBron snatching defeat from the jaws of victory by missing two free throws and bricking a step-back jumper at the buzzer. It's good to enjoy the little things in life! And elsewhere, we had a good news-bad news situation: The Celtics lost to the woeful Magic and look out of sync offensively (good!), but they were my Best Bet of the day and my pristine NBA record was tarnished. Oh well!
Tonight is another slow one in terms of matchups, so let's head on up to Michigan for some DE-TROIT…BASKET-BALL as they take on my Philadelphia 76ers. With Ben Simmons' status still up in the air, Vegas has failed to record a line for this yet, so let's pick a winner and a projected score and you can feel free to check back in later when the line is announced. Capiche? Capiche.
Long Live T.J. McConnell
Since we don't know whether or not Ben Simmons will be available for tonight's contest, we can keep take a look at how the Sixers' roster might shake out both with and without him on the court. If he is in, all systems are a-go, and we can assume that their rotation will resemble something like it did on Thursday against Chicago. If he is out, we can (hopefully) expect Markelle Fultz to take the reins as the lead point guard, and splash some T.J. McConnell on top for some added flavor. Trust me – there are worse things in life than McConnell being your floor general. He is a literal incarnation of the Philadelphia spirit.
If you are not following Joel Embiid on Twitter or Instagram, you may be unaware of his various beefs that he has going around the league. Arguably the strongest one is his feud with Andre Drummond, and there are not many things that my large adult son Embiid enjoys more than going out and punking a dude that he has previously trash talked. In three matchups with Drummond last year, Joel averaged 26 points and 9 rebounds in only 28 minutes per game, and the Sixers swept the season series. If Simmons is unable to go, the offense is going to run through the post, and the big Cameroonian is going to do what he does best – talk smack.
If, however, Simmons is healthy enough to play, the Pistons will be dealing with a whole new beast. Eventually, the Sixers are going to find the perfect lineup to put around Simmons, and they are going to blitz the league when they do so. According to NBA.com, the Sixers second-most used lineup of Simmons, Redick, Covington, Saric, and Embiid is currently sitting at a blistering 129.0 Offensive Rating, and last year's best starting five continues to score in buckets. Simmons and shooters is the way for this team to reach another level, and his status for tonight will determine whether or not this game stays close or gets ugly quick.
Could This Finally Be Detroit's Year?
Year to make the playoffs, that is. The Pistons have been mired in mediocrity for the last couple of years, and it is unclear whether or not Andre Drummond can be the focal point of a contender in the modern NBA. Fortunately for Detroit, Blake Griffin is back to his old ways, averaging 26 points, 10 rebounds, and 5.5 assists to start the season, and his playmaking is the engine that will make this team go. Reggie Jackson is a shoot-first point guard at best and a complete gunner at worst, but Point Blake can help Jackson unlock his scoring prowess without forcing him to be a facilitator as well.
I am not sure about you, but I think that the Pistons 2-0 record versus the Bulls and the Nets might not be the most impressive feat in the world, and tonight's game will be telling of which Detroit team we are going to get going forward. Will we get a Lob City rip-off starring Blake, Reggie, and Drummond? Can Dwayne Casey win Coach of the Year and get fired in back to back years? Will Drummond clap back on Joel's post-game Insta about how badly he kicked Andre's ass? Or is Detroit headed towards another 35-win season and a trip to the draft lottery? After tonight, we might be able to tell.
Quick Match-up Notes
As noted, the Sixers are 3-0 versus the Pistons with Joel Embiid in the starting lineup
Last season, Philadelphia was the best team in the league ATS with 2-3 days off (14-5)
The Pistons rank second in the NBA in Field Goals attempted from 3-10 feet; the Sixers rank fourth in the NBA in Opponent Field Goal % from 3-10 feet (Translation: The Sixers stop what the Pistons are best at)
NBA Pick
I don't need a line or a total to figure out that the 76ers are the superior team on paper and in practice, and I fully expect my hometown team to win with or without our Aussie mate. While the Pistons look to be an improved team, Joel Embiid is a man on a mission when it comes to his trash talk, and he does his best to back it up. The offense will run through him tonight, so expect a bit of a slower pace in a somewhat competitive game, but look for Philadelphia to seal it with a late barrage of 3s and free throws. 10-9-8-76ers!
Final Score Prediction: Philadelphia 76ers 107 – Detroit Pistons 100