Pick Falcons to Fly Over Win Total in 2018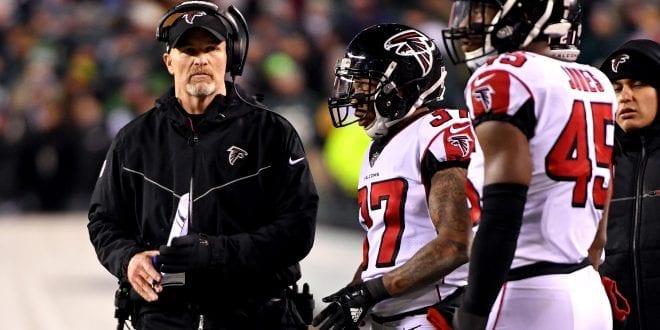 ATLANTA FALCONS 2018 ODDS:
Wins Total Over/Under 9
To win NFC South +185
To Win NFC Title +900
To Win Super Bowl +2000
Coming into 2017, the Atlanta Falcons had a bad taste in their mouth. They had choked away a Super Bowl that was a done deal. Not only that, but they were dealing with the loss of their Offensive Coordinator, Kyle Shanahan, and starting new with Steve Sarkisian. Atlanta had a decent season overall…they won some big games but they also dropped a couple of games they should have won. Atlanta finished 3rd in the NFC South but was able to still get into the Playoffs as a Wild Card team. Atlanta won on the road at Los Angeles but their season ended when they were unable to score in the red zone at Philadelphia in the final seconds. Now, that is all in the past and it is time for 2018.
The 2018 Atlanta Falcons are coming into this season with high hopes. On paper, they are one of the most dangerous teams in the NFC but they need to come together on the field to turn that into wins. With training camp less than a week away, one of the biggest questions for the Falcons is what will happen with Julio Jones. The Falcons informed Julio that they would not redo his contract and he will not receive an extension until after the 2018 season comes to an end. Julio has already skipped OTA's and Mini Camp so the questions now is will be come to training camp or continue to hold out? Regardless of the Julio Jones issue, the Falcons must look forward and not let this be a distraction down the road.
Offensively, the Falcons even with Jones being out is still one of the best in the league. Matt Ryan, Devonte Freeman, Tevin Coleman, and now with the addition of rookie wide out, Calvin Ridley, this offense should be in position to remain as one of the most explosive in the NFL. The only concern among the fans and media in Atlanta is the playcalling of Steve Sarkisian. Many times in 2017, Sarkisian called plays that had not only the fans in Atlanta scratching their heads, but the national media and his own players. If we look back though, in 2015, which was Kyle Shanahan's first year and it was a pure disaster. He and Matt Ryan did not see eye to eye and Matt Ryan had one of his worst seasons of his career. Fast forward to year two and it all clicked. The 2016 Falcons had a historically great offense that was just a few moments away from winning the Super Bowl. Hopefully for Atlanta, Sarkisian's year two is on track to emulate what Shanahan did. With the defense (which we will discuss shortly) that Atlanta has, if this offense can just score 24 points consistently, this team could be very dangerous and make yet another deep run into January.
In his three years as the Falcons head coach, Dan Quinn has turned this team into a hard nosed defense. Many are saying that if the young guys on this defensive roster keep up their growth, the Falcons could find themselves as a top five defense in all of the NFL. Deon Jones, Takk McKinley, Vic Beasley, Keanu Neal, and Desmond Trufant are the names that we recognize. With the losses of Adrian Clayborn and Donteri Poe, the defensive front will transition some new players into the mix. Grady Jarrett has already shown signs of greatness and rookie Deadrin Senat will need to grow up early seeing as how the Falcons plan on these guys plugging the interior of the defensive line. In the next couple of years, the Falcons will have some hard decisions to make on who to keep or not when it becomes contract time, but for now, Dan Quinn and GM Thomas Dimitroff are enjoying the success they have had in the draft with such great young talent.
PREDICTION:
Although 2017 was not a huge disaster, I feel the Atlanta Falcons will take steps forward on both offense and defense in 2018. Not only do I think they will improve as a unit, but being in the NFC South plays into the Falcons favor. Yes the NFC South was represented by three playoff teams last season, but I strongly believe Atlanta is the best of this group. In my opinion, the New Orleans Saints and Carolina Panthers are being highly overrated coming into 2018, while the Tampa Bay Buccaneers are now in trouble with quarterback, Jameis Winston, being suspended the first three games of the season. Atlanta will have six division games against those three and the rest of their schedule includes games against the Bengals, Redskins, Browns, and Giants which SHOULD be very winnable. Yes, the Falcons also play the Eagles, Cowboys, and Packers but remember, the Falcons beat the Packers and Cowboys fairly easily just this past season. I believe the Atlanta Falcons window to win a Super Bowl is still open but with every season that passes without a title, it gets closer and closer to closing. Not only do I like Atlanta to win 11 games games and the NFC South in 2018, I already placed my $150 bet on them winning the Super Bowl in their home stadium come February… $150 pays $3,450 by the way so GO FALCONS! Maybe it is just the homer in me, but I truly believe this Atlanta team could be the best all round team this city has ever had. Winning a Super Bowl is no easy task, one bad game in the playoffs, one major injury during the regular season, or just a season that things do not come together could derail any chance of a title but with this Falcons roster, with the talent they have on both sides of the ball, and the winning pedigree that Dan Quinn brings in, I like this team to get to 10 or 11 wins in 2018 which will take them over the posted total of 9. Take the Falcons over and enjoy the NFL season!