[et_pb_dcsbcm_divi_breadcrumbs_module hide_homebreadcrumb="off" homebreadcrumbtext="Home" separator="sep-raquo" hide_currentbreadcrumb="off" homebreadcrumborientation="left" _builder_version="3.8″ fontsbreadcrumbs_font="Lato||||||||" fontsbreadcrumbs_text_color="#000000″ fontsbreadcrumbs_font_size="15px" fontsbreadcrumbs_line_height="16px" fontsseperator_font="||||||||" fontsbreadcrumblinks_font="||||||||" fontsbreadcrumblinks_text_color="#2567cf" custom_margin="25px|||" custom_margin_phone="30px|||" custom_margin_last_edited="off|desktop" custom_css_main_element="font-family: Helvetica Regular;" global_module="3641″ saved_tabs="all"][/et_pb_dcsbcm_divi_breadcrumbs_module]
Seattle Seahawks vs. Arizona Cardinals Pick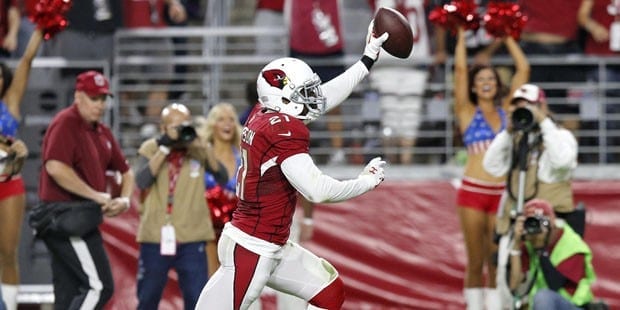 Seattle Seahawks (1-2 SU, 1-1-1 ATS) vs. Arizona Cardinals (0-3 SU, 1-2 ATS)
NFL Week 4
Date/Time: Sunday, September 30, 2018 at 4:05PM EDT
Where: U of Phoenix Stadium, Glendale, Arizona
TV: Fox
By: Loot Levinson, Expert Football Handicapper, Predictem.com
Point Spread: SEA -3/ARI +3
Over/Under Total: 38.5
Seattle comes to Glendale for a week 4 NFC West matchup against the Arizona Cardinals on Sunday. The club finally got a win on Sunday with a 24-13 home victory over Dallas (Cowboys try to rebound versus Lions). The Seahawks head to the road again with most bookmakers hanging a -3 on them. They should have it easier than the first two weeks, taking on a ragged-looking Cardinals bunch. I like Seattle in this one. And I'm prepared to explain why…
The Cardinals are Just Bad
Sure, we can say it's just a three-game window, but in losing to the Redskins, Rams, and Bears last week, the Cardinals have been pretty bad. After coming up with a lousy 6 total points in their first two games, they opened the game against the Bears on Sunday with two first-quarter TDs, before taking the balance of the afternoon off. The acquisition of Sam Bradford hasn't really panned out and after throwing two picks on Sunday, he was yanked for rookie first-rounder Josh Rosen, who didn't shine, albeit in limited action.
Poor QB play this season has zapped the Cardinals' cast of weapons of their zest. David Johnson is sitting at 116 yards rushing and hasn't been impactful. Larry Fitzgerald is at 113 yards. Young ball-catchers and former Texas A&M products Christian Kirk and Ricky Seals-Jones are nice weapons, but there is nothing nice about 20 points of scoring through three games. And those who felt Steve Wilks was an underwhelming hire are feeling a bit bolstered through three games.
Seattle: Underrated for a Change
Word on the street leading up to this season was that this was the year the Seahawks would officially step off the level of "good team." And through two weeks, that perspective was shown to be correct, until they hammered the Cowboys into defeat in week three, 24-12. It wasn't even that close. We saw a defense with some talent and game-changing ability, with an offense that can still do damage, especially if RB Chris Carson can keep coming up with 100-yard rushing performances.
The preseason banter, combined with the first two weeks may have led to a general over-souring on Seattle. After all, starting a season when you're a team like Seattle that is trying to find a new identity with road games at Mile High and Soldier Field is a big task. And while they faltered, they were respectable and in both of those games. Wilson can still do damage through the air with Tyler Lockett, Brandon Marshall, and other, though the loss of Doug Baldwin continues to hurt. The perpetually-disgruntled Earl Thomas might be a distraction, but with two picks on Sunday, perhaps he's a distraction they can withstand for the time being.
Cardinals: Where's the Heart?
With a team that is undermanned and trying to make something happen, you'd expect a certain level of scrappiness and guts. We saw it from Seattle, who came out hungry and played a full 60 minutes with passion on Sunday in an effort to right the ship. The Cardinals got off to a 14-0 lead at home against the Bears and couldn't deliver when a field goal over the last three-plus quarters of play would have done the trick.
Sure, the Cardinals are dealing with some deficits that you can't willpower your way through. For an offense trying to work in a new QB that depends so heavily on their star back, the cost of having a substandard O-line is incalculable. The receiving crew is largely without compelling talent. The defense boasts of some studs—guys like Patrick Peterson, Chandler Jones, and even rising talent like Budda Baker and Robert Nkemdiche. But it's a unit with a ton of gaps. And when all of these deficiencies are accompanied by a seeming lack of overall urgency and passion, it makes it a really tough situation.
A Team Without an Identity
The Cardinals are a hard team to describe. That's not a good sign. Seattle has a similar issue with a defense that has lost a lot of juice and an offense that no longer boasts of a consistent run-game. But they've made up for it with some aerial flair, with Wilson leading the league in TD throws last season and a young defense that is trying to get better. But the Cardinals? What is it they're trying to do?
You need spelled-out roles and approaches in this business—things you're actually good at and a plan that can manifest on some level. At this point, the Cardinals are groping in the darkness and stubbing their toe. I mean, sure, David Johnson looms as a dangerous weapon, they have a little pass-rush, and some youngsters like Rosen who could throw a different light on things, but the general aim seems murky. What are they really good at? What are Wilks and his coordinators trying to instill? Has offensive coordinator Mike McCoy lost his mojo? Out of 12 quarters this year, touchdowns have not been scored in 11 of them.
TIRED OF YOUR CREDIT CARD NOT WORKING AT SPORTSBOOKS? IT WILL AT Intertops + GET A 50% CASH BONUS!
Lay the Points on the Road Favorite
Let's face it, there are more-desirable road favorites than a Seattle team already playing their third road game of the season. But is three points enough of an Arizona cushion? A close game can certainly be envisioned by an impartial observer, but with the Cardinals, we might be looking at the worst team in the league for all we know. And if we're wrong, it's not by much. And for as simplistic as it may sound, I still think Seattle is three points better than that team, even on the road. I'm taking Seattle.
Loot's Pick to Cover the Point Spread: I'm betting on the Seattle Seahawks minus three points.
<h4 class="widgettitle">NFL Picks</h4><!-- [et_pb_line_break_holder] -->
<!-- [et_pb_line_break_holder] --><div class="widget-footer"><a href="https://www.predictem.com/nfl/">See all the NFL picks.</a></div><!-- [et_pb_line_break_holder] --><hr><!-- [et_pb_line_break_holder] --><style><!-- [et_pb_line_break_holder] -->ul.postsbycategory {list-style-type: none; margin:0; padding: 0; margin-left: -3px}<!-- [et_pb_line_break_holder] -->.postsbycategory li {padding: 5px 0px; display:block; clear: both; border-bottom: 1px solid #ccc;line-height:16px!important; min-height: 50px;}<!-- [et_pb_line_break_holder] -->.postsbycategory li a{color: #000; font-size: 14px!important;}<!-- [et_pb_line_break_holder] -->.postsbycategory img {width: 85px!important; height: 40px;<!-- [et_pb_line_break_holder] -->float:left; <!-- [et_pb_line_break_holder] -->padding:0px;<!-- [et_pb_line_break_holder] -->margin: 0px; margin-right: 8px;<!-- [et_pb_line_break_holder] -->border: 1px solid #EEE;<!-- [et_pb_line_break_holder] -->}<!-- [et_pb_line_break_holder] --> .widget-footer a {color: #666;}<!-- [et_pb_line_break_holder] --> .widget-footer a:hover {padding-top: 2px;}<!-- [et_pb_line_break_holder] --></style>
<div style="width:340px; margin: 0 auto;"><!-- [et_pb_line_break_holder] --> <a class="twitter-timeline" data-width="340" data-height="500" data-link-color="#008156" href="https://twitter.com/PredictemPicks?ref_src=twsrc%5Etfw">Tweets by PredictemPicks</a> <script async src="https://platform.twitter.com/widgets.js" charset="utf-8"></script><!-- [et_pb_line_break_holder] --></div>