Columbus Crew vs. Chicago Fire Analysis & Predictions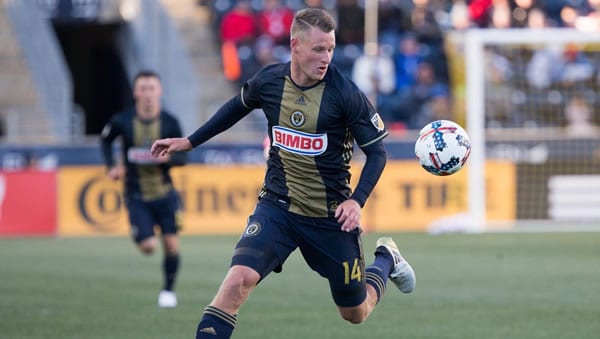 Columbus Crew (7-1-2, 23 points, 1st place East) vs. Chicago Fire (2-6-2, 8 points, 14th place East)
When: Saturday, September 12, 3:30 p.m.
Where: Soldier Field, Chicago
TV: Univision
Point Spread: Columbus 0/Chicago 0 (Bet365)
Moneyline: Columbus +150/Chicago +180/Draw +240
Total: Over 2.5 (-134)/Under 2.5 (+100)
Last Time Out:
Columbus beat Cincinnati 3-0; Chicago lost 2-1 to New England.
Previous meeting:
Columbus defeated Chicago 3-0 on August 20 at Mapfre Stadium in Columbus, Ohio.
About the Matchup:
The Eastern Conference leader tries to pick up another three points in the right direction when it goes up against the conference bottom feeder in Chicago, which is finding out just how far it has to go before it can plan to contend for a title.
But if you take a look at the stat sheet, Chicago has been in almost every match it plays, and even when it hasn't, the Fire has still made opponents work for their result. Columbus has had no trouble grinding out wins at home, but when they've gone on the road, they've been a very mortal side. Can Caleb Porter and the Crew get the three points they need as they come down the stretch? Or is this where Chicago puts it all together and surprises the league leaders?
Scouting Columbus Crew:
So if Columbus just beat Chicago by such a convincing scoreline three weeks ago, why does Vegas see this match as a toss-up? Simple: the offense for Columbus has only been there when the Crew play at home. Once Columbus leaves Black and Gold Boulevard, the offense completely disappears. For all of its success, Columbus has scored just one goal all year in a true road match, that coming in February in a 1-1 draw with Seattle. Otherwise, all Columbus has for its road trips since coming home from Florida is a 1-0 loss to New York City and a scoreless draw at Cincinnati.
That's a far cry from the five goals that Columbus has scored when it's been able to play on its home turf, and it suggests that the Z-Train of Gyasi Zardes and Lucas Zelarayan still have some kinks to work out in their partnership. Columbus' two strikers have proven deadly when they get any space, but the finishing has only been there when they play central Ohio. Case in point: the past two Hell is Real matchups between Columbus and Cincinnati. When the Black and Gold got to host, they took 18 shots, putting six on the frame and finding the net three times. But the week before that in Cincinnati, seven shots were all that Caleb Porter's men could muster, and only three made Cincinnati work at all.
If Columbus is wasteful again, this has the potential to be a tight match. If not, this could be an ugly one.
Scouting Chicago:
It would be too easy to make light of the awful offseason that the Chicago Fire has been through, as virtually every decision left Chicago off-stride from a turbulent 2019. But the problem here is strictly on the pitch, where Chicago has been unbelievably wasteful with its attacks.
In truth, the Fire are actually doing a decent job of pushing the ball toward the opposing goal and getting shots, but when Chicago does have a hit, the ball usually ends up in the stands. Against New England, Chicago held the ball for 63 percent of the match and took 17 shots at the Revolution goal. Only six of them even forced the New England keeper to attempt to make a save, which showed just how far off their attempts were.
The other problem is that the Fire aren't stopping their opponents. The Eastern Conference is far more defense-oriented than the West, and Chicago's 16 goals conceded rank dead last in the East. That's hardly ideal when facing a Columbus side that has 16 goals to its name and just two conceded on the season.
Dan's Best Bets:
I'm genuinely unsure why this game offers plus money for a "No" on both teams to score, but I will happily take +120 for one team to get shut out in this contest. All five of Columbus' games since they came home from Florida have ended with at least one team getting blanked, and in the two road games, that team has been Columbus. Chicago's offense isn't anything special on its best days, and the Crew have only allowed two goals in five games, so the under offers fantastic value here.
If you want to use history as your guide, these teams have played three 1-1 ties in their past five meetings, so gambling on the draw could be a worthwhile endeavor. You'd get +310 here for taking a draw and both to score, but I really wouldn't get that risky. You shouldn't discount the possibility of a scoreless game in this matchup, given Chicago's offensive struggles and Columbus' inability to score away from home.
Finally, I'd take a shot on more goals coming in the first half at +210. I don't expect goals in this matchup, and the first goal has come in the first half in four of Chicago's five matches since coming home from Florida, with the one exception being a scoreless draw with Cincinnati. The first goal might very well be the only one, and if it is, you will get +425 for backing a one-goal match.
Dan's Score Prediction:
Columbus doesn't give up many goals, but they also don't score anything on the road as of late. Chicago is better than its record shows, and if the Fire can just put the ball on target, this game is there to be won. This is an excellent time to take a gamble on the Fire, and I'll do so by predicting a 1-0 win for Chicago, which pays out at +950.
Signing Spanish striker Rodrigo and spending $35 million to bring him in was a sign to the rest of the Premier League that Leeds means business in their first year back in the top league since 2004. Or, if you want to take a cynical view, it could also mean that Leeds has learned absolutely nothing over the past 16 years, considering it was exorbitant spending and a mountain of debt that earned Leeds a pair of relegation in the first place.
But on the pitch, it appears that Leeds is going to remain a side that plays its style and accepts the consequences, good or bad. Against Liverpool, that could be a very bad thing, as Leeds is likely to concede a lot of the possession and hope to frustrate the Reds into a low-scoring match. That worked well in the Championship, as Leeds won seven of its final eight games and didn't allow more than one goal in the process.
But in the Premier League, you've got to be able to hit back, and that could be a bit of a problem for the Peacocks. Patrick Bamford was the main man for Leeds last year, but he was never really comfortable in the Premier League, as he's only scored once in 27 career matches at England's top level. It's been three years since he last played in the Premier League, and he's got to be a more mature player than he was in 2017 if Leeds are going to compete.
More Picks: Columbus at Chicago Best Bets >>>
Scouting Liverpool:
There's no doubt about it: Liverpool was a tired team at the end of last season. The Reds clearly felt the pressure of finally winning the Premier League, and they came back nowhere near the same squad as they were when they were running away with the title before COVID. But Liverpool has now had a full month off, as it didn't have to compete in any of the European competitions after the season and has been able to get back on track.
That might help, but one thing that won't help is the fact that Liverpool really didn't make any moves to improve itself for 2020-21. That might seem an odd statement about a team that nearly set the record for the best season in Premier League history. Still, the fact remains that Manchester City, Manchester United, Chelsea, and Arsenal were not about to take that lying down. All four of England's other big-money clubs have made sure to improve themselves, and Liverpool could be once again feeling the pressure from the word go.
In many ways, striker Mohamed Salah is a perfect microcosm of his team, as he failed to score in Liverpool's last five competitive matches. Yet opening day has been when the Egyptian has been at his best, as he has never failed to score in Liverpool's opening match in three seasons at Anfield. If he struggles on Saturday, it might be a sign that things are more severe than they seem for Jurgen Klopp's side.
Dan's Best Bets:
Leeds has absolutely nothing to lose here, as virtually nobody expects the Peacocks even to come close to winning this match. If Leeds comes out of Anfield with anything but a loss, it'll be a huge result for Marcelo Bielsa's side.
While I won't go as far as taking Leeds on a double chance (even at +275), there's reason to suggest that this match could be closer than expected and that Leeds has a great shot to come out of it with a goal to its name. Liverpool conceded in six of its final seven matches in the Premier League last year, and the one exception was a shutout of Aston Villa's incompetent attack. Leeds should be stronger on the attack than Villa was, so backing Liverpool to win and both teams to score offers plenty of value at +165. Or you could back Leeds to keep it close, as you'll get even money to take Leeds plus 1.5. Leeds likes to play low-scoring matches, so this might be a better bet than people expect.
Finally, I'd look at Liverpool scoring the same number of goals in each half. Liverpool has tended to strike early in recent matches, and you'll get +230 for an equal number of goals in each half. Things are not likely to get better for Liverpool if they don't start well, so this is a reasonable gamble.
Dan's Score Prediction:
Leeds isn't going to be cannon fodder for the rest of the league this year, but getting a win over the likes of Liverpool is a very tall ask. However, I think Liverpool is a little too good for Leeds to get off to the start it would like. The Peacocks should acquit themselves well in this matchup, but I think they'll succumb to a late winner. I'm going to take Liverpool to claim a 2-1 win on opening day at +775.