Boston Celtics vs. Golden State Warriors Pick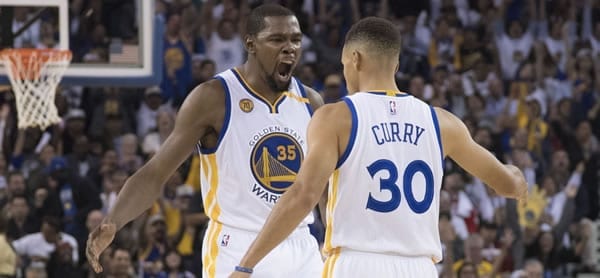 Boston Celtics (38-26, 31-32-1 ATS) vs. Golden State Warriors (44-19, 25-37-1 ATS)
When: Tuesday, March 5th, 2019 – 10:30 pm ET
Where: ORACLE Arena – Oakland, CA
TV: TNT
By: Kyle Cash, NBA Basketball Handicapper, Predictem.com
Point Spread: Bos -9 (5Dimes Sportsbook)
Last Night in the NBA
It's still early, but we're potentially about 90 minutes away from the Lakers' season being officially over. It's currently tied in the second quarter, and Lou Williams has that look in his eye that says, "Eff LeBron. This is my city." I'm living for every second of it. Stay on call for me.
Elsewhere in the NBA, the "Trae Young is actually the Rookie of the Year" idiots gained some cannon fodder as the Mavericks got blown out by the Nets, the best team in the NBA lost to the worst team in the NBA, and the Knicks have finally gotten back to their losing ways after they had a Spike Lee Oscars bump. All is right in the world.
After Kawhi gets done spanking James Harden like an infant, the Celtics will travel to Golden State to take on the champs in a Tuesday night TNT showdown. Since their first meeting on January 26th, the Warriors have added a healthier-by-the-day DeMarcus Cousins and the Celtics have added a more-bitchy-by-the-day Kyrie Irving. With Klay Thompson's health in flux, there is currently no line on the game, but the history of this match-up tells us it should be a tight affair. Let's pick a winner and call it a day, shall we?
More Basketball: Kentucky Wildcats vs. Mississippi Rebels Prediction
The Boston Strangler
I'm not sure whether or not the Boston Strangler was ever officially identified, but I would like to throw Kyrie Irving's name into the list of potential suspects. A team that Bill Simmons once said was going to "kick everyone's butt in the East" and "win 67 games" is now on pace for no home-court advantage in the first round of the Eastern Conference playoffs. Even with Gordon Hayward's struggles, a team comprised of a do-it-all defensive anchor in Horford, a bevy of young, talented wings in Tatum, Brown, and Rozier, and a couple of roughriders like Smart and Morris should be enough to push any team into playoff contention. Oh, they also have Kyrie Irving! But therein lies the problem: he's their biggest asset and their biggest pain in the ass. If Kyrie spent half of the energy that he uses excoriating his teammates and the media and channeled it into his play and his leadership skills, the Celtics would be cruising to a Finals date with the Warriors. Instead, they might be getting eliminated in the first round by Darren Collison and Tyreke Evans. Hopefully, Boston recovers from this devastating loss. At least Robert Kraft is doing fine- wait, WHAT?!
In order to take down the champs, the Celtics are going to need to improve upon their recent stretch of poor play. The team has no life to it, and maybe a match-up versus a team they consider their equal will be a nice wake-up call. Kyrie Irving has historically done very well against Stephen Curry, and he is a guy who gets up for big games.
Unfortunately, the rest of the team may not be up to snuff against the rest of Golden State's talent. If Klay is able to make it back into the lineup, the Warriors' lineup is going to be tough for the Celtics to keep pace with offensively. After their early season success, the Marcus Duo has regressed to the mean and look more like their typical, average selves. Meanwhile, Tatum is in love with the 20-foot pull-up a.k.a. the worst statistical shot in basketball, and he lacks the alpha dog persona needed when taking on the league's best. And let's just leave Gordon Hayward out of this one – I don't like to speak ill of the dead. Suffice to say that I'm dubious of the firepower that Boston is bringing to the table in this one, and if they stay in their funk, GSW is going to have their way.
Golden State of the Union
It's fun to look around the league and think of all of the wonderful and interesting playoff match-ups that we will see in two short months. Is Denver a legitimate Western Conference contender? Can Westbrook and Paul George drag OKC to the Finals? Will Harden's Rockets playoff woes continue? How will the Sixers' new core fare in an intense atmosphere? Can Boston solve their Kyrie problem in the next two months? Could Brooklyn or Sacramento be the up-and-coming out-of-nowhere teams we're always looking for? All of these questions are adorable, because at the end of the day, only one question remains: will the Warriors have their championship parade on Tuesday or Wednesday?
Bleak as our NBA future bets may be, there are still a ways to go before we get to that point. If we want a sign that the Warriors are slipping, maybe Boston can give it to us on Tuesday night. The Dubs are coming off of an East Coast road trip that saw them get the dreaded Miami Flu in back-to-back Floridian losses to the Heat and the Magic, and hopefully they've sweat out all of the toxins in their body back in sunny California.
To take down the Celtics, their game plan begins and ends with Kevin Durant. I, personally, am a proponent of running all offensive schemes through Steph Curry, but he's better served as a decoy against the C's. Kevin Durant has the size, skill, and athleticism advantage if Boston decides to throw Tatum or Hayward at him. And while Marcus Morris and Jaylen Brown can rough him up a little bit, I believe in his ability to, at the least, gets his shots off clean. With or without Klay, Golden State is going to need Durant's shot-making abilities to take down Boston. The Warriors have as good of a home-court advantage as anyone, but the Celtics still own a top-10 defense and aren't to be taken lightly.
Best Bet
I'm a fairly level-headed bettor albeit a fairly unlevel-headed handicapper. But my personal biases and intel serve me better than most. For example, whenever a good team plays in Miami, I know that it's a conservative 5-point swing in the Heat's favor. I have no basis of fact on this matter, but I know 1) about Miami's club scene and 2) about NBA players' affinity for the club scene, and I am smart enough to put 2 and 2 together to create an advantage. Unfortunately, I'm not sure that the Oakland area offers anything other than Silicon Valley investing opportunities, and I don't think that should have any adverse effects on Boston's play on Tuesday night. But I do know that a team mired in leadership and chemistry issues is much, much more likely to self-destruct on the road in a hostile environment, and after seeing them get their asses handed to them by Toronto last week, I find it hard to believe that the Celtics can muster up enough juice to hang tough in this game. We will have to wait to see the final line, but anything around 5 points or less is a Golden State play all day every day and twice on Sundays. The champs are the champs for a reason, and I expect them to prove as such.
Final Score Prediction: Golden State 118 – Boston 109
Who else wants $60 of FREE member picks & predictions?