Boston Celtics vs. Utah Jazz Pick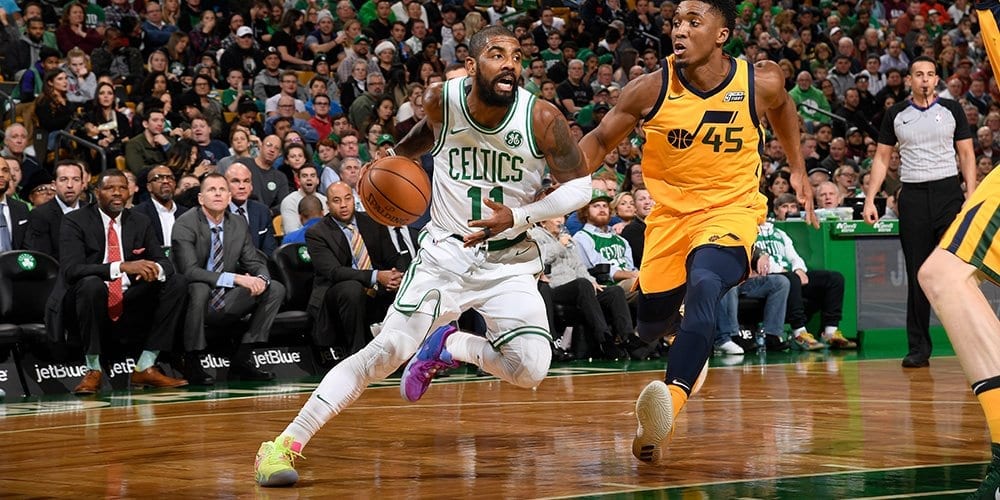 Boston Celtics (7-4, 4-7 ATS) vs. Utah Jazz (5-6, 5-6 ATS)
When: Friday, November 8th, 2018 – 9:30 pm ET
Where: Vivint Smart Home Arena – Salt Lake City, UT
TV: ESPN
By: Kyle Cash, NBA Basketball Handicapper, Predictem.com
Point Spread: BOS +3/UTA -3
Total: 209
Last Night in the NBA
Life lesson #1, kids: Never throw out the data. OKC was statistically stout against the 3-pointer, and Houston's 11-42 (26.2%) performance sure proved that one right. The Rockets are an absolute mess right now. Harden has an MVP hangover, Chris Paul is too old and out-of-shape, and let's just go ahead and throw Carmelo Anthony in the dryer because he is WASHED. Elsewhere in the Association, Kyrie Irving and Devin Booker had a basketball slap-fight (and it was awesome), and the Bucks probably improved their championship odds from 25-1 to 18-1. Hop on the Coach Bud Bandwagon while there's still room.
Let's stick with the Bean Town basketball team as they head north from Phoenix up to The House that the Mormons Built in Salt Lake City. Gordon Hayward is finally making his triumphant return to the Jazz arena, and the home team is currently favored by 3 points with a total hovering around 209. Wipe your tears, Gordon Hayward – we've got a game to predict.
The Boston Globe-trotters
Or as Kyrie Irving would call them: the Boston Flat-Earth-trotters. He may have spent a little too much time on r/ConspiracyTheories, but Kyrie remains one of the deadlier men in the world with a basketball in his hand. Irving has begun to shake off the cobwebs, averaging nearly 30 points and 4 triples per game over his last five. The rest of the roster – oof. Gordon Hayward looks – shall we say – shaky, Horford and Brown are low-usage defensive presences, Tatum slips in and out of consciousness during games, and let's just say that Terry Rozier might have had an audition for his future team last night. I'll leave it at that. Kyrie staved off Boston sports talk radio for one more night, but the end is nigh for this current roster, and they need to do something to clear up their logjam.
Unfortunately, talking heads might be getting the content they need after tonight's matchup versus the Jazz. I know, I know. I literally just told you to not ignore the data that is staring you in the face. But this is my column, so I can do what I want. It's as simple as this: the Utah Jazz are not the middle-of-the-pack defense that their defensive rating (17th) and points allowed (11th) suggest. Blowhards and dummies think that the Jazz' 2017-18 second half run was fueled by the sensational offensive performance of Donovan "Never Seen a Shot I Didn't Like" Mitchell. Wrong-o! You know how many Defensive Players of the Year there have been that have played less than 70% of their team's games? One: Rudy Gobert last year. That's how incredible the Stifle Tower is at defense. If this defense is not top-5 in both categories by year's end, Quin Snyder should legitimately be on the hot seat.
Last season, Kyrie Irving and Rudy Gobert didn't get to have the showdown they deserve: the best finesse finisher in the league versus the most effective rim protector. Tonight, that is where the key matchup lies. Boston likes to slow down the pace and generate their offense through intricate half-court design, and it is where the Stifle Tower looms the largest. It's a classic case of an unstoppable force meeting an immovable object. If Kyrie and his merry band of thieves can generate offense at the rim, they have a chance of stealing a road game on a back-to-back versus a contender (Kidnapper from Taken voice – "Good luck").
Jazz Hands
I do not like Donovan Mitchell. This is no secret. But it's hard to argue that he is an upgrade over the dredge that Utah was forced to trot out there in his absence. Welcome back, Don. Go shoot another 25 shots.
Despite a rocky start to their highly anticipated sophomore season, the Jazz can have a get-right game versus a struggling team on the second half of a back-to-back, and they need to take advantage of it. Utah upped their pace in the early goings but have since settled back down to their grind-it-out type of style that factored into their success last season. Boston is still the best defensive unit in basketball, but on a back-to-back, they might be a half step-slow, and Utah has the firepower to exploit that. Ol' Donny Boy has never been shy, and veteran guys like Ricky Rubio and Jinglin' Joe Ingles get the job done on a nightly basis. Utah's five-man unit has more chemistry and cohesiveness than anything that Boston will be able to trot out, and a home win in front of the maniacal Jazz fans seems to be in order.
Quick Match-Up Notes
• Both teams rank in the bottom-third in pace
• Boston still ranks 1st in Defensive Rating and 3rd in Points Allowed
• Al Horford is 5-1 lifetime vs. Rudy Gobert
NBA Pick
In the NBA, some nights it's best to just throw in the towel early. ESPN runs a great article every year forecasting the league's "schedule losses"; it highlights when a team is most likely to lose due to fatigue and travel. While this game is not pegged as such a game, I'm going to go ahead and make the executive decision that it qualifies. Boston did not anticipate needing overtime to dispatch the woeful Suns, and tonight marks their second night of a back-to-back and their 4th game in a 5-game West Coast road trip. Most importantly, Boston doesn't even look good right now; why would I invest in a team with all of these factors going against them?
Because it's too easy – that's why! I know a sucker bet when I see it. Utah only being a 3-point favorite at home against a tired Celtics team is a cartoonish level of trap. The Celtics on Friday night are the Road Runner, and all the dopes that back the Jazz will be the Wile E. Coyote. By tomorrow night around 11:30 ET, Utah bettors will be hovering over the edge of a canyon, looking down at a dark abyss before plummeting to their doom. But you'll be at the top of the cliff counting your money – all thanks to me. Meep meep!
Final Score Prediction: Boston Celtics 104 – Utah Jazz 101