[et_pb_dcsbcm_divi_breadcrumbs_module hide_homebreadcrumb="off" homebreadcrumbtext="Home" separator="sep-raquo" hide_currentbreadcrumb="off" homebreadcrumborientation="left" _builder_version="3.8″ fontsbreadcrumbs_font="Lato||||||||" fontsbreadcrumbs_text_color="#000000″ fontsbreadcrumbs_font_size="15px" fontsbreadcrumbs_line_height="16px" fontsseperator_font="||||||||" fontsbreadcrumblinks_font="||||||||" fontsbreadcrumblinks_text_color="#2567cf" custom_margin="25px|||" custom_margin_phone="30px|||" custom_margin_last_edited="off|desktop" custom_css_main_element="font-family: Helvetica Regular;" disabled="on" global_module="3641″ saved_tabs="all"][/et_pb_dcsbcm_divi_breadcrumbs_module]
Denver Nuggets vs. Portland Trail Blazers Pick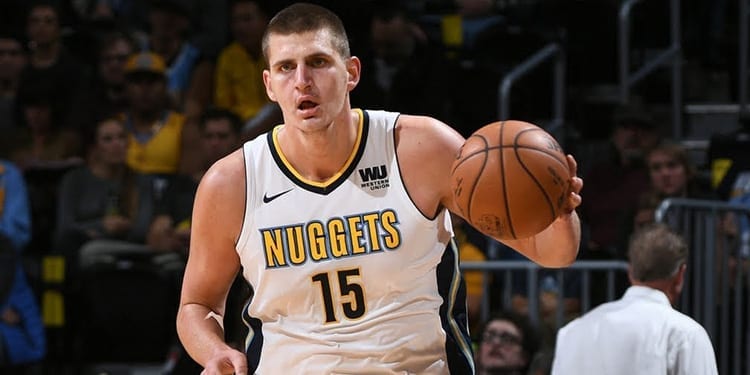 Denver Nuggets (14-7, 12-9 ATS) vs. Portland Trail Blazers (13-8, 11-10 ATS)
When: Friday, November 30th, 2018 – 10:30 pm ET
Where: Moda Center – Portland, OR
TV: ESPN
By: Kyle Cash, NBA Basketball Handicapper, Predictem.com
Point Spread: DEN +2.5/POR -2.5
Total: 215
Last Night in the NBA
To be fair, I thought that the Raptors were going to be favored by 3 or 4 points – not 8. The Warriors also hit somewhere between 4 and 325 impossible 3-pointers at the end of regulation and overtime to make it as close of a game as it was. Between this game and the Cowboys-Saints travesty that is currently suffocating what little life the Eagles had remaining, this hasn't been the best of days for Kyle Cash.
College Basketball Pick: Badgers vs. Hawkeyes
I get to stay up past my bedtime on Friday nights, so the 10:30 pm time slot is my weekly dessert of sports entertainment. On tonight's menu, we have Nikola Jokic lugging his chunky body to the Land of the Soccer Moms to take on Damian Lillard and his Trail Blazers. Portland is currently a 2.5-point favorite at home over the Nuggets with a total set to 215 points.
Nuggets of Wisdom
Two Denver games in one week? I might be an honorary Colorad-ian at this point (Colorad-ie? Colorad-ite?). After giving LeBron a nice spanking on Tuesday night, the Nuggets should be nice and rested for one of their toughest opponents to date. After a nice start, Denver was in danger of slipping down the Rocky Mountains, but they've managed to catch themselves mid-fall by winning four straight, including their last two over Russell Westbrook and LeBron James. Not bad for a team whose best player is built like the Stay-Puft Marshmallow Man.
Against Portland, Nikola Jokic is going to need to muster all of the strength he can against his former teammate and friendly rival, Jusuf Nurkic. In their last meeting, Jokic threw up an absolutely ridiculous line of 15 points, 20 rebounds and 11 assists while Nurkic finished with 20 points and 19 rebounds himself. These two bring out the best in each other – like the European Centers version of Bird-Magic. While Jokic operates down low, it'll be on Jamal Murray and the ailing Gary Harris to prove that they belong on the big stage with Lillard and McCollum. It's sink-or-swim time for the Nuggets backcourt on an ESPN Friday night game; time to prove whether you have it – or you don't.
The Oregon Trail
We've already talked about Portland's sizzling start before, so let's not bang on about it any more than we already have. But as of late, there have been a couple of cracks in their armor. It's nice to beat up on the Wizards and Magics of the world, but three straight losses to Milwaukee, Golden State and then the Clippers has me second-guessing whether or not Portland has fought off the demons of their past. Have they simply been taking advantage of a soft opening schedule (6th easiest in the NBA) and beating up on weaker opponents? Or are they an actual dark-horse for a date with Golden State in the Western Conference Finals?
Friday Football Pick: Utes vs. Huskies
Against Denver, we might be able to answer that question. This season, the Clippers have shown us the value of having a collection of competent basketball players. High-floor/low-ceiling type of guys. Denver has a splash of that going on, and it's hard to poke holes in their roster. They're currently sporting a Will Barton-sized hole in their forward personnel, but Portland doesn't have the guy who can exploit that. Al-Farouq? Evan Turner? Sauce Castillo? I'm dubious.
Instead, Portland's strength will come from it's typical source – one of the best backcourts in the NBA. Lillard and McCollum are both in their primes, and they shine brightest when the lights are upon them. Unofficially, Lillard is averaging 40 points per game when he's on Friday night national TV games, according to the source in my head that has the memory of him destroying the Warriors in their 73-win season on repeat. If Portland's dynamic duo controls the game, then Denver's fate is already sealed.
Four Factors of Winning
Since we're all about finding the edge here at Predictem.com, let's take the time each day to dive into the stats that lead to winning basketball games. According to a theory posited by Dean Oliver, a win in basketball can be narrowed down to four factors: shooting, turnovers, rebounding and free throws. Each day, I will take a look at the areas that each team excels at or is susceptible to, and we will see if we can find a specific reason why Team A will beat Team B.
In year's past, we could pencil in Denver's opponent for 110-115 points every night. This year, they've turned things around – they are 3rd in the NBA in both Defensive Rating and points allowed. Most of their success falls in line with their Four Factors statistics; they rebound the ball well on both ends, they force opponent's into contested looks and they force turnovers with active hands and solid fundamentals. There aren't many holes in Denver's ship this year.
Portland is nearly identical in their effectiveness. Their backcourt is nowhere near as prolific defensively, but their continuity has lent itself well to early-season success as they find themselves in the top half of the league in both offensive and defensive rating. Their numbers line up nearly in line with Denver's across the major categories, but one important factor to note is that Portland plays at a much quicker pace than the Nuggets. In a higher-tempo, higher-scoring affair, Denver will be forced to adjust and put points on the board if they want to hang with Portland's All-Star backcourt.
Best Bet
In NBA games with spreads less than 3 points, we basically have to decide who we want to win. If we like Portland and they win by 1 or 2, so be it – thems the breaks. This is one of those match-ups that the common man ignores but the true NBA die-hards can't wait to see. You won't have to worry about the dope in your office asking you if you "saw the game last night." What game are you referring to John? It's 2018 and I have every goddamn channel – I watched 11 different games! Go back to your cubicle and if you need me, just e-mail me so I can pretend I didn't see it. Where was I?
The game! The best bet for this contest is probably the over. The 215 number isn't scaring me much when we have Lillard on national television; he's 40 points waiting to happen. But who to pick? Portland has a pretty awesome home crowd, but Denver had an extra day off and have looked great for a week straight…
I think that Denver can win this game, and I think it's going to be close. I want to pick them. But I can't do it. I'm rolling with the Soccer Moms, and I'm giving Portland the slightest edge because Lillard will be the best player on the court. Don't screw me now, Rip City.
NBA Prediction: Final Score – Portland 114 – Denver 110
<div class="new-cta"><!-- [et_pb_line_break_holder] --> <a href="https://www.predictem.com/out/Bovada" rel="nofollow"> <img src="https://www.predictem.com/wp-content/uploads/2018/04/bovada.png" alt="Bovada" /></a><!-- [et_pb_line_break_holder] --> <p style="margin-top: 5px; font-size: 22px; line-height: 30px;"><!-- [et_pb_line_break_holder] --> 50% Cash Bonus<!-- [et_pb_line_break_holder] --> </p><!-- [et_pb_line_break_holder] --> <hr class="cta-divider"><!-- [et_pb_line_break_holder] --> <p style="padding-bottom: 20px; font-size: 15px; line-height: 20px"><!-- [et_pb_line_break_holder] --> Friendliest Sportsbook &<br> Best Betting Software<!-- [et_pb_line_break_holder] --> </p><!-- [et_pb_line_break_holder] --> <a href="https://www.predictem.com/betting-sites/bovada/"><button class="btn-widget-cta"><!-- [et_pb_line_break_holder] --> See Review<!-- [et_pb_line_break_holder] --> </button></a><!-- [et_pb_line_break_holder] --></div>
<h4 class="widgettitle">NFL Picks</h4><!-- [et_pb_line_break_holder] -->
<!-- [et_pb_line_break_holder] --><div class="widget-footer"><a href="https://www.predictem.com/nfl/">See all the NFL picks.</a></div><!-- [et_pb_line_break_holder] --><hr><!-- [et_pb_line_break_holder] --><style><!-- [et_pb_line_break_holder] -->ul.postsbycategory {list-style-type: none; margin:0; padding: 0; margin-left: -3px}<!-- [et_pb_line_break_holder] -->.postsbycategory li {padding: 5px 0px; display:block; clear: both; border-bottom: 1px solid #ccc;line-height:16px!important; min-height: 50px;}<!-- [et_pb_line_break_holder] -->.postsbycategory li a{color: #000; font-size: 14px!important;}<!-- [et_pb_line_break_holder] -->.postsbycategory img {width: 85px!important; height: 40px;<!-- [et_pb_line_break_holder] -->float:left; <!-- [et_pb_line_break_holder] -->padding:0px;<!-- [et_pb_line_break_holder] -->margin: 0px; margin-right: 8px;<!-- [et_pb_line_break_holder] -->border: 1px solid #EEE;<!-- [et_pb_line_break_holder] -->}<!-- [et_pb_line_break_holder] --> .widget-footer a {color: #666;}<!-- [et_pb_line_break_holder] --> .widget-footer a:hover {padding-top: 2px;}<!-- [et_pb_line_break_holder] --></style>