Golden State Warriors vs. San Antonio Spurs Pick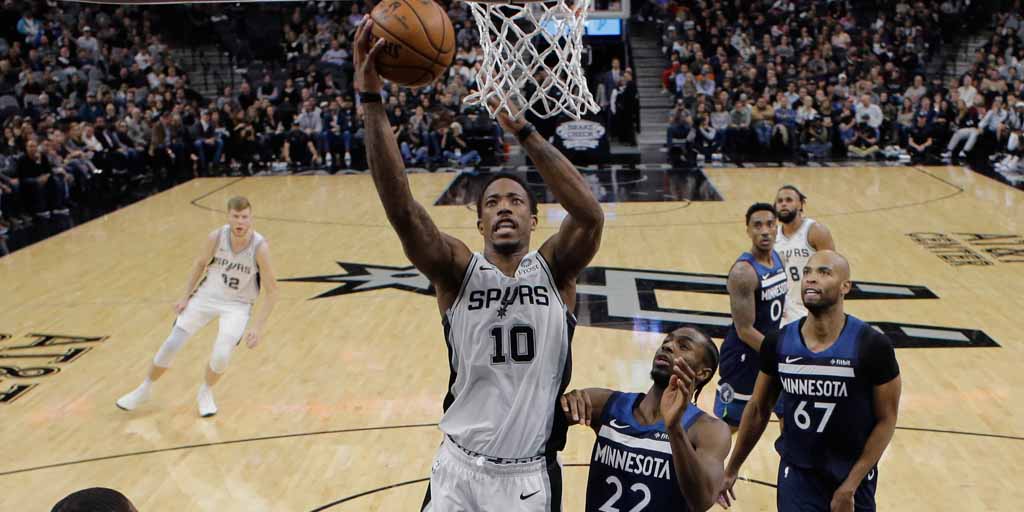 Golden State Warriors (12-5, 8-9 ATS) vs. San Antonio Spurs (7-7, 7-7 ATS)
When: Sunday, November 11th, 2018 – 7:00 pm ET
Where: AT&T Center – San Antonio, TX
TV: NBATV
By: Kyle Cash, NBA Basketball Handicapper, Predictem.com
Point Spread: GSW +2.5/SAS -2.5
Total: 216
Last Night in the NBA
It might be a foregone conclusion that the Warriors are going to repeat as NBA champions. I won't argue with you on that one – I think they're going to win it, too. But it's unbelievable how fun and talented the league is almost entirely across the board. The East's playoff picture is a Rorschach splatter of flawed teams, and in the West, the 1st place Warriors are only 4.5 games ahead of the 14th placed Timberwolves. We're going to be in for a wild ride to end the regular season.
Let's check back in with the Golden State Warriors as they head down to the Lone Star State to take on the San Antonio White Walkers. Golden State is still without Stephen Curry and Draymond Green, and they come into this Sunday evening match-up as a 2.5-point underdog with the total set at 216 points. Remember the Alamo and the Tim Duncan-era Spurs.
Raiders vs Cardinals Free Pick
Happy Wife, Happy Life
Unhappy KD, unhappy team. The Warriors have limped their way through the week, dropping three of their last four games. Kevin Durant likes to tell everyone how unappreciated his game is and how much of an alpha dog he is, so it tickles me pink to watch him submarine Steph's dynasty with lack of effort and selfishness on a devastating scale. With Steph this year, Golden State is 10-2 with a +10.6 net rating. In the five games since his injury, they've gone 2-3 with a -1.9 net rating, and have worse numbers in assist percentage, rebounding percentage, effective field goal percentage and true shooting. It turns out that replacing the greatest shooter who ever lived with Quinn Cook is bad for business. Who's the MVP of the Warriors now, KD? #TeamDraymond.
The Warriors polished off the Kawhi-less Spurs in three out of their four games last season, but DeMar DeRozan has filled Voldemort's void, and the Spurs are looking moderately dangerous again. The Spurs like to slow it down and mid-range their opponent's to death, and the Warriors have had trouble scoring in the half-court with Durant and Klay running the show. Their league-leading offensive efficiency has operated as a bottom-7 team in their last three games, and the Spurs are going to make this a slog. Ultimately, the onus falls on Durant and Klay to be the superstars in their team's back-to-back set, and I'm dubious at their effectiveness. It's worth noting, however, that the Warriors were a league-best 10-4 in the second night of a back-to-back set last year. Bet against them at your own peril.
Props to Pop
I've sung his praises before, but I just don't think that we can appreciate his surly genius enough. I don't know, man. I'm having an emotional week since the Stan Lee news broke. I'm learning to revere the legendary icons while they're still here. Unfortunately, the other elderly icons are Coach K and Bill Belichick, but you can't voice your respect for them online without blowing up your Twitter mentions. To make my life easier, I'll just stick to worshipping the shrine of Popp.
In the 2017 playoffs, the San Antonio Spurs were leading the undefeated Golden State Warriors by 25 in the third quarter – and then Zaza Pachulia happened, Kawhi went down, and history was rewritten forever. In tonight's game, the Spurs will attempt to avenge the loss they took there as well as the loss they suffered this summer with the Kawhi Leonard trade. DeMar DeRozan has cooled off a little bit, but he and Aldridge are still All-NBA caliber players, and the Spurs are 5-2 at home. Poppovich has always been able to push the right buttons in marquee games – it's why he's a Hall of Famer. The short-handed Warriors are still a quality team, but the Spurs don't have many weaknesses in their roster. Derrick White, Bryn Forbes, and Patty Mills are the Voltron of the NBA; they combine into one quality point guard, and it's all the Spurs need. With playmakers, defensive presences, hustle guys, and shooters, San Antonio can beat anyone on any given night – even the defending champs. Go, Spurs, go.
Four Factors of Winning
Since we're all about finding the edge here at Predictem.com, let's take the time each day to dive into the stats that lead to winning basketball games. According to a theory posited by Dean Oliver, a win in basketball can be narrowed down to four factors: shooting, turnovers, rebounding and free throws. Each day, I will take a look at the areas that each team excels at or is susceptible to, and we will see if we can find a specific reason why Team A will beat Team B.
We've taken a peek at both of these teams' advanced stats before, but it's best to analyze their strengths and weaknesses again in comparison to one another. On both ends of the floor, Golden State has the advantage; they score at a more effective clip, and are more efficient in stopping opposing teams. But the Spurs are the tortoise to the Warrior's hare – they defend without fouling and never turn the ball over. There's a very simple case to be made for each team: the Warriors are the superior two-way team, and the Spurs are the more veteran, better-coached, more consistent squad. If this game stays close, it's a basketball nerd's wet dream. Xs and Os, sideline out of bounds lob plays, a timeout 11 seconds into a quarter – this game might have it all. Forget the NFL – watch this instead.
Best Bet
When getting into a rhythm as a gambler, there are certain rules, guidelines and restrictions that you have to place on yourself to avoid spiraling out of control. One thing that I've found over the years is that I refuse to have money invested in teams that I root for. I am already a ridiculous, born-and-bred Philadelphia-sports fan, and adding gambling into the mix is like pouring gasoline on the fire. During the Process, I found myself becoming more of an NBA fan to keep myself entertained, and I've found a place in my heart for both of these franchises. For that reason, I find it hard to pick a winner. There aren't a lot of statistical outliers that we can point to in order to help us handicap it, and my gut feeling is that the Warriors' recent struggles are due for a turn-around sooner rather than later. My official recommendation is to bet the under and then go watch the rest of the Eagles-Saints shoot-out on FOX, or maybe a movie on Netflix or something. But if you want my gut-check winner pick, I'll bet on my suspicion that we haven't seen the Warriors' rock-bottom yet, and that this is it. As my guy Skip Bayless would say: Spurs in 6.
Final Score Prediction: San Antonio Spurs 104 – Golden State Warriors 94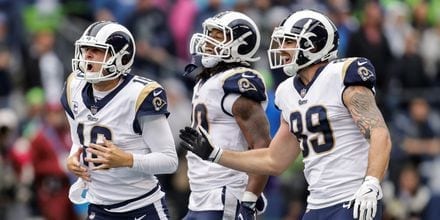 Sportsbooks say the Rams are more than a FG better but do the numbers align with this thinking? The key stat that separates these teams and the only statistical blemish for the Rams is red zone efficiency. This is the chink in the Rams armor that may end up holding them back down the stretch. They are only scoring touchdowns on 56% of their trips to the red zone, good for only 16th in the league. The Chiefs are scoring touchdowns at a 71% clip, good enough for 6th in the league. Keith Allen takes a deeper look at the matchup and gives his prediction.
---
---
---
---
---
---
---
---
---
---
.