Houston Rockets vs. Detroit Pistons Pick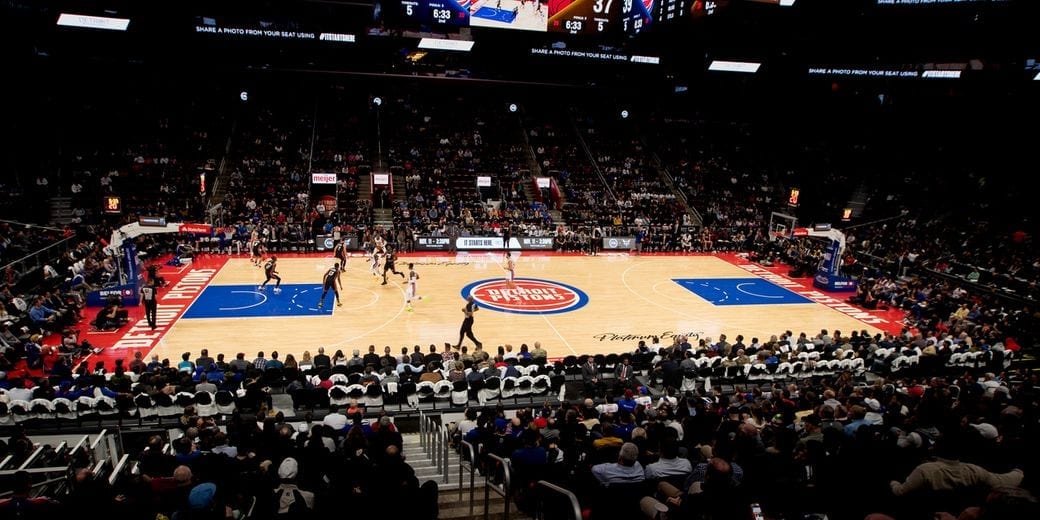 Houston Rockets (9-7, 7-9 ATS) vs. Detroit Pistons (8-7, 8-7 ATS)
When: Friday, November 23rd, 2018 – 7:00 pm ET
Where: Little Caesars Arena – Detroit, MI
TV: NBATV
By: Kyle Cash, NBA Basketball Handicapper, Predictem.com
Point Spread: HOU -4.5/DET +4.5 (GTbets)
Total: 217
Last Night in the NBA
Happy Thanksgiving, everybody! I hope that your Turkey Day was spent the right way: nursing a hangover, ignoring your festivity chores in favor of watching football, and stuffing your face to the brim before passing out on the couch. Best goddamn country in the world. 'Merica.
With a league-wide rest day enacted on Thanksgiving, we have a massive 14-game NBA slate to enjoy on our Friday evening while eating leftovers. San Antonio and Indiana are set to square off in a game that will set basketball back ten years, Donovan Mitchell and LeBron James will do battle in the Ego-Maniac Bowl, and we'll get to see if Kevin Durant can go one game without verbally accosting a fan or complaining about how misunderstood he is. Cry me a river.
While those all sound as juicy as a drumstick, I have wandering eyes for a game featuring two former teammates – The Houston Rockets versus the Detroit Pistons. Blake Griffin and Chris Paul were not exactly the best of friends in Los Angeles, and now they get to take out their aggression on each other for the second time in as many games. Paul's Rockets are currently favored by 4.5-points over Griffin's Pistons with the total set at 217 points. Let the awkward family dinner conversations commence.
Righting the Rocket Ship
I'm not going to lie – the NBA was a little bit more fun two weeks ago when the Rockets and the Lakers both sucked. Houston has purged themselves of the terrible case of Melo-itis that they had come down with in the beginning of the season, and they have won five in a row as a result. I guess it's true what they say – you can't teach an old dog new tricks, and you can't teach an aging mid-range shooting forward how to play defense and make open threes. Have fun in China, Melo. That's Jimmer's world, and you're just living in it.
Over the course of their win streak, the Rockets have been able to get back to their old ways. Harden is averaging 33 points per game, Clint Capela has been a two-way monster, and the rest of the system is running beautifully. Against Detroit, Houston is going to do what they always do: shoot a lot of threes, and get to the line as much as possible. In fact, they did just that on Thanksgiving Eve – 33 3-point field goal attempts and 36 free throw attempts. Reggie Jackson is a mediocre player on a good day, and there's no one else on the roster that could conceivably have a chance against Harden. Reggie Bullock? Please. You want to handicap this game? Check out the Rockets box score from Wednesday night. Lather-rinse-repeat.
Firing on all Pistons
Detroit has an interesting start to their 2018-19 season. They won four, then lost five, and now seem to have landed somewhere in between. Fun fact: Detroit has finished between 8th and 12th in the Eastern Conference Standings for ten straight years. TEN. In a league where mediocrity is a death-sentence, it's no wonder that their best current young asset is a white guy from Duke that isn't even named J.J. Redick.
Against the Rockets, Detroit has one path to success: crash the boards. Capela is a solid defender and rebounder, but Andre Drummond is a behemoth, and Blake Griffin is a beast. Houston is run by the most forward-thinking general manager in the NBA (and maybe in all of professional sports), so he's constructed his team around two play-makers, an athletic center, and then more wings than at the WIP Annual Wing Bowl (RIP). Teams from the 1980s would chew this Rockets team up and spit them out – and then look up at the scoreboard and realize that they lost by 40 because threes are worth more than twos. In some ways, Detroit's frontcourt is the 2018 version of a 1984 Sampson-Olajuwon front; two huge, athletic, rebounding monsters that can make opposing bigs cower in fear. If Detroit can ugly this game up and become the Clubber Lang to the Houston Rocky's, it's going to be a long night for the Beard and his cohorts.
Four Factors of Winning
Since we're all about finding the edge here at Predictem.com, let's take the time each day to dive into the stats that lead to winning basketball games. According to a theory posited by Dean Oliver, a win in basketball can be narrowed down to four factors: shooting, turnovers, rebounding and free throws. Each day, I will take a look at the areas that each team excels at or is susceptible to, and we will see if we can find a specific reason why Team A will beat Team B.
One of the best part's about Basketball-reference.com is that their box scores from previous games include the four factors of winning. Let's check out what went down between Houston and Detroit on Wednesday:
Houston was the slightly more effective offense with a .646 Eff. FG%
Detroit won the turnover battle by a slight margin (13.6% to 14.6%)
The Pistons absolutely dominated the offensive rebounds, bringing down a whopping 32.6% of their own misses leading to a +13-field goal attempt margin over Houston
The Rockets did what they did best, and got to the line 33% more than Detroit
These trends line up well with the year-long statistics that we have seen out of these two teams. Detroit is not particularly great at scoring efficiently or defending without fouling, and Houston has been susceptible to teams that pound the offensive glass and take care of the basketball. What more can I say about a game that went exactly according to plan last game? Houston and Detroit are two sides of the same coin, and you might as well flip one to make your decision on who to bet on.
NBA Pick
But that's not what we're about here at Predictem.com. You're not here for the stats – you're here for the picks. Honestly, I'm shocked that the point total is at 217. We just saw 230 points in this game 48 hours ago, and both teams had all day to rest. Do they think that Harden might be sweating out tryptophan on the court? Are they afraid that Blake Griffin might have spent his Thanksgiving in Los Angeles and now has to fly back to Detroit on a red eye? Will Andre Drummond have slippery fingers from carving up his Butterball? Feels like a trap – and we're falling for it. Houston is back, and this game should have no problems flying over the total.
For the match-up, I'm torn. Detroit is an improved basketball team, and Blake has shown flashes of his old self through the first month of the season. But they feel a bit like a dead-beat Dad. Every once in a while, they show up with presents, take you out for ice cream, and then they turn around and steal your lunch money to buy a pack of smokes and a scratch-off before skipping town with a diner waitress. Detroit is always good in the beginning of the year – but then, they wake up and remember that they're Detroit, and that they currently rely heavily on Ish Smith and Reggie Bullock to generate their offense when Blake gets tired. And you want me to wager my hard-earned cash on those knuckleheads? Pass. Houston all day, baby.
Final Score Prediction: Houston Rockets 121 – Detroit Pistons 108