Houston Rockets vs. Oklahoma City Thunder Pick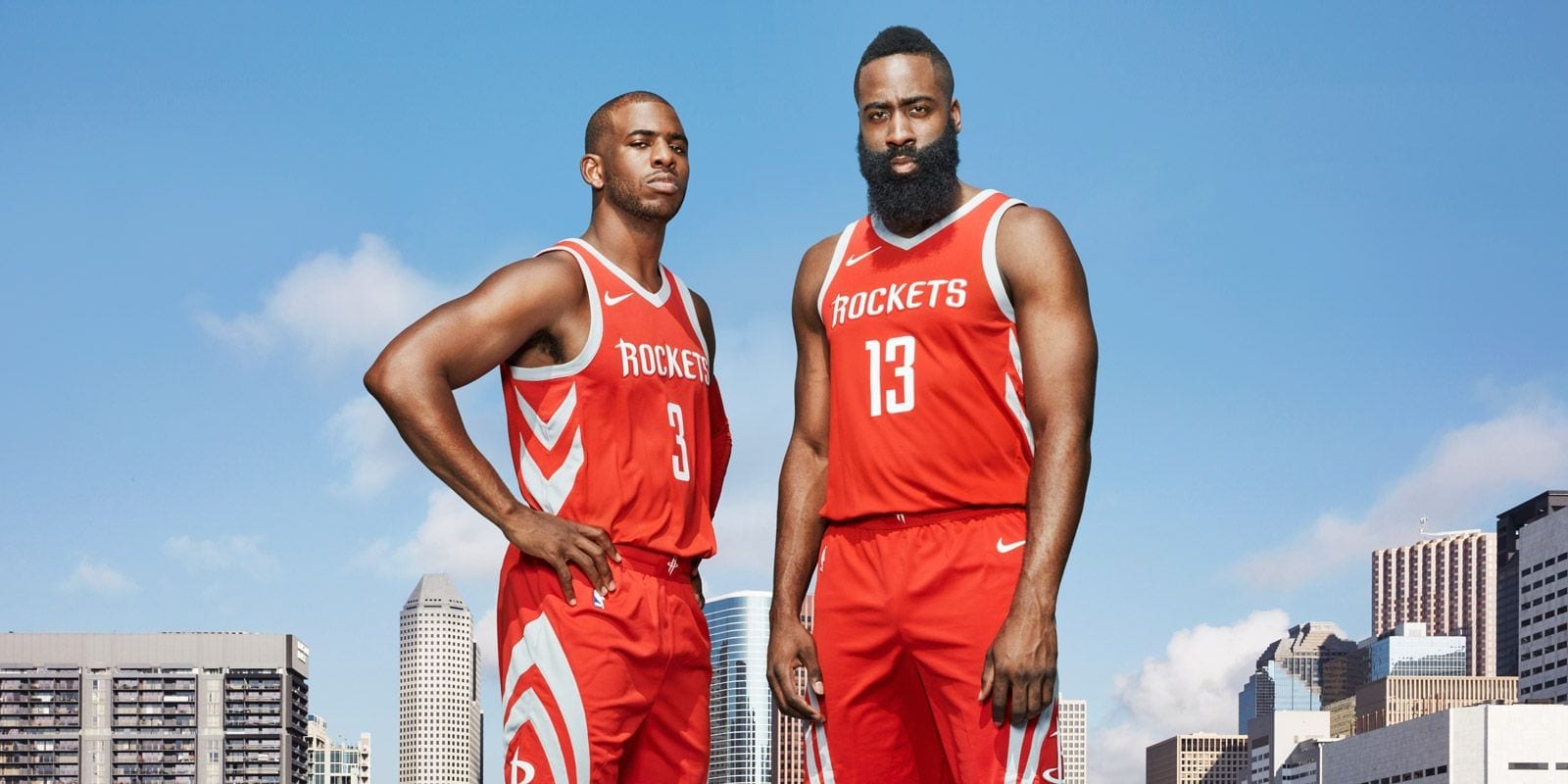 Houston Rockets (4-5, 3-6 ATS) vs. Oklahoma City Thunder (6-4, 6-4 ATS)
When: Thursday, November 8th, 2018 – 8:00 pm ET
Where: Chesapeake Energy Arena – Oklahoma City, OK
TV: TNT
By: Kyle Cash, NBA Basketball Handicapper, Predictem.com
Point Spread: HOU -4.5/OKC +4.5
Total: 214.5
Last Night in the NBA
I admit it, Officer. I did it. I reverse jinxed the hell out of the Philadelphia 76ers – and I would've gotten away with it too if it weren't for you meddling kids! I apologize for leading you astray. Dario Saric finally showed up, Brett Brown played Ben Simmons at center in small-ball lineups, and Joel Embiid had a C- game and threw up a 20/10. It was a good night in the City of Brotherly Love.
Dolphins vs Packers - NFL Pick by LL!
While moral victories are great, let's put up an actual W on the board here at Predictem.com. For tonight's game, we're going to head back down to Oklahoma City where the Westbrook-less Thunder take on the Harden-less Rockets (Harden is playing – he's just really bad this year). With Russ on the shelf, Houston is a 4.5-point road favorite, and the total is set at a pretty average mark of 214.5. Houston – we are cleared for take-off.
R.I.P. – Russ In Peace
Pour one out for our homie. If I could vote two things off the NBA island Survivor-style, I would snuff the torches of 1) players fouling out and 2) lower body injuries. Russell Westbrook is quietly about to turn 30 years of age, and at some point, the injury history is going to catch up with him. For a guy whose elite NBA skills rely solely on his explosiveness and athleticism, it's concerning to see him suffer two lower extremity injuries within the span of a month or so. When Steph's feet start to go and he loses a half of a step, he'll be fine; Steph Curry is going to be the deadliest stand-in-the-corner-and-shoot-when-we-pass-to-you NBA player in the history of the league. While Curry may age like a fine wine, Russ is going to age like cottage cheese, and we have to hope that his Sell By date hasn't already come and gone.
Russ' injury came at the worst possible time for the NBA schedule makers. Nobody loves narratives more than me, and Harden returning to his spurned lover is one of my favorite subplots every season. Russ is a fairly genial guy, and I imagine that him and Harden share no ill-will towards one another in real life. But on the basketball court, there is no way that anything besides pure, unabashed ire lies bubbling below the surface of the number 0 on Westbrook's jersey.
Without America's Sweetheart, OKC will be forced to turn to Dennis Schroder to run their offense. Chris Paul is still two months away from playing himself into game-shape, and James Harden's defense, while no longer GIF-able, is nothing you have to game plan around. It's not about whether or not Schroder will be able to get to his spots; it's about how effectively he can run the team's offense versus searching for his own. In 34 minutes last night, Schroder (the point guard) accumulated a whopping 0 assists. With a repeat performance there, the Thunder offense will be in trouble.
Unless, of course, Paul George turns back the clock and becomes the Alpha in his partner's absence. George has had flashes of his old Indiana self through 10 games this season, both with and without Westbrook, and he should be able to exploit Houston's frontcourt. Ultimately, the Thunder's strength lies in their ability to generate defense into offense, and as long as Harden doesn't suffocate them in their sleep, they stand a chance to pull one out at home.
Morey-Ball
When you look at the roster and the record of the Houston Rockets, it's not that hard to connect the dots and see what has gone wrong. James Harden has only played 6 games; Chris Paul still refuses to do sit-ups in the offseason, and is now 33 years old; Clint Capela has 80 million reasons to thank Harden for existing in the first place; and if I may quote the great Stephen A. Smith just one time: Carmelo Anthony…………………………………………………….is bad.
Regardless of these factors, last season, Houston looked like the only thing standing between the NBA universe and a Warriors ménage à trois of championships, and now we're stuck throwing the Rocket's baby out with the bath water. If Houston is going to right the ship and get back on track, it needs to happen tonight. Their next 4 games after Thursday: @ San Antonio, Indiana, @ Denver, Golden State. Woof.
If the Rockets want to prevail on the road, they have one goal: get buckets. Sometimes, when handicapping a game, just imagine how many points it is going to take in order for one team to reach a threshold the other cannot hit. Say, for example, the Rockets score 90 points. Can OKC match 90 given their roster? Absolutely. How about 100? How about 110? To me, I find it hard to believe that OKC's roster has the offensive firepower to accumulate triple digit points on the second half of a back-to-back. The Thunder could only scrape together 95 points against the friggin' Cleveland Cavaliers, for crying out loud. I'm a stats junkie, but for tonight, and tonight only, throw 'em out. Houston is not a bottom-third NBA offense; they are a year removed from posting a 114.7 Offensive Rating – one of the three best offensive teams of the 21st century. In one game at Oklahoma City last season, Houston scored 122 points, and I think they can put up something like that again tonight. Without Russ, there is no one on OKC to stop the bleeding, and Houston should prevail.
Quick Match-up Notes
Houston's Offensive Rating currently ranks 23rd in the NBA; the 1-10 Cleveland Cavaliers team ranks 20th and the New York Knicks rank 21st
Houston hoists more 3s per game than anyone in the NBA; OKC ranks 8th in Opponent's 3-point %
OKC is ranked 1st in the NBA in forced turnovers per game
NBA Best Bet:
Picking a winner in this game might be more about the narratives than about the teams themselves. A Houston loss could be the first in an avalanche of defeats, and suddenly, home-court in the playoffs and contender status flies out the window. A Thunder win would indicate that either Dennis Schroder can do a reasonable Russell Westbrook impersonation, or that Paul George is ready to take a mini-leap back into NBA superstardom. An Oklahoma City loss should theoretically be swept under the rug with excuses, but the national TV spotlight will, at the very least, warrant a Stephen A. Smith Instagram video lamenting the lack of depth on OKC's roster (whoever had over 1.5 Stephen A. references today just had a nice payout!). And a Rockets victory could be an indicator of things to come; maybe if Harden can return to his MVP form, then Houston can reclaim the magic of their 65-win season, and the balance in the force will be restored. Luckily for people like me, all four of these scenarios will make for a great opener in tomorrow's column in the Last Night in the NBA section; I'm addicted to juicy content. But for you, the common man, you're more preoccupied with the micro narrative a.k.a. the predicted winner of this match-up. In the interest of time, allow me to just break this down into one simple concept: one team has James Harden, and the other team does not. Case closed.
Final Score Prediction: Houston Rockets 120 – Oklahoma City Thunder 104