[et_pb_dcsbcm_divi_breadcrumbs_module hide_homebreadcrumb="off" homebreadcrumbtext="Home" separator="sep-raquo" hide_currentbreadcrumb="off" homebreadcrumborientation="left" _builder_version="3.8″ fontsbreadcrumbs_font="Lato||||||||" fontsbreadcrumbs_text_color="#000000″ fontsbreadcrumbs_font_size="15px" fontsbreadcrumbs_line_height="16px" fontsseperator_font="||||||||" fontsbreadcrumblinks_font="||||||||" fontsbreadcrumblinks_text_color="#2567cf" custom_margin="25px|||" custom_margin_phone="30px|||" custom_margin_last_edited="off|desktop" custom_css_main_element="font-family: Helvetica Regular;" global_module="3641″ saved_tabs="all"][/et_pb_dcsbcm_divi_breadcrumbs_module]
Philadelphia 76ers vs. Indiana Pacers NBA Pick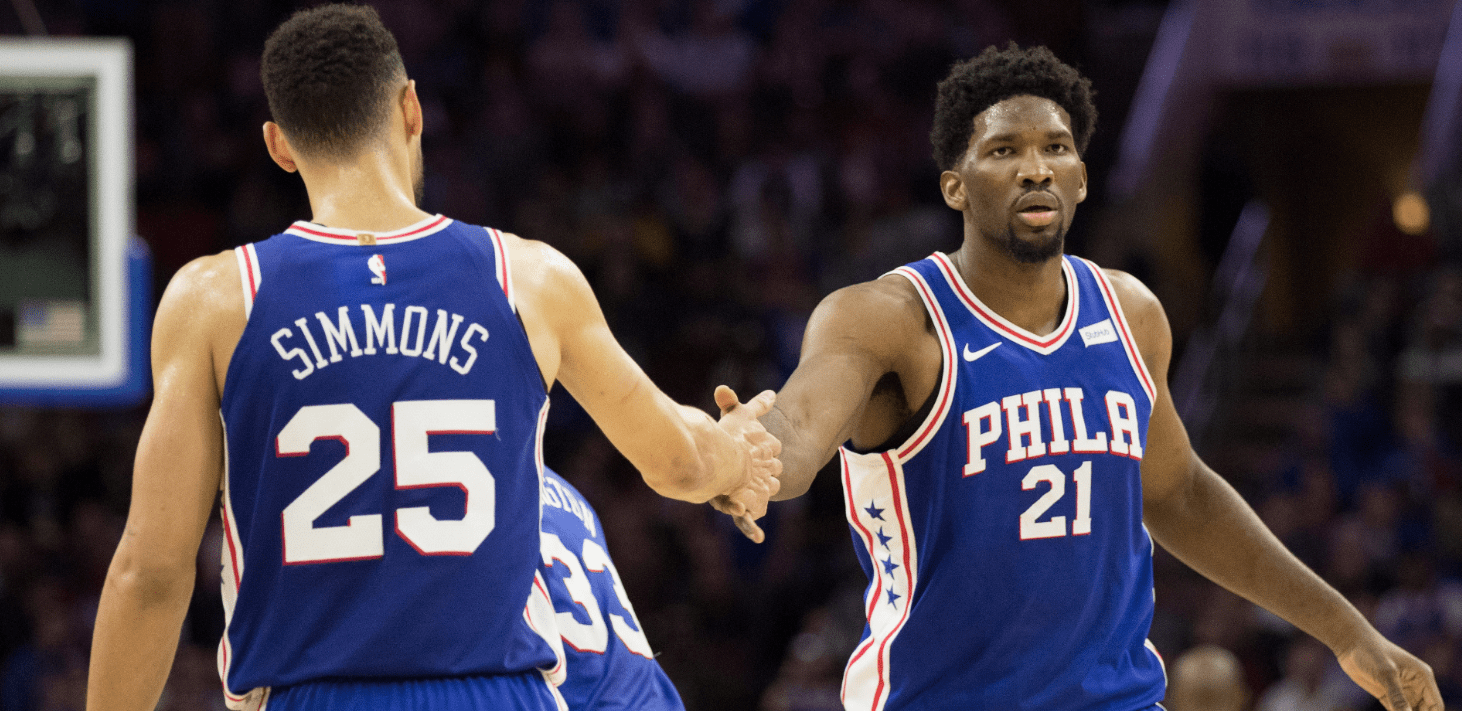 Philadelphia 76ers (6-5, 4-7 ATS) vs. Indiana Pacers (7-4, 5-5-1 ATS)
When: Wednesday, November 7th, 2018 – 8:00 pm ET
Where: Bankers Life Fieldhouse – Indianapolis, IN
TV: ESPN
By: Kyle Cash, NBA Basketball Handicapper, Predictem.com
Point Spread: PHI +2.5/IND -2.5
Total: 218
Last Night in the NBA
It was a valiant effort by Portland, but unfortunately, the Milwaukee Bucks did not kick in their fair share of points for the night. Hopefully you invested more in my Lock of the Year Duke/Kansas moneyline parlay than my lukewarm NBA total prediction. Also, it's okay if you're fading my NBA picks on the whole. I'm not offended. Seriously. In fact, here's a free pick for you to ignore: Denver -3.5 at Memphis tonight. Do with that what you will.
TIRED OF YOUR CREDIT CARD NOT WORKING AT SPORTSBOOKS? IT WILL AT BOVADA + GET A 50% CASH BONUS!
Tonight, let's return to the scene of Kentucky's assassination by the coward Zion Williamson as the pro teams take over. My beloved Philadelphia 76ers are currently getting 2.5 points from Victor Oladipo and his crew of Indiana Pacers in a game projected to hit 218 points. Let's break this thing down.
10-9-8-7 0-6 On The Road?
It's completely understandable for a young team to struggle on the road, particularly one as oddly designed as the Philadelphia 76ers. It's also completely understandable for a team from Philly to be undefeated at home; making crazy game environments is what we do best. It's not completely understandable for a team with two of the fifteen best players in the NBA to look disjointed and out of sync offensively. Brett Brown's lineup decisions are sometimes head scratching, but leaving Markelle Fultz alongside Ben Simmons is basketball malpractice. Fultz shines against second unit guys and as the lead ball-handler; Simmons is best with shooters around him and the chemistry he's built with the best five-man lineup in the league from last year. This ain't rocket science, Brett!
Thursday NFL Picks Have Been Released!
Roster construction aside, the Sixers still show flashes of being an excellent basketball team. Fultz needs reps and confidence, and he looks better every game. Joel Embiid can be penciled in for 28 and 12 every night now. Robert Covington contributes to a stingy team defense, knocks down 42% of his triples on the other end and is one of the least liked Sixers in recent memory. Dario Saric needs a hyperbaric chamber and a Redbull Vodka ASAP, but he'll figure it out eventually. This team has the pieces to contend; we just need to put together the puzzle.
I'm not so sure that a matchup with Indiana is the fix that the 76ers need. The Pacers won last season's series 2-1 in three hotly contested matches, and they are a problem for Philadelphia from top-to-bottom. Victor Oladipo is too fast for Covington and too strong for Markelle Fultz. Myles Turner does a decent job on Joel Embiid, and Sabonis and Thad Young pick up whatever slack is left. The Pacers are one of those teams that I always praise; a team that can throw multiple bodies and looks at opposing superstars and expose their weaknesses. If not for a Vintage J.J. Redick performance last fall, Indiana would've swept the Sixers. Tonight's game will be an interesting litmus test to see how much Philly can adjust when there's a monkey wrench in their beautiful basketball machine.. If they are confounded again, another road loss may be inevitable.
Pacer? I Hardly Know Her
I apologize for the subheading title. It's hard to come up with something clever for the least exciting team in the NBA. Listen, I respect the hell out of Indiana hoops. Despite my Philadelphia heritage, Larry Bird aka the Hick from French Lick is probably my favorite basketball player of all time. But this current incarnation of the Pacers is brutal from a watchability standpoint. You know what doesn't lend itself well to entertainment? Hard-nosed defense, stagnant offense, and slow pace of play. I'm sorry, Indiana. You just don't move the needle.
Victor Oladipo does not possess the shooting touch of Stephen Curry, nor the freakish athleticism of Russell Westbrook, nor the foul-drawing isolation sorcery of James Harden. He's a jack-of-all-trades but a master of none, and he's the prime culprit of the boredom that emanates from any Pacers game. He's essentially the basketball equivalent of a really good CW show; I could probably watch this and have an okay time, but there's so many better shows on television, so why waste my time? Oladipo is basically Riverdale.
Against Philadelphia, Archie Oladipo is going to need Jughead and Veronica to stave off the 76ers attack. Despite an up-and-down start, Ben Simmons averaged nearly a triple-double last season versus Indiana, and they don't really have anyone on their roster that can defend him 1-on-1 for extended time. Indiana is the second slowest paced team in the league, and home team dictates pace. With Philadelphia's spacing issues with Fultz and Simmons on the floor, I find it hard to believe that they will be able to generate much offense in the half-court versus a frightening Indiana defense. Unless Joel Embiid morphs back into 2001 Shaq and fouls out everyone on the team, Indiana should be able to grind Philly into a pulp and come away with another impressive W.
Quick Match-Up Notes
• Philadelphia is 0-5 SU and ATS on the road
• Indiana ranks 6th in Defensive Rating and 29th in pace of play
• Indiana is the 5th ranked 3P% shooting team; Philadelphia ranks 2nd in Opponent's 3P%
Best Bet
Disclaimer: This is NOT my attempt at an elaborate reverse jinx. All opinions expressed here are my true feelings. Definitely not reverse jinxing anyone. I wouldn't dare.
Eventually, the Philadelphia 76ers are going to figure it out. Markelle Fultz is taking all of his rookie lumps now, and we will have to wait to see if he turns a corner come spring. It's taken until January in each of the last two seasons for Brett Brown to settle on a consistent rotation and lock in his team on the defensive end. Most importantly, talent reigns supreme in the NBA, and Philly has two of the best. Get knocked down 7 times – get back up 8.
But Indiana is no-joke, and I'm dubious at best and fearful at worst regarding the Sixers chance to steal their first road victory. With a potentially hobbled Robert Covington, Philly is going to try to play small and fast, and it's lamb to the slaughter for a team like Indiana. Unfortunately, Indy survives in a low-scoring slug fest that will have viewers begging for the Minnesota-LA Lakers shoot-out. Lock in the under, and fire up the Pacers with confidence. Sigh.
NBA Prediction: Indiana Pacers 105 – Philadelphia 76ers 101
<aside><!-- [et_pb_line_break_holder] --><div class="widget105"><!-- [et_pb_line_break_holder] --><h4 class="cash">Biggest Sportsbook Bonuses</h4><!-- [et_pb_line_break_holder] --><div class="widgetlist"><!-- [et_pb_line_break_holder] --><div class="col1"><!-- [et_pb_line_break_holder] --> <a href="https://www.predictem.com/out/Bovada"><img src="https://www.predictem.com/wp-content/uploads/2018/04/bovada.png" width="" alt="Bovada" /></a><!-- [et_pb_line_break_holder] --></div><!-- [et_pb_line_break_holder] --><div class="col2"><!-- [et_pb_line_break_holder] --><span class="list"><b>50% Cash</b></span><br><!-- [et_pb_line_break_holder] --><span class="list">5x Rollover</span><!-- [et_pb_line_break_holder] --> </div><!-- [et_pb_line_break_holder] --> <div class="col3"><!-- [et_pb_line_break_holder] --><a href="https://www.predictem.com/betting-sites/bovada/"><button class="btn-widget">Review</button></a><!-- [et_pb_line_break_holder] --></div><!-- [et_pb_line_break_holder] --></div><!-- [et_pb_line_break_holder] --><div class="widgetlist"><!-- [et_pb_line_break_holder] --><div class="col1"><!-- [et_pb_line_break_holder] --> <a href="https://www.predictem.com/out/Intertops"><img src="https://www.predictem.com/wp-content/uploads/2018/04/intertops.png" width="" alt="Intertops" /></a><!-- [et_pb_line_break_holder] --></div><!-- [et_pb_line_break_holder] --><div class="col2"><!-- [et_pb_line_break_holder] --><span class="list"><b>50% Cash</b></span><br><!-- [et_pb_line_break_holder] --><span class="list">4x Rollover</span><!-- [et_pb_line_break_holder] --> </div><!-- [et_pb_line_break_holder] --><div class="col3"><!-- [et_pb_line_break_holder] --><a href="https://www.predictem.com/betting-sites/intertops/"><button class="btn-widget">Review</button></a><!-- [et_pb_line_break_holder] --></div><!-- [et_pb_line_break_holder] --></div><!-- [et_pb_line_break_holder] --><div class="widgetlist"><!-- [et_pb_line_break_holder] --><div class="col1"><!-- [et_pb_line_break_holder] --> <a href="https://www.predictem.com/out/Gtbets"><img src="https://www.predictem.com/wp-content/uploads/2018/05/gt-bets.png" width="" alt="GtBets" /></a><!-- [et_pb_line_break_holder] --></div><!-- [et_pb_line_break_holder] --><div class="col2"><!-- [et_pb_line_break_holder] --><span class="list"><b>150% Cash</b></span><br><!-- [et_pb_line_break_holder] --><span class="list">4x Rollover</span><!-- [et_pb_line_break_holder] --> </div><!-- [et_pb_line_break_holder] --> <div class="col3"><!-- [et_pb_line_break_holder] --> <a href="https://www.predictem.com/betting-sites/gtbets/"><button class="btn-widget">Review</button></a><!-- [et_pb_line_break_holder] --></div><!-- [et_pb_line_break_holder] --></div><!-- [et_pb_line_break_holder] --><div class="widget-footer"><a href="https://www.predictem.com/best-sportsbooks/bonuses/">See all sportsbook bonuses</a></div><!-- [et_pb_line_break_holder] --> </div></aside>
<h4 class="widgettitle">NFL Picks</h4><!-- [et_pb_line_break_holder] -->
<!-- [et_pb_line_break_holder] --><div class="widget-footer"><a href="https://www.predictem.com/nfl/">See all the NFL picks.</a></div><!-- [et_pb_line_break_holder] --><hr><!-- [et_pb_line_break_holder] --><style><!-- [et_pb_line_break_holder] -->ul.postsbycategory {list-style-type: none; margin:0; padding: 0; margin-left: -3px}<!-- [et_pb_line_break_holder] -->.postsbycategory li {padding: 5px 0px; display:block; clear: both; border-bottom: 1px solid #ccc;line-height:16px!important; min-height: 50px;}<!-- [et_pb_line_break_holder] -->.postsbycategory li a{color: #000; font-size: 14px!important;}<!-- [et_pb_line_break_holder] -->.postsbycategory img {width: 85px!important; height: 40px;<!-- [et_pb_line_break_holder] -->float:left; <!-- [et_pb_line_break_holder] -->padding:0px;<!-- [et_pb_line_break_holder] -->margin: 0px; margin-right: 8px;<!-- [et_pb_line_break_holder] -->border: 1px solid #EEE;<!-- [et_pb_line_break_holder] -->}<!-- [et_pb_line_break_holder] --> .widget-footer a {color: #666;}<!-- [et_pb_line_break_holder] --> .widget-footer a:hover {padding-top: 2px;}<!-- [et_pb_line_break_holder] --></style>
<div style="width:340px; margin: 0 auto;"><!-- [et_pb_line_break_holder] --> <a class="twitter-timeline" data-width="340" data-height="500" data-link-color="#008156" href="https://twitter.com/PredictemPicks?ref_src=twsrc%5Etfw">Tweets by PredictemPicks</a> <script async src="https://platform.twitter.com/widgets.js" charset="utf-8"></script><!-- [et_pb_line_break_holder] --></div>