Portland Trail Blazers vs. New York Knicks Pick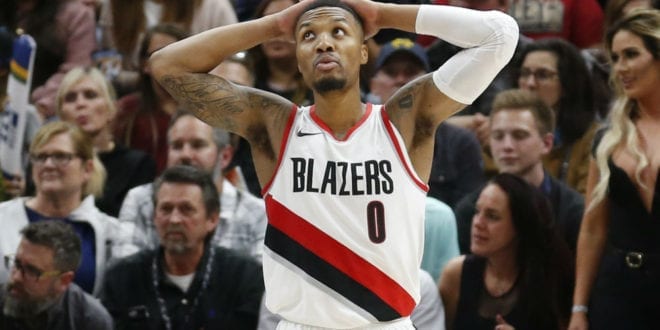 Portland Trail Blazers (11-5, 11-5 ATS) vs. New York Knicks (4-13, 7-8-2 ATS)
When: Tuesday, November 20th, 2018 – 7:30 pm ET
Where: Madison Square Garden – New York, NY
TV: NBATV
By: Kyle Cash, NBA Basketball Handicapper, Predictem.com
Point Spread: POR -7.5/NYK +7.5
Total: 221.5
Last Night in the NBA
The NBA Machine doesn't care about some Monday Night Football game. Mahomes vs. Gurley? Boring. John Wall vs. Scott Brooks? Yes, please! As the Wizards self-combusted, the rest of the league continued on without a hitch. Kemba Walker has decided that he's going to score 50 points per game, the rising Bucks stomped on the soaring Nuggets, and the Cavaliers did what they do best: lose.
With Thanksgiving Eve's NBA extravaganza set to tip-off on Wednesday, we're left with a quiet night and only one nationally televised game to scope out. Let's head over to Madison Square Garden for an interesting match-up between the Portland Trail Blazers and the New York Knickerbockers. The Soccer Moms come into the game as a 7.5-point favorite with the total set at an above-average 221.5 points. NBA Players Only – gotta love it!
Kicking and Screaming
I like to poke fun at how protective Portland's fanbase is against any online vitriol hurled their way, but the Soccer Moms will be happy to know that I have nothing but positive things to say about their team. While NBA "experts" were skeptical at their ability to retain last year's roster and make any noise in the West, their first place standing would probably beg to differ. McCollum is shaking off the rust after a rough couple of weeks, Nurkic and Collins are a 1-2 punch of brute force, Evan Turner is back to filling up the box score off the bench, and Damian Lillard is off to a blistering start. According to Basketball-Reference's MVP Tracker, Lillard currently sits at 3rd most likely to be the league's most valuable, behind only The Brow and The Greek Freak. Maybe if Dame gets a nickname, he'll have a better chance.
Today's College Basketball Free Pick!
NBA players love to compete in Madison Square Garden. There is an undeniable energy that permeates through the building, and it's many guys' dream to create and feel the buzz that comes with lighting up the scoreboard there. Something tells me that Damian Lillard is one of those guys, and with Emmanuel Mudiay guarding him, I think it's safe to suggest that he might have his way on Tuesday night. The rest of the Knicks roster is hard to predict game to game, but we don't need a roster rotation to know that the Knicks are the 27th ranked defensive unit. Portland only scores 111.1 points per game on the road as opposed to 117.8 at home, but they've managed 115.0 per game on one day's rest, so don't be too worried. Portland is deep, talented, and motivated to finish this one off early, and I fear that the Knicks may roll over and play dead to spare themselves.
Enes-sanity
There's almost no statistical comparisons for the way that Enes Kanter is able to play basketball, and it's a shame that he's toiling away on the Knicks during his prime years. If he could figure out how to be a serviceable player on the defensive end, he could be a legitimate piece on a championship contender. His rebounding rates this year have only been achieved by three other players in NBA history: Andre Drummond (also this year), Reggie Evans (a notorious rebounding bloodhound), and Dennis Rodman (off-court antics overshadowed how big of a freak he was on the court). There's no other team in the world that would start Mitchell Robinson over Enes Kanter. Ladies and gentleman, your 2018-19 New York Knicks!
Outside of Enes' production, there isn't a lot to get excited about on the Knicks roster. Frankie Nicotine, as I affectionately call him, is a one-way player at best; Mudiay is two months away from playing in China; Kevin Knox is just getting into the swing of things; and Trey Burke plays like passing is illegal. They've played the 20th hardest schedule and have the 3rd worst record in the league – and it's exactly where they want to be. Without Kristaps Porzingis (and even with him), this team is a nothing this year. The only thing that they should be doing is losing games and trying to get into the Zion Williamson sweepstakes. Maybe they want to give their fans a show on their home court, but my best guess is that Portland drops them like a bad habit. Gear up for the Eagles-Giants game on Sunday, Knicks fans. There's nothing to see here.
Four Factors of Winning
Since we're all about finding the edge here at Predictem.com, let's take the time each day to dive into the stats that lead to winning basketball games. According to a theory posited by Dean Oliver, a win in basketball can be narrowed down to four factors: shooting, turnovers, rebounding and free throws. Each day, I will take a look at the areas that each team excels at or is susceptible to, and we will see if we can find a specific reason why Team A will beat Team B
Thanks to the aforementioned Enes Kanter, the Knicks are actually the fourth best team in the NBA in the offensive rebounding category. Second-chance opportunities are few and far between in today's NBA, and having a weapon like Kanter is a great way to get quick, easy buckets. Unfortunately for the Knicks, their elite skills end there. The only team that allows better opponent shooting than them is the Cavs, they foul a ton on defense, and they can't make a shot to save their lives. Their one and only chance is for Kanter to continue his offensive dominance, and even that may not be enough.
Conversely, the Trail Blazers are a four factors dream team. They are in the top half of the league in every category that we can find except one: they turn the ball over a ton. We can attribute that problem to their lack of ballhandlers outside of their starting backcourt, but it's a small blip in an otherwise vast array of basketball skills. They shoot well, they rebound, they get to the free throw line, they play elite on-ball defense, and they keep their hands to themselves and stay out of foul trouble. Portland might be an early season success story that eventually fizzles out, but until that time comes, we need to consider them as an elite team and a possible juggernaut.
Best Bet
I'm not a huge trend guy when it comes to gambling. Past performance is not an indicator of future success, and things get dicey when you start to analyze traits about a past team that do not apply to the current one. However, Portland's roster continuity was better than almost anyone's in the NBA, so their 12-5 SU record (10-7 ATS) last year as a road favorite is a nice little confidence boost for my upcoming prediction. To add insult to injury, the Knicks last year were 9-17 SU (12-14 ATS) as a home underdog, and I expect that trend to continue. Could Emmanuel Mudiay and Frank Ntilikina and Kevin Knox and Enes Kanter rally the troops and make this a close one? Sure! I don't deny that's it's a possibility. Do you want to bet your hard-earned cash on it? No? That's what I thought. Neither do I. Let's do this Soccer Moms!
Final Score Prediction: Portland Trail Blazers 121 – New York Knicks 106