Dallas Cowboys vs. Denver Broncos Odds & Predictions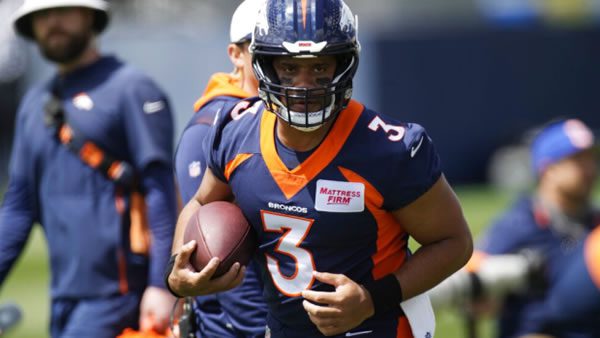 Dallas Cowboys (0-0 SU, 0-0 ATS) vs. Denver Broncos (0-0 SU, 0-0 ATS)
When: Saturday, August 13, 9 p.m.
Where: Empower Field at Mile High, Denver
TV: NFL Network
Point Spread: DAL +3/DEN -3
Total: O/U 31.5
Outlook
These two teams might have taken all of the air out of this contest, as the Cowboys and Broncos scrimmaged each other with two joint practices to end training camp prior to this game. And that means that, like most teams, the starters aren't going to play much at all and might not ever see the field in this matchup.
If you're looking for anything out of Dak Prescott or Russell Wilson in this matchup, you're going to be disappointed, as neither is expected to take a snap in this contest. This looks like a show between Josh Johnson and Cooper Rush, which says low scoring is likely to rule the day in this situation.
How the Public is Betting the Cowboys/Broncos Game
The public has leaned to Denver's side in this matchup, pushing the line up from a start of -2 to -3. The total has fallen from 33.5 to 31.5, and it could go even lower.
Injury Concerns
Dallas:
Wide receiver James Washington (foot), linebacker Anthony Barr (undisclosed), linebacker Damone Clark (spine), wide receiver Michael Gallup (knee), linebacker Devante Bond and quarterback Dak Prescott (team decision) are out.
Denver:
Linebacker Christopher Allen (foot), wide receiver Tim Patrick (knee), tackle Tom Compton (undisclosed), offensive lineman Billy Turner (knee), linebacker Randy Gregory (shoulder), and quarterback Russell Wilson (team decision) are out.
When Dallas Has the Ball
On paper, the Cowboys should be good for some preseason points, but in practice, Mike McCarthy's teams do not put up points in August. Last season, the Cowboys played four preseason games, lost all of them, and never scored more than 16 points. Dallas isn't going to bother risking Prescott or Ezekiel Elliott, and probably anyone of value to the Cowboys is going to sit after getting two full days of practicing against the Broncos.
Probably about the only part of the game that might be action-packed for Dallas is the fourth quarter, as Cooper Rush secured the backup job last year when he beat Minnesota when it counted. Rush is likely safe as Prescott's No. 2 man because the Cowboys know he can do the job in a pinch, so he's likely to play it safe when he's calling the plays. Not so for Ben Dinucci, who needs to justify his roster spot as a seventh-round choice in 2020 and has to get some positive game tape to either convince to Cowboys to keep him around or get another team interested in making him their No. 2 quarterback. Expect Dallas to play to win if the game is close in the final 15 minutes.
When Denver Has the Ball
Like with Dallas' Dinucci, Brett Rypien is the quarterback with the most to gain or lose here. Josh Johnson is now on his 15th NFL team (a league record) and can easily plug in as Wilson's replacement should the starter go down, so he certainly doesn't need any preseason numbers or action to get ready for the season. Rypien, however, doesn't seem to fit as a backup to Wilson and might be a better option moving elsewhere as a reserve. That's only happening if he can get some good game tape, so expect him to be aggressive in the second half.
Otherwise, the only reason to expect Denver to do much is that Nathaniel Hackett is a first-year coach adjusting to being the man in charge. Hackett comes from Green Bay, where preseason is considered a waste of time, but he's also never been a head coach before, so he might coach a bit more aggressively as he gets used to being the decision maker.
Betting Trends
Denver is a wild card, as nobody knows how Hackett is going to approach the preseason. Last year, the Broncos opened things up, dropping 33 points on Minnesota and 30 on Seattle. However, the players who did that aren't on this year's roster, as the Broncos have given themselves a facelift on offense. On defense, they haven't done things that much differently, as that wasn't the problem a season ago. Denver gave up an average of seven points a game in the preseason last year, and they likely won't give up many points to Dallas, given the Cowboys' preseason struggles on offense.
With Dallas coming off four straight preseason losses last year and never scoring more than 16 points in a preseason contest under McCarthy, there isn't much reason to expect the Cowboys to put up offense here.
Weather Report
Here's another reason not to expect points in this game: the first half is going to be played in ugly conditions. This game has a 9 p.m. Eastern kick, which means 7 p.m. Mountain. And at 7 p.m. Mountain, it's going to be pushing 92 degrees in Denver and isn't going to get better until the second half. Around 9 p.m., the heat should cool off and produce much better conditions, but the first half will likely be tough sledding for the players.
Dan's Pick to Cover the Spread
I'm leaning toward Dallas for the cover here, even with the poor history. Both teams have said they're going to focus on getting through the preseason healthy, and the Cowboys' reserves have a fair amount to prove in this situation. The bet I want here is a first-half under, as I don't expect much in the tough conditions of the first half, especially with neither Rush nor Johnson needing to prove anything.
If I have to make a spread pick, I'll back Dallas and the points.