Los Angeles Chargers vs. Los Angeles Rams Pick & Prediction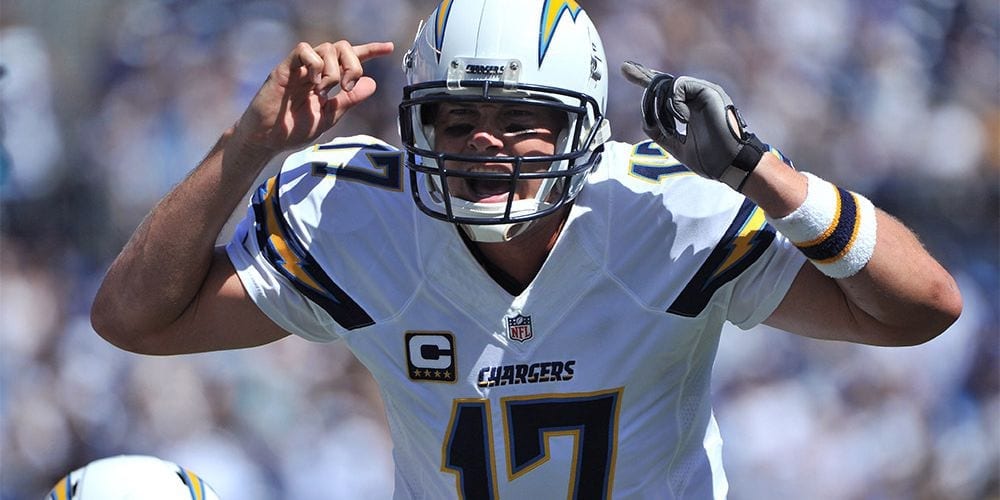 Los Angeles Chargers (1-1 SU, 1-1 ATS) vs. Los Angeles Rams (2-0 SU, 2-0 ATS)
NFL Week 3
When: Sunday, September 23, 2018 at 4:05PM EDT
Where: Los Angeles Memorial Coliseum, Los Angeles, California
TV: CBS
By: Loot Levinson, Expert Football Handicapper, Predictem.com
Spread: LAC +6.5/LAR -6.5
Total: 48
In the battle for LA, the Los Angeles Chargers come into the Coliseum to take on the Los Angeles Rams. It's not exactly the Giants vs. Jets, but it will do. While the Rams have roots in LA and have managed to get their fan-base to return, the Chargers get about as much support as the Michigan Wolverines get in Columbus, Ohio. So this is certainly a home game for the Rams, as the Chargers can't even fill a grass-covered tennis court and no matter who the opponent is, their fans always drown out the remaining Chargers' fans.
Fan support aside, it's a good matchup between two teams who are supposed to be on the rise, both identified as major contenders this season. The Rams have more shine, identified in preseason as a top NFC contender based on a huge improvement last season and a ton of big personnel acquisitions. And nothing in the first two games has changed that, with two wins and two covers, including a 34-0 smashing of the Cardinals on Sunday. The Chargers, meanwhile, failed in week one, before looking more like what people were expecting with a 31-20 win over the Bills on Sunday on the road. Who can come out on top this week?
Are the Rams as Good as They Look?
A lot of us looked at the Rams with some restraint, as they were ballyhooed all preseason as big Super Bowl contenders. Granted, they improved drastically last season, winning their division, followed by a frenzied offseason in terms of obtaining valued personnel. We felt maybe some of those moves were thrown together, some guys were potential disruptions, and maybe it wouldn't resonate well.
Time will tell, but through two weeks, there's not much to criticize. After a slow start, they ran away with the win and cover in week one on MNF with a 33-13 road-win over Oakland. And a 34-0 blanking of the Cardinals was also very impressive, with the defense completely knotting up Arizona, while Jared Goff and Company had their way in their home-opener. Perhaps the Chargers will prove a sterner test than what the Rams faced in the first two weeks, where their opposition has been less-than-stellar.
The Rams' offense looks completely legit after a historic turnaround last season. They might even be better this season. They seem to have found their number-one receiver in Brandin Cooks, who has been excellent in his first two games with a new team. Overlooked is the depth of their receiving corps, with rising Cooper Kupp, underrated Robert Woods, and other contributors. Todd Gurley was bothered by cramps on Sunday and left the game, but not before scoring three touchdowns. Goff went for 354 yards through the air. And their defense is as stocked as it can be, with a bolstered line and secondary that has shined early in 2018.
Will the Real Chargers Please Stand Up?
In a way, the Chargers being erratic is very Chargers-like. They opened the season flat as can be, as the Chiefs got off to a big lead on a home Chargers team that didn't seem ready. They tried to work their way back into it, but fell short. Last week, they flew out of the gates against a rough-looking Bills team on the road. With two minutes left in the first half, they had taken a 28-3 lead and all looked well. And they still won, but a 3-point second half and a final of 31-20 showed it's never a complete performance with these guys.
Still, week two was a positive development for a team that fell on their face in week one. A win here would really put some wind in their sails. We saw good things from both sides of the ball on Sunday. Philip Rivers tossed three TDs with no picks on an efficient 23-for-27 passing day. Melvin Gordon ran in a score and caught two of Rivers' TD throws. For a player who started his career not being able to find the end zone, Gordon has become a real TD hawk lately. RB Austin Ekeler adds a new dimension, on the ground and aerially. WR Keenan Allen had a good game, with Mike Williams catching a TD, which they hope is a portent of things to come. And on Sunday, the Chargers' line played well.
Granted, the Chargers' offense let up on the gas a little in week two in the big road-win, but all in all, it was a good showing. It hurts that rising DE Joey Bosa will be out for a while nursing a bad foot. But their pass-rush has some variety and Melvin Ingram did his thing on Sunday, along with rookie Ucheena Nwosu and emerging linebacker Jatavis Brown. Rookie first-round safety Derwin James has been good in his first two games and even has a sack in each game. There is a ton of menace on this side of the ball and will be one of the better defenses the Rams will see early this season.
Take the Points on the Road Underdog
Admittedly, I prefer a team like the Chargers in a role like this. They seem to do better when people think they're going to lose. As big favorites in a front runner role, they often leave something to be desired. Fact is I think the Chargers are going to do some nice things this season, even if they failed to hit the ground running. The Rams certainly look good, even as good as advertised, but maybe conditions made them look better than they really are in weeks one and two. The Raiders obviously still have a lot to work out and the Cardinals look downright-awful. I see a more-competitive affair at the Coliseum this week and I'm taking the points.
Loot's Pick to Cover the Point Spread: I'm betting on the Los Angeles Chargers plus 6.5 points.