Arsenal vs. Tottenham Hotspur Picks 7/12/20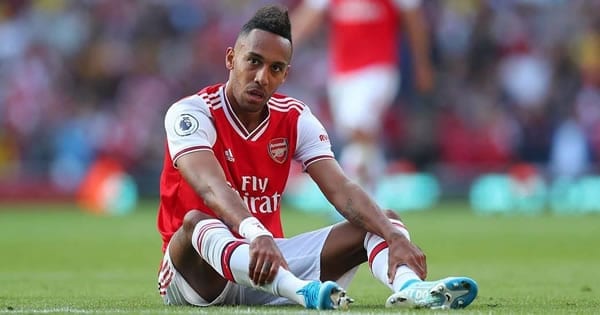 Arsenal (12-8-14, 50 points, 8th place) vs. Tottenham Hotspur (13-11-10, 49 points, 9th place)
When: Sunday, July 12, 11:30 a.m.
Where: Tottenham Hotspur Stadium, London
TV: NBCSN
Point Spread: Arsenal 0/Tottenham 0
Moneyline: Arsenal +165/Tottenham +165/Draw +240
Total: Over 2.5 (-134)/Under 2.5 (+100)
(Odds available at BetNow)
Last Time Out:
Arsenal drew 1-1 with Leicester City; Tottenham drew 0-0 with Bournemouth.
Previous meeting:
The sides drew 2-2 on Sept. 1 at the Emirates Stadium.
About the Matchup:
It's the North London derby, and it's the first time it will ever be played at the new Tottenham Hotspur Stadium. Of course, it's going to be played without fans, which takes away from some of the luster of this matchup, but this matchup is always an interesting one between two sides separated by just five miles.
Arsenal comes into this match in excellent form, having won three of its past four and drawn with Leicester City after a rather harsh red card decision. With four games to go, Arsenal is now just two points back of Wolves for a guaranteed spot in the Europa League, which would be an excellent achievement for Mikel Arteta's club after where Arsenal was in January.
Tottenham, on the other hand, is playing well below its standards, having scored just once on its own in its past three matches. Spurs have been sharp at home, however, having won two and tied one since the restart began. They've also had their rival's number at home in recent years, as they've won six of the last ten home matches against Arsenal and haven't lost at home to the Gunners since 2014.
Scouting Arsenal:
Arsenal seems to have found its long-term solution in Arteta, and the Gunners have been an excellent side ever since the calendar turned, having gotten something out of 13 of their past 15 Premier League matches. What's made the Gunners so dangerous is that Pierre-Emerick Aubameyang has picked up where he left off in recent matches, scoring three goals in Arsenal's past three times on the pitch.
Beyond that, Arsenal's success has been based around knowing when and where to strike. The Gunners rarely win the possession battle, which has made them vulnerable against teams such as Manchester City. But for the most part, Arsenal's plan of finding the right moment to attack and making sure the opponent doesn't get quality looks at the net has been a successful one. Against Leicester, Arsenal's defense allowed the Foxes to have the ball for most of the match, but Leicester couldn't break down anything until a harsh red card turned the game around and gave the Foxes the space they needed. When Arsenal gets to play 11v11, they're very difficult to break down.
More Picks: Minnesota vs. Kansas City Picks 7/12/20
Scouting Tottenham Hotspur:
Spurs has looked a mess at times, and nothing that we've seen from them in recent matches has changed that notion. Other than Harry Kane, Spurs look disorganized and disheveled, which is why they haven't put a ball in the net of their own accord in 180 minutes. Sadly, it gets worse, as Kane is the only Spurs player to have scored in the past four matches, with the other two Tottenham goals coming off an own goal from the opposition. Heading into this match, Spurs is now at 423 minutes without a goal from anyone not named Harry Kane.
That's not where you want to be going into a matchup with Arsenal, and Spurs really has to find some chemistry and motivation in a hurry. Jose Mourinho appears to be the wrong man to lead this side, and Spurs seem to be far from a happy group. Tottenham has gotten away with it in the past two matches because Everton and Bournemouth aren't exactly top attacking sides. Still, Arsenal is hitting on all cylinders right now, which makes this a difficult test for Spurs at a time when they're really not prepared for it.
Dan's Best Bets:
I think Arsenal breaks the streak here. The Gunners have been the much sharper side, and they seem to believe that they've got a lot more to play for than Spurs do, even though Spurs is just a point behind Arsenal. But Jose Mourinho doesn't seem to be on the same page with his players, while Arteta is getting the most out of his. Because of that, I'm going to take Arsenal to win this match, and I'm going to take the Gunners to win with both teams to score at +340.
Arsenal's defense has been pretty solid since the restart, but the Gunners haven't been able to stop Spurs from scoring when the teams have come head-to-head. Spurs have scored in 11 consecutive matchups against Arsenal, which is why I think Tottenham at least gets a consolation goal. However, the history also shows that Spurs haven't scored in the first half against Arsenal at home since 2013. Because of that, I'd take the second half to have more goals, which will pay at +105.
If ever there were a time to take a player to score, this would be the one. Harry Kane is an excellent scoring option no matter what, but against Arsenal, he's simply been a goal machine. In the past ten meetings between the sides, Kane has scored in nine of them, including each of the previous five meetings when Spurs were the home team. At +130 to score any time, this is an excellent prop to play.
Dan's Score Prediction:
Going on the road has meant two goals for Arsenal in each of its past two trips, and I think that's a reasonable expectation for this match as well. Throw in the obligatory Harry Kane goal, and you've got a 2-1 final score for the Gunners. At +875, that's a solid payday, in my opinion, so I'm going to take Arsenal to claim a 2-1 victory here.