Tampa Bay Bandits vs. New Orleans Breakers Week 9 Pick ATS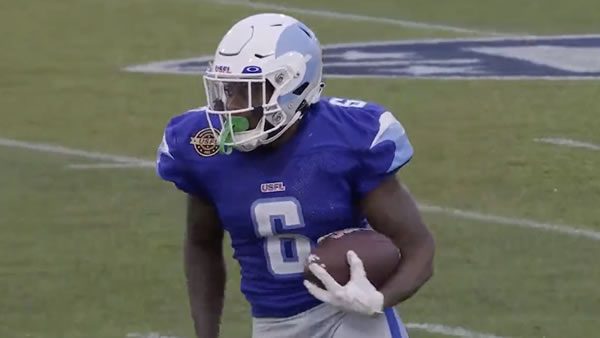 Tampa Bay Bandits (4-4 SU, 3-5 ATS) vs. New Orleans Breakers (5-3 SU, 5-3 ATS)
When: Sunday, June 12, 4 p.m.
Where: Protective Stadium, Birmingham, Ala.
TV: Fox
Point Spread: TB +3/NO -3
Total: O/U 43.5
Outlook
This is the one game in Week 9 of the USFL where both teams have something on the line. Tampa Bay's playoff hopes are faint, but they're existent, and that's at least something at this point in the season. To make it to Canton, the Bandits will have to win this game and then match or beat New Orleans' result in Week 10, as the Bandits would have the better divisional record and thus take the spot.
But can Tampa Bay even do that, given how thoroughly New Orleans manhandled the Bandits back in Week 2? Remember, the Bandits were once seen as the class of the USFL at the start of the season, but the Breakers exposed the wizard behind the curtain in a 34-3 rout that made it clear that Tampa Bay just wasn't on the same level as either Birmingham or New Orleans. Neither team did much of anything on offense last week, but New Orleans at least had the excuse that it was both facing Birmingham and didn't want to completely tip its hand against the team it would have to face in the playoffs if it gets there. Tampa Bay looked stuck in the mud against Houston, only winning because the Gamblers were even worse. It doesn't look like the Bandits have closed the gap much since two months ago
.
When Tampa Bay Has the Ball
I'd have hated to be responsible for finding highlights from Tampa Bay in Week 2 because nothing worked the last time the Bandits faced New Orleans. Other than a couple of runs from quarterback Jordan Ta'amu out of desperation, the Bandits never got anything going. Tampa Bay managed just 226 yards of offense, and without Ta'amu's scrambles, the ground game would have managed a mere 85 yards on 26 carries.
What really has to concern Todd Haley is the fact that Tampa Bay still wasn't doing anything last week against Houston. There wasn't much in the way of weather, and the Bandits were facing the USFL's worst defense, but Ta'amu only threw for 98 yards, and the running game got held to 145 on 37 carries. Given that the Gamblers came in knowing that they had nothing to play for, that's about as bad of a showing as you're going to see anywhere. Ta'amu hasn't played well in consecutive games now, and about the only positive thing you could say about his most recent start was that he had just one interception against the Gamblers' opportunistic defense. New Orleans recorded two back in Week 2, and the Breakers will likely be ready should Ta'amu repeat the three picks he threw against Philadelphia in Week 7.
When New Orleans Has the Ball
It's clear that Larry Fedora doesn't trust the Breakers' running game much at all at this point, as the Breakers only bothered to run the ball 23 times for 69 yards in their 10-9 loss to Birmingham last week. That means Kyle Sloter is going to keep pressing no matter the situation, which didn't really lead to anything positive against the Stallions. On the one hand, Sloter put up good yardage numbers, throwing for 251 yards, but he also tossed three picks, wasting a great effort by the Breakers' defense.
Sloter had no problem throwing all over the Bandits back in Week 2, so I'd expect him to hook up with Taywan Taylor and Jonathan Adams throughout this game. Nobody in red and white was able to hang with the Breakers' receivers last time out, and it's been much easier to pass against the Bandits than it has been to run, so I expect Sloter to pass unless he has to do something else.
More Picks: Get Dan's Stars vs. Maulers Week 9 Best Bet >>>
Betting Trends
The teams in the North ranged from defense-optional to defense-nonexistent last week, as both North games crushed their totals while the South teams barely put any offense together. Philadelphia (46 points) outscored the entire South Division (35 points), which is par for the course for New Orleans. The Breakers have consistently won with defense, as they're 4-1 when their opponent fails to hit 20 points and 1-2 when their opponent successfully gets to 20. New Orleans tends to be right around the total for its games, as the Breakers have only broken 30 points on two occasions: Michigan and Tampa Bay.
Other than the loss to the Breakers, the Bandits have operated like the power-ups in Mario Kart: they've rubber-banded to stay with the good teams and allow the bad teams to hang around. Between Week 3 and Week 7, every game the Bandits played was decided by seven points or less, with four of those five decided by either six points or seven points. It hasn't mattered what team it's faced; Tampa Bay simply plays to the level of its competition.Once again, the favorites were dominant on the scoreboard, but things played out evenly ATS when Pittsburgh and New Orleans both covered in defeat. The favorites are 23-9 SU and 18-14 ATS for the year, and the over is 19-13 for the year.
Weather Report
After morning rain on Saturday, Sunday will actually be very pleasant, with temperatures hitting 85 degrees during the day and dropping to 68 at night. Wind will blow southwest at a mild six miles per hour.
Dan's Pick to Cover the Spread
The Bandits couldn't figure out New Orleans earlier this year, and I see no evidence to suggest that's changed. Tampa Bay still can't stop the pass very well and doesn't have an offense that's moving in the right direction. You need to do at least one of those things to beat New Orleans, and I don't see it happening here.
The spread is just too low given what the Breakers did earlier this year. Give me New Orleans. Note: It's a great day to take charge of your betting life and decide that you're not going to overpay for odds anymore! Stop paying extra for odds! YOU DON'T NEED TO! Start betting at cheaper prices (odds) TODAY by making the switch to BetAnySports! We've advertised them for over 10 years with ZERO complaints! Click here to stop wasting money!