Philadelphia Stars vs. Pittsburgh Maulers Week 9 Predictions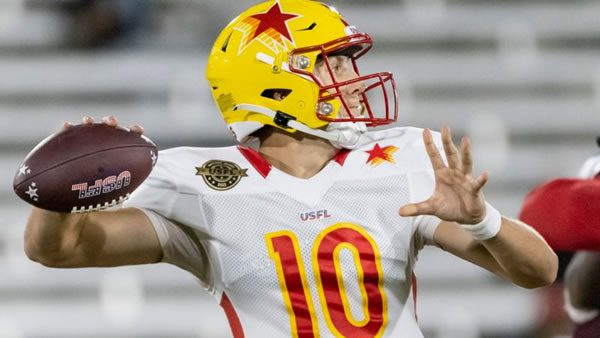 Philadelphia Stars (5-3 SU, 5-3 ATS) vs. Pittsburgh Maulers (1-7 SU, 3-5 ATS)
When: Sunday, June 12, 7:30 p.m.
Where: Protective Stadium, Birmingham, Ala.
TV: FS1
Point Spread: PHI -8.5/PIT +8.5
Total: O/U 47.5
Outlook
With rosters being what they are in the USFL, it's not like Philadelphia can completely rest its starters now that the Stars know their playoff situation. With only 38 players on a USFL roster, teams simply aren't deep enough to play a game without using a few starters, so the Stars are likely to hold out anyone who's a little bit banged up. That could mean that Philadelphia sits a couple of offensive linemen, as the Stars played with three reserves in the trenches in their rout of Michigan. Even with the reserves, Philly eventually got the ball moving, and with Pittsburgh having nothing left to play for, the Stars might not meet much resistance here.
I've basically given up trying to figure out what in the world Pittsburgh is doing as Kirby Wilson continues to make some of the most bizarre decisions I've seen from a head coach. Pittsburgh started the year by cutting its best running back over ordering pizza from the training area, then followed up two weeks ago by benching quarterback Vad Lee after Lee had already sliced a deficit from three scores to one because Wilson didn't like Lee's body language. Lee didn't play at all last week against New Jersey, as Wilson stuck with Roland Rivers and watched as Pittsburgh's faint playoff hopes completely faded away. With nothing left but pride and the possibility of avoiding having the worst record in the USFL's first year, will the Maulers give a credible effort or fold up shop?
When Philadelphia Has the Ball
It's taken longer than people expected and longer than coach Bart Andrus wanted, but Philadelphia finally has an offense that is clicking on all cylinders. Case Cookus had an incredible game against Michigan last week, tossing for 247 yards, running for 118, and scoring five of his team's six touchdowns in a 46-24 rout of the Panthers. Any time you have only one more incompletion than you do touchdowns, you've either had a really great day, or you play for a service academy.
In Cookus' case, it's definitely the former, but there are still a few worries that came out of the Michigan game. Philadelphia did struggle to keep Cookus upright when he wasn't taking off and making plays happen, as the Panthers sacked him three times, and the run game only averaged just over four yards a carry. That's not a bad number, but it's not the kind of number that's going to result in success against better teams than Michigan. The Stars spread the pass around well to Jordan Suell and Matt Colburn, but they must get more on the ground from people besides Cookus.
When Pittsburgh Has the Ball
On the one hand, Kirby Wilson did at least recognize that the Maulers' original plan wasn't going to work last week because nobody runs on New Jersey. On the other, trying to go with Roland Rivers when you have Vad Lee was completely nonsensical, and the stats showed it. Rivers completed just 18 of 38 passes and threw two interceptions to offset two touchdowns, showing that he was nowhere near ready to take over from coming in off the street.
And yet, Pittsburgh is likely going to stick with him again, as the Maulers played Rivers over Lee last week and never used Lee at all since the body language incident. And that's a big reason why the Maulers are 1-7: they can't get anything consistent going on offense. Pittsburgh had something moving in the right direction, but thanks to Wilson, the Maulers no longer have anything working properly, and with the playoff field all but set, the success they have had has just been small details that ultimately meant nothing positive.More Picks: Tampa Bay at New Orleans Week 9 Betting Predictions >>>
Betting Trends
The teams in the North ranged from defense-optional to defense-nonexistent last week, as both North games crushed their totals while the South teams barely put any offense together. Philadelphia (46 points) outscored the entire South Division (35 points), as the Stars nearly hit the total on their own and zipped past 47 for the sixth time in eight games this season.
Pittsburgh has managed to at least keep itself from getting embarrassed the past two weeks, as it managed to cover without winning the game. However, that's also because the Maulers usually see such large spreads that it's hard for the team they're facing to keep scoring against them. Once again, the favorites were dominant on the scoreboard, but things played out evenly ATS when Pittsburgh and New Orleans both covered in defeat. The favorites are 23-9 SU and 18-14 ATS for the year, and the over is 19-13 on the year.
Weather Report
After morning rain on Saturday, Sunday will actually be very pleasant, with temperatures hitting 85 degrees during the day and dropping to 68 at night. Wind will blow southwest at a mild six miles per hour.
Dan's Pick to Cover the Spread
The spread is a little high in this one, but the fact that Pittsburgh is now 1-7 and has likely thrown in the towel on the season has me leaning in Philadelphia's direction. The Stars might struggle to cover 8.5 points when they don't have the strongest motivation, but the fact that they don't have a deep enough roster to rest anyone means that they should still be able to put up some offense against the Maulers' poor defense.
The over looks like the best bet on the board to me, but for the result, I'm leaning toward the Stars getting the job done despite the large spread. I will take Philadelphia to cover. Note: It's a great day to take charge of your betting life and decide that you're not going to overpay for odds anymore! Stop paying extra for odds! YOU DON'T NEED TO! Start betting at cheaper prices (odds) TODAY by making the switch to BetAnySports! We've advertised them for over 10 years with ZERO complaints! Click here to stop wasting money!