[et_pb_dcsbcm_divi_breadcrumbs_module hide_homebreadcrumb="off" homebreadcrumbtext="Home" separator="sep-raquo" hide_currentbreadcrumb="off" homebreadcrumborientation="left" _builder_version="3.8″ fontsbreadcrumbs_font="Lato||||||||" fontsbreadcrumbs_text_color="#000000″ fontsbreadcrumbs_font_size="15px" fontsbreadcrumbs_line_height="16px" fontsseperator_font="||||||||" fontsbreadcrumblinks_font="||||||||" fontsbreadcrumblinks_text_color="#2567cf" custom_margin="25px|||" custom_margin_phone="30px|||" custom_margin_last_edited="off|desktop" custom_css_main_element="font-family: Helvetica Regular;" disabled="on" global_module="3641″ saved_tabs="all"][/et_pb_dcsbcm_divi_breadcrumbs_module]
Golden State Warriors vs. LA Clippers Pick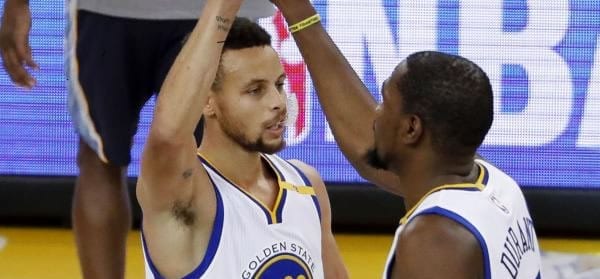 Golden State Warriors (31-14, 19-25-1 ATS) vs. LA Clippers (24-20, 24-20 ATS)
When: Friday, January 18th, 2019 – 10:30 pm ET
Where: STAPLES Center – Los Angeles, CA
TV: ESPN
By: Kyle Cash, NBA Basketball Handicapper, Predictem.com
Point Spread: GSW -6/LAC +6
Total: 241.5
Last Night in the NBA
After a start that left me counting my dough, the Thunder decided to let Ivica Zubac and Josh Hart crawl back into the game, and I'm left hoping and praying that I wake up to an OKC blowout. The good news for me and my loyal reader(s) is that the Thunder nearly blew the Lakers off of the floor in the first four minutes, and a repeat in the second half is completely within the realm of possibility. Fingers crossed.
Elsewhere in the NBA, Joel and Jimmy gave Indiana the business, the Raptors barely survived a Kawhi rest day against the Suns, and the Knicks invented a brand new way to lose basketball games. One step closer to Zion! Hang in there, Knicks fans.
With some snow headed towards the East Coast this weekend, you can catch me on my couch, wrapped in a blanket, drinking Irish hot chocolate and watching NBA and college hoops on repeat. To prepare for my glorious weekend, let's start off with a nice little appetizer as the Golden State Warriors head into the City of Angels to take on The Best NBA Team in Los Angeles. The reigning champs are currently favored by 6 points with the total set to an irresponsibly high 241.5 points. Free prop idea, betting websites: Total Points in GSW @ LAC vs. Total Passing Yards for Jared Goff on Sunday. Just food for thought!
Big Total Play on Sunday's Rams vs Saints!
Dubs for the Dubs
In case that subheading is too hard to decipher for my older, less hip readers, it translates into "the Warriors are very good." The greatest trick the devil ever pulled was convincing you that he didn't exist, and the greatest trick we play on ourselves every year is when we become convinced the Warriors aren't going to win the championship. Any time that Steph, Klay and Dray share the court sans Durant, I feel a pang of nostalgia. Can you imagine what the NBA would look like right now if Klay hadn't gone bonkers in Game 6 versus OKC in the WCF in 2016? OKC wins the ship, KD never leaves, and the entire landscape of professional basketball is changed forever. While we're daydreaming, can I have the Washington version of Markelle Fultz back, please? That would be lovely.
You can't change the past, and unless someone can derail the Warriors before they build some momentum, the future may be written in stone too. The pesky Clippers, however, may have something to say about that. Offensively, the Warriors should be able to handle their business. They are still the number one ranked team by offensive rating and effective field goal percentage, and having two of the five best offensive players in NBA history helps to cover up any other blemishes they may have. The Clippers have a rotating backcourt of washed up defenders, and I'm not sure that we can call Avery Bradley a "Steph-stopper" any more.
Defensively, the Warriors may be able to be exploited a bit more than usual. A notoriously sleepy team whenever they visit LA, the champs tendency to slip on defense may haunt them again in this one. The Clippers are still dangerous, and Lou Williams isn't afraid to come in and sucker punch people with his old-man game and put them away. If the Warriors come into this one laser-focused, I don't think that Harrell and his bench mob will scare them too much. But if Draymond has the hiccups during pre-game, we might have to reevaluate our pick on the fly. Be prepared.
Hanging On For Dear Life
Oh no. My egalitarian basketball unit is in the midst of a downward spiral, and they'll need to step it up if they want to stay alive in the playoff hunt. Shai Gilgeous-Alexander, one of my Rookie of the Year dark horses, slammed into the rookie wall like Dale Earnhardt Sr., and we're going to need to give him another couple of weeks to get his sea legs back. Without Montrezl Harrell being the Monsta Trez that he's advertised to be, the team just looks flat. Lou Williams' effectiveness is a total crap shoot, Pat Bev and Avery are washed, and Tobias and Gallinari have bounced around different teams for a reason. Everybody in the NBA is very, very good at basketball. But very few in the NBA are very, very good at basketball every single night. Unless your name is James Harden – but we no longer speak of him. He is now officially "He Who Shall Not Be Named."
Luckily for the Clippers, they don't have to deal with You-Know-Who while he's in the midst of his epic scoring run. Nope! Instead, they get Stephen Curry and Kevin Durant, both of whom are averaging nearly 30 points per game! Hooray! Dodged a bullet there, Clippers.
If your eyes rolled into the back of your head when you saw the 241.5 point total, you're not alone. But there's a reason for that. Both teams rank in the top-10 in both offensive rating and pace, and this game is going to be played faster than the Penn Relays. In their previous two meetings this year, the teams put up 237 and 256 total points, and one of those was without the only unanimous MVP in history. If you can't beat 'em, outscore 'em. That may be a lofty goal for the home team, but if they can stay within striking distance, there's always a chance. Plus they're getting 6 points, so that is important, too.
Best Bet
If this was the Lob City Clippers, I would be running to the metaphorical betting window to lay my money on the defending champs. The Steph Warriors owned the CP3 Clippers to the point that I thought Chris Paul was going to have to forfeit the deed to his house. But the new wave Clippers have a weird, unwarranted confidence against the Warriors, and I think I'm kind of into it. A Golden State blowout is on the table on any given night, but I like the Clips to at least put up a half-decent fight in this one. I also cannot overstate enough how much the Warriors enjoy Los Angeles. The 73-9 Warriors team got blown out by the 17-65 D'Angelo Russell-led Lakers team in a Sunday afternoon showcase that probably cost some poor degenerate gambler their marriage. When in doubt, bet on the team that is less likely to be pounding Advil and water in the pre-game warm-ups. Clippers for life!
Final Score Prediction: Golden State Warriors 128 – LA Clippers 124