Philadelphia 76ers vs. Charlotte Hornets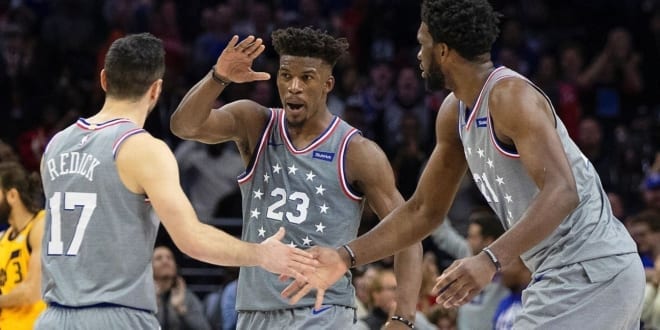 Philadelphia 76ers (10-7, 7-10 ATS) vs. Charlotte Hornets (7-7, 9-5 ATS)
When: Saturday, November 17th, 2018 – 7:00 pm ET
Where: Spectrum Center – Charlotte, NC
TV: Local TV only
By: Kyle Cash, NBA Basketball Handicapper, Predictem.com
Point Spread: PHI +2/CHA -2
Total: 226
Last Night in the NBA
They don't call me Kyle Cash for nothing. The Celtics needed an extra period to get the job done, but Kyrie Irving finally came through for us, and it's nice to head into the weekend with a little bit of momentum. Elsewhere in the NBA, Anthony Davis went nuts on the Knicks, Minnesota went to 2-0 in the Post-Butler era, and Donovan Mitchell took 35 shots and had 0 assists in a loss to Philadelphia. The last person with a 35/0 stat line was Carmelo Anthony, who finished that game with a 62-point/13-rebound double-double. Donovan Mitchell: a born loser.
Bitcoin Sportsbooks - Ranked by payout SPEED
With only one game slated to be on national television (Jazz-Celtics), I think we can look somewhere else for a game breakdown. You know what? I would say that I've been patient long enough. We're going down to North Carolina, and instead of heading to Cameron Indoor, let's pop into the Spectrum Center for a game between the Charlotte Hornets and the new look Philadelphia 76ers. On the second night of a back-to-back, the Sixers are a 2-point road underdog with the game total projected to hit 226 points. A Philadelphia underdog – I feel like I've heard this story before.
King Joel and his Butler
I'm not going to lie: the Philadelphia 76ers played like absolute shit last night. Brett Brown is married to Mike Muscala as his stretch-four, and if I have to watch him backrim another wide-open 3 from the top of the key, I'm going to lose my mind. Brett, listen to me: play Shamet and Redick together. For the love of God. Anyway, the 76ers still managed to pull a win out of the deep recesses of their ass, and it's all because of their ability to have three of the best five guys on the court to close games. What can I say? Talent wins games – you should know this by now. Welcome to Philadelphia, Jimmy Butler – we love you already.
Against the Hornets, the Sixers game plan is going to be dependent upon the playing time they are willing to give their star players. Ben and Joel were already stretched thin during the two games they played short-handed, and with three more games on the schedule this week, it might be best to dole out some extra minutes to some of the bench guys. Jimmy Butler made it clear that he doesn't want to be on the Thibs diet; 41 minutes is too many for him, and he's willing to share the wealth.
With a deeper rotation, hopefully the Sixers can toss some new looks at the Hornets. If Embiid is feeling up to it, he can basically win this game himself. In his four games versus Cody Zeller, Embiid has averaged 28 points, 11 rebounds, 2.5 blocks and 11 free throws en route to a 4-0 record. If Embiid wants to take it easy, it's a good game to test out the Sixers new wing depth. Having Jimmy Butler get minutes with guys like Fultz and Shamet and Korkmaz allows the team to build chemistry while injecting offensive firepower into the rotation, and it's a curveball that Charlotte won't be expecting. Ultimately, the key to the game for the Sixers will be their willingness to exert effort. But that's sadly not a guarantee.
The Hornetto Trilogy
With their third game against Philadelphia in the last month, Charlotte has finally arrived at The World's End, and they hopefully won't be seeing the 76ers again this season (full disclosure: they might play again. I don't feel like looking up their schedule). The poor Hornets have lost two games to Philly by a combined 3 points, but with a new regime forming in Center City, it may be a prime time for Charlotte to steal a victory.
In order to do so, they're going to need more out of their all-star point guard. Kemba hasn't exactly been the most efficient scorer versus the Sixers in recent history; in 6 games against Joel Embiid, Walker is shooting 35% from the field and 21% from 3. Ouch. The rest of Charlotte's roster is filled with veterans in their twilight years and young flowers still blossoming, so the burden falls on Kemba to mesh the talents in a way that leads to winning. Against the tired legs of the Sixers, the Hornets should be able to rely on their 7th ranked offense to, at the least, put some points on the board. Whether or not they can stop Philadelphia on the other end is another story entirely.
Four Factors of Winning
Since we're all about finding the edge here at Predictem.com, let's take the time each day to dive into the stats that lead to winning basketball games. According to a theory posited by Dean Oliver, a win in basketball can be narrowed down to four factors: shooting, turnovers, rebounding and free throws. Each day, I will take a look at the areas that each team excels at or is susceptible to, and we will see if we can find a specific reason why Team A will beat Team B.
In terms of the statistical four factors, there isn't a whole lot to point to that can definitively make or break our case. The Sixers cough up the ball more than almost anyone while taking it away less than almost anyone, so don't be surprised to see Charlotte attempt 10 to 15 more field goals than Philadelphia. However, Philly is one of the best teams in the league at getting to the line, and adding Jimmy Butler's 6 free throw attempts per game into the mix should only serve to bolster that number.
In year's past, it's taken until about January for Brett Brown to solidify the defense, but with the amount of two-way talent they now possess, their defense is 4th best at holding opponent's effective field goal percentage down, and it's only going to climb. Charlotte, as we outlined in the Cleveland game, has generated quality looks all season, and for the most part has converted. As cliché as it sounds, the winner of this matchup will be either the team that makes shots, or the team that made their opponent miss. That's some quality coach talk right there.
NBA Pick
I'm not particularly fond of the spot that the Philadelphia 76ers find themselves in. They had to exert their will a little bit too much last night against a Jazz team that had just lost by 50 points, and there are still a ton of growing pains to come. Embiid has been dominant against the Hornets in his career, but I've buried the lede regarding the status of his swollen hand. He says he's able to play, but it's unclear what type of leash the coaching staff will have him on. There are more important games coming up on their schedule, and I can see this one getting out of hand in a way that has Philadelphia waving the white flag early. Charlotte has the shot-making abilities and the home-court advantage, and Kemba Walker and his Texas Rangers should get their first W against Joel Embiid. Enjoy it while it lasts, suckers.
Final Score Prediction: Charlotte Hornets 118 – Philadelphia 76ers 104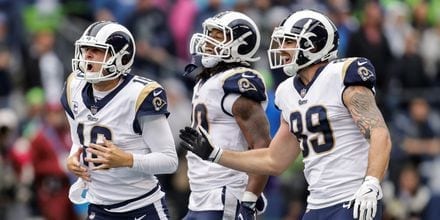 Sportsbooks say the Rams are more than a FG better but do the numbers align with this thinking? The key stat that separates these teams and the only statistical blemish for the Rams is red zone efficiency. This is the chink in the Rams armor that may end up holding them back down the stretch. They are only scoring touchdowns on 56% of their trips to the red zone, good for only 16th in the league. The Chiefs are scoring touchdowns at a 71% clip, good enough for 6th in the league. Keith Allen takes a deeper look at the matchup and gives his prediction.
---
---
---
---
---
---
---
---
---
---
.